Note: Supplemental materials are not guaranteed with Rental or Used book purchases.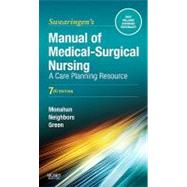 Questions About This Book?
What version or edition is this?
This is the 7th edition with a publication date of 9/8/2010.
What is included with this book?
The New copy of this book will include any supplemental materials advertised. Please check the title of the book to determine if it should include any CDs, lab manuals, study guides, etc.
The eBook copy of this book is not guaranteed to include any supplemental materials. Typically only the book itself is included.
Summary
Known for its reliable, clinically focused content, Swearingen's Manual of Medical-Surgical Nursing provides a quick reference to 125 of the most commonly encountered medical-surgical conditions. Expert authors Fran Monahan, RN, PhD, ANEF, Marianne Neighbors, EdD, RN, and Carol Green, PhD, RN, CNE make it easy to find and use the information you need to know to provide optimal patient care. Unique to this manual, outcome criteria include specific and measurable timeframes to help in establishing realistic treatment goals and evaluating the effectiveness of care. For students, it's an ideal resource for care planning and clinicals; for practitioners, it's a great clinical reference! More than 125 common medical-surgical conditions are organized by body system for convenient use as a clinical reference. A quick-reference, easy-to-use format includes these headings for each med-surg disorder: Overview/Pathophysiology Assessment Diagnostic Tests Collaborative Management Nursing Diagnoses and Interventions Patient-Family Teaching and Discharge Planning Outcome criteria feature specific and measurable timeframes for each outcome. Patient teaching for each disorder helps you educate patients and their families for self-care and discharge. Clinical notes and cautions stress key points or alerts related to various disorders and conditions. An overview of nursing considerations for the hospitalized patient includes concepts relevant to many disorders, such as perioperative care, pain, prolonged bed rest, psychosocial support, and older adult care. Attractive two-color design highlights key information for fast reference. A durable, water-resistant cover prolongs the life of the book.Thorough updates provide you with the latest evidence-based practice content and clinical developments, including the newest Joint Commission standards, latest screening recommendations, revised treatment guidelines, new drugs, and lab tests. New Burns section covers the care of burns in the medical-surgical setting. New Immunologic Disorders unit discusses transfusion reactions, hypersensitivity, and AIDS. New Cancer Care unit updates and expands coverage of lung cancer, nervous system tumors, GI malignancies, neoplastic diseases of the hematopoietic system, head/neck cancers, breast cancer, and GI cancer. An emphasis on patient safety addresses preventable patient safety issues.
Table of Contents
General Concepts in Caring for Medical-Surgical Patients
Perioperative Care
Pain
Prolonged Bed Rest
Psychosocial Support
Psychosocial Support for the Family and Significant Others
Older Adult Care
Respiratory Disorders
Acute Respiratory Disorders
Atelectasis
Pneumonia
Pleural Effusion
Pulmonary Embolus
Pneumothorax/Hemothorax
Pulmonary Tuberculosis
Acute Respiratory Failure
Chronic Obstructive Pulmonary Disease
Restrictive Pulmonary Disorder
Interstitial Pulmonary Fibrosis
Asthma
Cardiovascular Disorders
Diseases of the Cardiovascular System
Hypertension
Coronary Heart Disease
Heart Failure
Pulmonary Hypertension
Inflammatory Heart Disorders
Pericarditis
Infective Endocarditis
Valvular Heart Disorders
Mitral Stenosis
Mitral Insufficiency
Aortic Stenosis
Aortic Insufficiency
Cardiovascular Conditions Secondary to Other Disease Processes
Cardiac and Noncardiac Shock (Circulatory Failure)
Sudden Cardiac Death
Cardiac Surgery
Dysrhythmias
Dysrhythmias and Conduction Disturbances
Pacemakers and Implantable Cardioverter
Defibrillators
Disorders of the Peripheral Vascular System
Atherosclerotic Arterial Occlusive Disease
Aneurysms
Arterial Embolism
Venous Thrombosis/Thrombophlebitis
Renal-Urinary Disorders
Renal Disorders
Glomerulonephritis
Acute Pyelonephritis
Hydronephrosis
Renal Artery Stenosis
Renal Failure
Acute Renal Failure
Chronic Kidney Disease
Renal Dialysis
Peritoneal Dialysis
Hemodialysis
Renal Transplant
Disorders of the Urinary Tract
Urinary Tract Infection
Ureteral Calculi
Urinary Tract Obstruction
Urinary Disorders Secondary to Other Disease Processes
Urinary Incontinence
Urinary Retention
Neurogenic Bladder
Urinary Diversions
Neurologic Disorders
Inflammatory Disorders of the Nervous System
Multiple Sclerosis
Guillain-Barre Syndrome
Bacterial Meningitis
Degenerative Disorders of the Nervous System
Parkinsonism
Alzheimer Disease
Traumatic Disorders of the Nervous System
Intervertebral Disk Disease
Spinal Cord Injury
Traumatic Brain Injury
Vascular Disorders of the Nervous System
Cerebral Aneurysm
Stroke
Seizures and Epilepsy
General Care of Patients With Neurologic Disorders
Endocrine Disorders
Disorders of the Thyroid Gland
Hyperthyroidism
Hypothyroidism
Disorders of the Parathyroid Glands
Hyperparathyroidism
Hypoparathyroidism
Disorders of the Adrenal Glands
Addison's Disease
Cushing's Disease
Disorders of the Pituitary Gland
Diabetes Insipidus
Syndrome of Inappropriate Antidiuretic Hormone
Diabetes Mellitus
General Discussion
Diabetic Ketoacidosis
Hyperosmolar Hyperglycemic Nonketotic Syndrome
Hypoglycemia
Gastrointestinal Disorders
Disorders of the Mouth and Esophagus
Stomatitis
Hiatal Hernia, Gastroesophageal Reflux Disease, and Barrett's Esophagus
Disorders of the Stomach and Intestines
Peptic Ulcers
Malabsorption/Maldigestion
Intestinal Obstructive Processes
Peritonitis
Appendicitis
Intestinal Inflammatory Processes
Diverticulosis and Diverticulitis
Polyps/Familial Adenomatous Polyposis
Ulcerative Colitis
Crohn's Disease
Fecal Diversions
Abdominal Trauma
Hepatic and Biliary Disorders
Hepatitis
Cirrhosis
Cholelithiasis, Cholecystitis, and Cholangitis
Pancreatitis
Hematologic Disorders
Disorders of the Red Blood Cells
Anemia of Chronic Disease
Hemolytic and Sickle Cell Anemia
Aplastic Anemia
Polycythemia
Disorders of Coagulation
Thrombocytopenia
Disseminated Intravascular Coagulation
Musculoskeletal Disorders
Arthritic Disorders
Osteoarthritis
Rheumatoid Arthritis
Muscular and Connective Tissue Disorders
Ligamentous Injuries
Anterior Cruciate Ligament Tears
Dislocation/Subluxation
Acute Compartment Syndrome
Skeletal Disorders
Osteomyelitis
Fractures
Benign Neoplasms
Osteoporosis
Musculoskeletal Surgical Procedures
Amputation
Rotator Cuff Repair
Bone Grafting
Total Hip Arthroplasty
Total Knee Arthroplasty
Reproductive Disorders
Gynecologic Disorders
Uterine Fibroids
Pelvic Organ Prolapse
Ectopic Pregnancy
Benign Prostatic Hypertrophy
Immunologic Disorders NEW UNIT!
Transfusion Reactions NEW!
Hypersensitivity NEW!
Human Immunodeficiency Virus Disease
Cancer Care NEW UNIT!
Lung Cancer
Nervous System Tumors
Gastrointestinal Malignancies
Neoplastic Diseases of the Hematopoietic System
Head and Neck Cancers
Breast Cancer
Genitourinary Cancer
Care for Patients With Special Needs
Nutritional Support
Nutritional Assessment
Nutritional Support Modalities
Total Parenteral Nutrition
Wound Care
Wounds Closed by Primary Intention
Surgical or Traumatic Wounds Healing by Secondary Intention
Pressure Ulcers
Burns NEW!
Palliative and End-Of-Life Care
Appendix
Infection Prevention and Control
Laboratory Tests Discussed in this Manual: Normal Values
Heart and Breath Sounds
Table of Contents provided by Publisher. All Rights Reserved.