Note: Supplemental materials are not guaranteed with Rental or Used book purchases.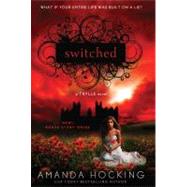 Questions About This Book?
What version or edition is this?
This is the edition with a publication date of 1/3/2012.
What is included with this book?
The New copy of this book will include any supplemental materials advertised. Please check the title of the book to determine if it should include any CDs, lab manuals, study guides, etc.
Summary
Switched- the first book in the Trylle Trilogy... When Wendy Everly was six-years-old, her mother was convinced she was a monster and tried to kill her. It isn't until eleven years later that Wendy discovers her mother might have been right. With the help of Finn Holmes, Wendy finds herself in a world she never knew existed - a world both beautiful and frightening, and Wendy's not sure she wants to be a part of it.
Author Biography
Amanda Hocking is the USA Today bestselling author of the Trylle trilogy and six additional self-published novels.  After selling over a million copies of her books, primarily in eBook format, she is widely considered the exemplar of self-publishing success in the digital age. 
Table of Contents
"Vampire and werewolf lovers beware; this trilogy opener offers readers a new take on an unexpected breed of mystical beings. Readers who can suspend preconceived notions and open themselves up to this new interpretation are in for a midwinter version of a good beach read." –Kirkus Reviews
"Wendy is a flawed antihero, which helps differentiate her from the throng of paranormal-romance heroines, and the potential for development, both dramatic and romantic, should make readers anxious for the next installment of the Trylle trilogy." –Booklist
"The romance is smoldering, the action is suspenseful, and the characters are quirky, likeable, and original. Amanda Hocking has a gift for storytelling that will grip readers and keep them wanting more…Entrancing." –Library Thing
"Started Switched last night. I don't like this book because it made me stay up too late last night to keep reading and made me skip my dance class this morning so I can finish it!" --BookCrossing
"I started reading Switched in the evening one night and stayed up until 3 a.m. because I didn't want to put it down. I had to be at work the next day and all I could think about was going home and finishing the book. Yes, it's THAT good." --A Tale of Many Reviews
 "Switched is paranormal YA with a fresh twist.  It has a more deliberate pace than other YA fantasy...and more emotional thrills.  I really appreciated the realistic development of the love story, and the characters feel well developed.  Recommended." --I'd So Rather Be Reading
"I ate this book up I could barely put it down before bed, and was also trying to sneak time in my busy morning to read some extra sentences. This was an awesome first book in a series that I'm dying to read. Amanda please write the next one soon. I'm dying!!" –Midnight Glace Reviews
"I LOVED this book!  The characters are quite likable…and there is never a dull moment.  I highly suggest you take a look at this book if you want to read some fantasy that leaves you panting for the next installment." –The Light Under The Covers
 "Filled with action, suspense, and romance...I found the story completely fascinating." --A True Reality Blog
"Amanda Hocking is like a breath of fresh air in the young adult paranormal market. I've read countless books about vampires, werewolves and faeries, but never one about trolls…Switched was an impressive start to a series that was chock-full of excitement, adventure and attitude." –That Bookish Girl Blog
"Switched has more intrigue and hidden secrets than the average YA book." –Read My Mind
"An addicting, easy to digest book that can be devoured in an afternoon." –Feeding My Book Addiction
"I absolutely loooooveeed Switched.  From the first pages I found myself totally caught up stealing moments to read this book.  Visually I 'saw'  this book so well in my head. Just an awesome read that makes you feel for the characters." –Novels On The Run Reviews
Excerpts
ONE
 

home

Drool spilled out across my desk, and I opened my eyes just in time to hear Mr. Meade slam down a textbook. I'd only been at this high school a month, but I'd quickly learned that was his favorite way of waking me up from my naps during his history lecture. I always tried to stay awake, but his monotone voice lulled me into sleeping submission every time.
"Miss Everly?" Mr. Meade snapped. "Miss Everly?"
"Hmm?" I murmured.
I lifted my head and discreetly wiped away the drool. I glanced around to see if anyone had noticed. Most of the class seemed oblivious, except for Finn Holmes. He'd been here a week, so he was the only kid in school newer than me. Whenever I looked at him, he always seemed to be staring at me in a completely unabashed way, as if it were perfectly normal to gawk at me.
There was something oddly still and quiet about him, and I had yet to hear him speak, even though he was in four of my classes. He wore his hair smoothed back, and his eyes were a matching shade of black. His looks were rather striking, but he weirded me out too much for me to find him attractive.
"Sorry to disturb your sleep." Mr. Meade cleared his throat so I would look up at him.
"It's okay," I said.
"Miss Everly, why don't you go down to the principal's office?" Mr. Meade suggested, and I groaned. "Since you seem to be making a habit of sleeping in my class, maybe he can come up with some ideas to help you stay awake."
"I am awake," I insisted.
"Miss Everly—now." Mr. Meade pointed to the door, as if I had forgotten how to leave and needed reminding.
I fixed my gaze on him, and despite how stern his gray eyes looked, I could tell he'd cave easily. Over and over in my head I kept repeating,I do not need to go the principal's office. You don't want to send me down there. Let me stay in class. Within seconds his face went lax and his eyes took on a glassy quality.
"You can stay in class and finish the lecture," Mr. Meade said groggily. He shook his head, clearing his eyes. "But next time you're going straight to the office, Miss Everly." He looked confused for a moment, and then launched right back into his history lecture.
I wasn't sure what it was that I had just done exactly—I tried not to think about it enough to name it. About a year ago, I'd discovered that if I thought about something and looked at somebody hard enough, I could get that person to do what I wanted.
As awesome as that sounded, I avoided doing it as much as possible. Partially because I felt like I was crazy for really believing I could do it, even though it worked every time. But mostly because I didn't like it. It made me feel dirty and manipulative.
Mr. Meade went on talking, and I followed along studiously, my guilt making me try harder. I hadn't wanted to do that to him, but I couldn't go to the principal's office. I had just been expelled from my last school, forcing my brother and aunt to uproot their lives again so we could move closer to my new school.
I had honestly tried at the last school, but the Dean's daughter had been intent on making my life miserable. I'd tolerated her taunts and ridicules as best I could until one day she cornered me in the bathroom, calling me every dirty name in the book. Finally, I'd had enough, and I punched her.
The Dean decided to skip their one-strike rule and immediately expelled me. I know in large part it was because I'd resorted to physical violence against his child, but I'm not sure that was it entirely. Where other students were shown leniency, for some reason I never seemed to be.
When class finally ended, I shoved my books in my book bag and left quickly. I didn't like hanging around after I did the mind-control trick. Mr. Meade could change his mind and send me to the office, so I hurried down to my locker.
Bright-colored flyers decorated battered lockers, telling everyone to join the debate team, try out for the school play, and not to miss the fall semiformal this Friday. I wondered what a "semiformal" consisted of at a public school, not that I'd bothered to ask anyone.
I got to my locker and started switching out my books. Without even looking, I knew Finn was behind me. I glanced over my shoulder and saw him getting a drink from the fountain. Almost as soon as I looked at him, he lifted his head and gazed at me. Like he could sense me too.
The guy was just looking at me, nothing more, but it freaked me out somehow. I'd put up with his stares for a week, trying to avoid confrontation, but I couldn't take it anymore.Hewas the one acting inappropriately, not me. I couldn't get in trouble for just talking to him, right?
"Hey," I said to him, slamming my locker shut. I readjusted the straps on my book bag and walked across the hall to where he stood. "Why are you staring at me?"
"Because you're standing in front of me," Finn replied simply. He looked at me, his eyes framed by dark lashes, without any hint of embarrassment or even denial. It was definitely unnerving.
"You'realwaysstaring at me," I persisted. "It's weird. You're weird."
"I wasn't trying to fit in."
"Why do you look at me all the time?" I knew I'd simply rephrased my original question, but he still hadn't given me a decent answer.
"Does it bother you?"
"Answer the question." I stood up straighter, trying to make my presence more imposing so he wouldn't realize how much he rattled me.
"Everyone always looks at you," Finn said coolly. "You're very attractive."
That sounded like a compliment, but his voice was emotionless when he said it. I couldn't tell if he was making fun of a vanity I didn't even have, or if he was simply stating facts. Was he flattering me or mocking me? Or maybe something else entirely?
"Nobody stares at me as much as you do," I said as evenly as I could.
"If it bothers you, I'll try and stop," Finn offered.
That was tricky. In order to ask him to stop, I had to admit that he'd gotten to me, and I didn't want to admit that anything got to me. If I lied and said it was fine, then he would just keep on doing it.
"I didn't ask you to stop. I asked you why," I amended.
"I told you why."
"No, you didn't." I shook my head. "You just said that everyone looks at me. You never explained whyyoulooked at me."
Almost imperceptibly the corner of his mouth moved up, revealing the hint of a smirk. It wasn't just that I amused him; I sensed he was pleased with me. Like he had challenged me somehow and I had passed.
My stomach did a stupid flip thing I had never felt before, and I swallowed hard, hoping to fight it back.
"I look at you because I can't look away," Finn answered finally.
I was struck completely mute, trying to think of some kind of clever response, but my mind refused to work. Realizing that my jaw had gone slack and I probably looked like an awestruck schoolgirl, I hurried to collect myself.
"That's kind of creepy," I said at last, but my words came out weak instead of accusatory.
"I'll work on being less creepy, then," Finn promised.
I had called him out on being creepy, and it didn't faze him at all. He didn't stammer an apology or flush with shame. He just kept looking at me evenly. Most likely he was a damn sociopath, and for whatever reason, I found that endearing.
I couldn't come up with a witty retort, but the bell rang, saving me from the rest of that awkward conversation. Finn just nodded, thus ending our exchange, and turned down the hall to go to his next class. Thankfully, it was one of the few he didn't have with me.
True to his word, Finn wasn't creepy the rest of the day. Every time I saw him, he was doing something inoffensive that didn't involve looking at me. I still got that feeling that he watched me when I had my back to him, but it wasn't anything I could prove.
When the final bell rang at three o'clock, I tried to be the first one out. My older brother, Matt, picked me up from school, at least until he found a job, and I didn't want to keep him waiting. Besides that, I didn't want to deal with any more contact with Finn Holmes.
I quickly made my way to the parking lot at the edge of the school lawn. Scanning for Matt's Prius, I absently started to chew my thumbnail. I had this weird feeling, almost like a shiver running down my back. I turned around, half expecting to see Finn staring at me, but there was nothing.
I tried to shake it off, but my heart raced faster. This felt like something more sinister than a boy from school. I was still staring off, trying to decide what had me freaked out, when a loud honk startled me, making me jump. Matt sat a few cars down, looking at me over the top of his sunglasses.
"Sorry." I opened the car door and hopped in, where he looked me over for a moment. "What?"
"You looked nervous. Did something happen?" Matt asked, and I sighed. He took his whole big brother thing way too seriously.
"No, nothing happened. School sucks," I said, brushing him off. "Let's go home."
"Seat belt," Matt commanded, and I did as I was told.
Matt had always been quiet and reserved, thinking everything over carefully before making a decision. He was a stark contrast to me in every way, except that we were both relatively short. I was small, with a decidedly pretty, feminine face. My brown hair was an untamed mess of curls that I kept up in loose buns.
He kept his sandy blond hair trim and neat, and his eyes were the same shade of blue as our mother's. Matt wasn't overtly muscular, but he was sturdy and athletic from working out a lot. He had a sense of duty, like he had to make sure he was strong enough to defend us against anything.
"How is school going?" Matt asked.
"Great. Fantastic. Amazing."
"Are you even going to graduate this year?" Matt had long since stopped judging my school record. A large part of him didn't even care if I graduated from high school.
"Who knows?" I shrugged.
Everywhere I went, kids never seemed to like me. Even before I said or did anything. I felt like I had something wrong with me and everyone knew it. I tried getting along with the other kids, but I'd only take getting pushed for so long before I pushed back. Principals and deans were quick to expel me, probably sensing the same things the kids did.
I just didn't belong.
"Just to warn you, Maggie's taking it seriously," Matt said. "She's set on you graduating this year, from this school."
"Delightful." I sighed. Matt couldn't care less about my schooling, but my aunt Maggie was a different story. And since she was my legal guardian, her opinion mattered more. "What's her plan?"
"Maggie's thinking bedtimes," Matt informed me with a smirk. As if sending me to bed early would somehow prevent me from getting in a fight.
"I'm almost eighteen!" I groaned. "What is she thinking?"
"You've got four more months until you're eighteen," Matt corrected me sharply, and his hand tightened on the steering wheel. He suffered from serious delusions that I was going to run away as soon as I turned eighteen, and nothing I could say would convince him otherwise.
"Yeah, whatever." I waved it off. "Did you tell her she's insane?"
"I figured she'd hear it enough from you." Matt grinned at me.
"So did you find a job?" I asked tentatively, and he shook his head.
He'd just finished an internship over the summer, working with a great architecture firm. He'd said it didn't bother him, moving to a town without much call for a promising young architect, but I couldn't help feeling guilty about it.
"This is a pretty town," I said, looking out the window.
We approached our new house, buried on an average suburban street among a slew of maples and elms. It actually seemed like a boring small town, but I'd promised I'd make the best of it. I really wanted to. I didn't think I could handle disappointing Matt anymore.
"So you're really gonna try here?" Matt asked, looking over at me. We had pulled up in the driveway next to the butter-colored Victorian that Maggie had bought last month.
"I already am," I insisted with a smile. "I've been talking to this Finn kid." Sure, I'd talked to him only once, and I wouldn't even remotely count him as a friend, but I had to tell Matt something.
"Look at you. Making your very first friend." Matt shut off the car's engine and looked at me with veiled amusement.
"Yeah, well, how many friends do you have?" I countered. He just shook his head and got out of the car, and I quickly followed him. "That's what I thought."
"I've had friends before. Gone to parties. Kissed a girl. The whole nine yards," Matt said as he went through the side door into the house.
"So you say." I kicked off my shoes as soon as we walked into the kitchen, which was still in various stages of unpacking. As many times as we'd moved, everyone had gotten tired of the whole process, so we tended to live out of boxes. "I've only seen one of these alleged girls."
"Yeah, 'cause when I brought her home, you set her dress on fire! While she was wearing it!" Matt pulled off his sunglasses and looked at me severely.
"Oh, come on. That was an accident and you know it."
"So you say." Matt opened the fridge.
"Anything good in there?" I asked and hopped onto the kitchen island. "I'm famished."
"Probably nothing you'd like." Matt started sifting through the contents of the fridge, but he was right.
I was a notoriously picky eater. While I had never purposely sought out the life of a vegan, I seemed to hate most things that had either meat in them or man-made synthetics. It was odd and incredibly irritating for the people who tried to feed me.
Maggie appeared in the doorway to the kitchen, flecks of paint stuck in her blond curls. Layers of multicolored paint covered her ratty overalls, proof of all the rooms she had redecorated over the years. She had her hands on her hips, so Matt shut the fridge door to give her his full attention.
"I thought I told you to tell me when you got home," Maggie said.
"We're home?" Matt offered.
"I can see that." Maggie rolled her eyes, and then turned her attention to me. "How was school?"
"Good," I said. "I'm trying harder."
"We've heard that before." Maggie gave me a weary look.
I hated it when she gave me that look. I hated knowing that I made her feel that way, that I had disappointed her that much. She did so much for me, and the only thing she asked of me was that I at leasttryat school. I had to make it work this time.
"Well, yeah … but…" I looked to Matt for help. "I mean, I actually promised Matt this time. And I'm making a friend."
"She's talking to some guy named Finn," Matt said corroborating my story.
"Like aguyguy?" Maggie smiled too broadly for my liking.
The idea of Finn being a romantic prospect hadn't crossed Matt's mind before, and he suddenly tensed up, looking at me with a new scrutiny. Fortunately for him, that idea hadn't crossed my mind either.
"No, nothing like that." I shook my head. "He's just a guy, I guess. I don't know. He seems nice enough."
"Nice?" Maggie gushed. "That's a start! And much better than that anarchist with the tattoo on his face."
"We weren't friends," I corrected her. "I just stole his motorcycle. While he happened to be on it."
Nobody had ever really believed that story, but it was true, and it was how I figured out that I could get people to do things just by thinking it. I had been thinking that I really wanted his bike, and then I was looking at him and he was listening to me, even though I hadn't said anything. Then I was driving his motorcycle.
"So this really is gonna be a new start for us?" Maggie couldn't hold back her excitement any longer. Her blue eyes started to well with happy tears. "Wendy, this is just so wonderful! We can really make a home here!"
I wasn't nearly as excited about it as she was, though I couldn't help but hope she was right. It would be nice to feel like I was home somewhere.

 
Copyright © 2011 by Amanda Hocking