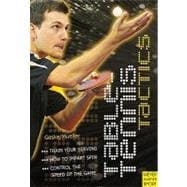 Summary
This book contains a collection of all aspects of table tennis tactics for young players. It helps you to read your opponent's game and to decide how to play against forehand or backhand dominant players. It contains numerous photos and illustrations, a self-test questionnaire, portraits of the best table tennis players, the official rules and tactical know-how.
Author Biography
\Klaus-M Geske is a qualified physical education teacher. From 200 to 2008 he was the national youth coach for the Flemish Table Tennis Association in Belgium. He is also actively involved in coaching training at regional and international level. Jens Mueller was coach to the German national deaf table tennis team between 1997 and 2004.
Table of Contents
Greeting from
p. 9
Foreword
p. 10
Before We Start
p. 13
Ball Placement
p. 15
Elbow
p. 17
Scattering Angle
p. 20
Implications for Training and Competition
p. 21
Conclusion
p. 22
A Brief Glance Beyond Our Sport
p. 23
Racket Grip
p. 23
The Grip Table According to Ísth and Fellke
p. 26
Implications for Training and Competition
p. 27
Game Types
p. 27
Characteristics of a forehand-dominant player
p. 27
Tips for Playing Against Forehand-dominant Players
p. 29
Characteristics of a backhand-dominant player
p. 31
Tips for Playing Against Backhand-dominant Players
p. 32
Summary
p. 33
Drills
p. 34
Pace
p. 37
Fast or Slow?
p. 37
Changes of Pace
p. 38
Drills
p. 39
Flight Height
p. 41
General
p. 41
Lobbing
p. 43
The Problem of Time
p. 44
Playing Against Defense
p. 44
Drills
p. 45
Spin
p. 47
Producing Spin
p. 47
Identifying Spin
p. 50
Backspin
p. 50
Topspin
p. 53
Sidespin
p. 55
Drills
p. 59
Chop Drills
p. 59
Topspin and Block Drills
p. 59
Flip Drills
p. 60
Special Kinds of Rubbers
p. 61
Pips-In Rubbers
p. 62
Antis
p. 63
Pips-Out Rubbers
p. 64
Short Pips
p. 64
Long Pips
p. 66
Mid-length Pips
p. 69
Service Tactics
p. 71
Service Feints
p. 74
Feints With or Without Spin
p. 74
The 'Windscreen Wiper' Principle
p. 74
The Reversal Principle
p. 76
Tips for Service Training
p. 77
Risk Assessment
p. 78
Risk Phases
p. 79
Epilogue
p. 84
The Official Rules
p. 85
The Order of Serving, Receiving and Ends
p. 85
The Expedite System
p. 88
Table Tennis Rules
p. 90
Final Questionnaire
p. 98
Answers
p. 101
Profiles of a Few Former and Current Table Tennis Stars (and those to come)
p. 102
p. 102
p. 103
p. 104
p. 105
p. 206
p. 107
p. 108
p. 109
p. 110
p. 111
p. 112
p. 113
p. 114
p. 115
p. 116
p. 117
Photo Credits
p. 117
Table of Contents provided by Ingram. All Rights Reserved.