Note: Supplemental materials are not guaranteed with Rental or Used book purchases.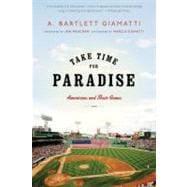 Summary
A philosophical musing on sports and play, this wholly inspiring and utterly charming reissue of Bart Giamatti's long-out-of-print final book,Take Time for Paradise, puts baseball in the context of American life and leisure. Giamatti begins with the conviction that our use of free time tells us something about who we are. He explores the concepts of leisure, American-style. And in baseball, the quintessential American game, he finds its ultimate expression. "Sports and leisure are our reiteration of the hunger for paradise-- for freedom untrammeled." Filled with pithy truths about such resonant subjects as ritual, self-betterment, faith, home, and community,Take Time for Paradisegives us much more than just baseball. These final, eloquent thoughts of "the philosopher king of baseball" (Seattle Weekly) are a joyful, reverent celebration of the sport Giamatti loved and the country that created it.
Author Biography
A. Bartlett Giamatti served as Commissioner of Baseball from April 1, 1989 until his death on September 1, 1989. He had previously been the President of the National League, starting in 1986. He was a scholar of English Renaissance at Yale University, a beloved Professor, and later became its youngest president.