Note: Supplemental materials are not guaranteed with Rental or Used book purchases.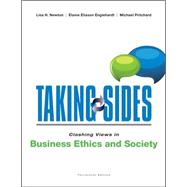 Questions About This Book?
Why should I rent this book?
Renting is easy, fast, and cheap! Renting from eCampus.com can save you hundreds of dollars compared to the cost of new or used books each semester. At the end of the semester, simply ship the book back to us with a free UPS shipping label! No need to worry about selling it back.
How do rental returns work?
Returning books is as easy as possible. As your rental due date approaches, we will email you several courtesy reminders. When you are ready to return, you can print a free UPS shipping label from our website at any time. Then, just return the book to your UPS driver or any staffed UPS location. You can even use the same box we shipped it in!
What version or edition is this?
This is the 13th edition with a publication date of 9/13/2013.
What is included with this book?
The Used copy of this book is not guaranteed to include any supplemental materials. Typically, only the book itself is included.
The Rental copy of this book is not guaranteed to include any supplemental materials. You may receive a brand new copy, but typically, only the book itself.
Related Products
Summary
The Taking Sides Collection on McGraw-Hill Create™ includes current controversial issues in a debate-style format designed to stimulate student interest and develop critical thinking skills. This Collection contains a multitude of current and classic issues to enhance and customize your course. You can browse the entire Taking Sides Collection on Create, or you can search by topic, author, or keywords. Each Taking Sides issues is thoughtfully framed with Learning Outcomes, an Issue Summary, an Introduction, and an Exploring the Issue section featuring Critical Thinking and Reflection, Is There Common Ground?, and Additional Resources and Internet References. Go to McGraw-Hill Create™ at www.mcgrawhillcreate.com, click on the "Collections" tab, and select The Taking Sides Collection to browse the entire Collection. Select individual Taking Sides issues to enhance your course, or access and select the entire Newton et al.: Taking Sides: Clashing Views in Business Ethics and Society, 13/e ExpressBook for an easy, pre-built teaching resource by clicking here. An online Instructor's Resource Guide with testing material is available for each Taking Sides volume. Using Taking Sides in the Classroom is also an excellent instructor resource. Visit the Create Central Online Learning Center at www.mhhe.com/createcentral for more details.
Table of Contents
Table of Contents
Clashing Views in Business Ethics and Society, Thirteenth Edition
Unit Capitalism and the Corporation
Issue Can Capitalism Lead to Human Happiness?

YES: Adam Smith, from An Inquiry Into the Nature and Causes of the Wealth of Nations (1776)

NO: Karl Marx and Friedrich Engels, from The Communist Manifesto (1848)

If we will but leave self-interested people to seek their own advantage, Smith argues, the result, unintended by any one of them, will be the greater advantage of all. No government interference is necessary to protect the general welfare. Marx disagrees; leave people to their own self-interested devices, he replies, and those who by luck and inheritance own the means of production will rapidly reduce everyone else to virtual slavery. The few may be fabulously happy, but all others will live in misery.

Issue Can Individual Virtue Survive Corporate Pressure

YES: Robert C. Solomon, "Victims of Circumstances? A Defense of Virtue Ethics in Business," Business Ethics Quarterly V13 #1 (January 2003).

NO: Gilbert Harman, "No Character Or Personality," Business Ethics Quarterly vol. 13 #1 January 2003)

Is there finally any free choice or moral agency left in the business world? Robert Solomon argues that there is, and that virtue ethics make a real difference in the life of a business and its employees. Gilbert Harman fears that Solomon has underestimated the force of the determinist arguments, and presents a powerful restatement of them.

Issue Is Risk the Best Theory for Capitalism?

YES: Simon Johnson and James Kwak from "The New World of Financial Risk," Financial executive (January/February 2009).

NO: Barry Eichengreen from, "The Last Temptation of Risk," The National Interest (May/June 2009)

Simon Johnson and James Kwak argue that risk was the main ingredient that pulled the United States and the rest of the world through the financial crisis of 2008. Throughout their essay they detail the importance of risk in analyzing decisions of purchase, bankruptcy and foreclosure. Barry Eichengreen believes that better empirical observations, and theories based on statistics, can now be used instead of risk. He finds that the new group of financial decision makers will rely much less on risk and more on what they can see.

Issue Is Increasing Profits the Only Social Responsibility of Business?

YES: Milton Friedman, from "The Social Responsibility of Business is to Increase its Profits," in Elaine Englehardt and Donald D. Schmeltekopf, Ethics and Life, 4th edition, McGraw-Hill, 2010, pp. 316-320.

NO: Peter Karoff, "The First Rule of Corporate Social Responsibility Is Not What You Think." Stanford Social Innovation Review, Dec. 10, 2012.

Friedman argues that businesses have neither the right nor the ability to pursue "social responsibility" as distinct from profit-making. They serve employees and customers best when they do their work with maximum efficiency. Friedman advises that corporations should obey the law and make a profit. Peter Karoff argues that, starting with the principle of doing no harm, businesses do have social responsibilities that result in good. He believes businesses should focus on this community good.

Issue Can Ethics Codes Build "True" Corporate Ethics?

YES: Eric Krell, from "How to Conduct an Ethics Audit," HR Magazine (April 2010)

NO: Greg Young and David S. Hasler, from "Managing Reputational Risks: Using Risk Management for Business Ethics and Reputational Capital," Strategic Finance, (November 2010)

Krell cites studies from 2009 that show that ethical performance is moving in a positive direction. He believes conducting "Ethical Audits" is a necessary practice, which begins by focusing on ethical behavior in the top positions of a firm. Young and Hasler believe that ethical behavior runs much deeper than consciousness raising of ethical issues, and that trust and trustworthy behavior must be essential to business.
Unit Current Business Issues
Issue Was the Financial Industry Responsible for the Economic Meltdown of 2008?

YES: John C. Bogle, from "A Crisis of Ethic Proportions," Wall Street Journal (April 21, 2009)

NO: Lloyd C. Blankfein, from Vital Speeches of the Day, (June 2010)

Bogle explains there has been a broad deterioration in traditional ethical standards in the commerce, business and financial industry. Easy credit and securitization were not the causes of the collapse, he contends, but rather trust and trustworthiness were missing throughout the decline leading to 2008. Blankfein, Chief Executive Officer of Goldman Sachs at the time, explains to a Senate panel that his investment banking firm did not sound the "alarm" as soon as they should have when it appeared the financial collapse was imminent.

Issue Is It the Government's Responsibility to Bail Out Financial Institutions to Avert Economic Disaster?

YES: Roger Lowenstein, from The End of Wall Street (New York: Penguin Press, 2010)

NO: Robert J. Samuelson, from, "The Perils of Prosperity," Newsweek, Feb. 10, 2010, as found in, The Great Inflation and Its Aftermath: The Past and Future of American Affluence, (New York: Random House, 2010)

Lowenstein finds that numerous factors led to the 2008 recession, chief among them fraudulent mortgage schemes, complex derivative instruments, inept or greedy bankers, and others connected with the finance industry, leaving government as the only party that could act. Samuelson believes that the recession is part of economic factors that are always part of the capitalist system. He believes that the market needs to collapse more often to prevent the type of recession that happened in 2008.

Issue Are the risks of Derivatives manageable?

YES: Yong Chen, "A not-so-risky business," Pamplin, Fall 2012

NO: Thomas A. Bass, "Derivatives: The Crystal Meth of Finance," The Huffington Post, May 5, 2009

The unwise use of derivative instruments nearly collapsed the U.S. and global stock markets recently. Promises have been made to regulate these far-reaching financial strategies. However, Merton H. Miller explains that financial derivatives are under attack as an important and ethical investment practice. He defends the continuing national and global use of derivatives and claims they need no further regulations by governments. Thomas Bass claims the recent market failures were due in large part to mismanagement of these derivative investments. He compares the gambling risks associated with derivatives to the addictive drug "Crystal Meth." In this article, he recommends widespread regulation of these instruments or no use of them at all.

Issue Is the Federal Reserve Good for Business?

YES: Daniel Indiviglio, "Why We Need the Fed," The Atlantic, January 14, 2011

NO: Robert Larsen, " Fed Up: The Federal Reserve's Balance Sheet is Exploding on Both Sides," Dollars and Sense, March/April 2011

Daniel Indiviglio explains that the Federal Reserve was created on December 23, 1913 with the congressional passage of the Federal Reserve Act. A series of financial crises damaged the security and credibility of the US banking system, particularly in the 1907 financial panic. Congress intended the "the Fed" would stabilize monetary practices in regard to maximum employment, stable prices, and moderate long-term interest rates. Indiviglio explains that expanding duties over the years have been welcomed by some businesses and criticized by others. Today the Federal Reserve's duties include supervising and regulating banking institutions, maintaining the stability of the financial system, directing the nation's monetary policy, and providing financial services to the U.S. government, depository institutions, and foreign official institutions. Individuals such as Robert Larsen believe that the Fed's reactions to financial bubbles and other crises artificially expand the supply of money and credit in collusion with banks. Larsen also criticizes the secrecy of the Fed in international markets and is asking that more transparency regarding Federal Reserve practices.

Issue Is it Ethical for Big Pharmaceutical Companies to Discourage Generic Drugs' Access to the Market?

YES: Agnes Shanley, "Legitimate Concerns Over Patent Protection, Profits and Shareholder Value are Being Balanced by Ethics and Humanism," Pharmaceutical Manufacturing, 2005

NO: Arthur Caplan and Zachary Caplan, "How Big Pharma Rips You Off," CNN Opinion, 2013.

Agnes Shanley argues that the enormous cost of developing a new drug justifies attempts to protect its exclusive access to the market after the patent has expired. Arthur Caplan and Zachary Caplan are skeptical of the "staggering cost" claims, and argue that consumers should have access to the generic version of the drug as soon as possible.
Unit Human Resources: The Corporation and the Employees
Issue Can Blowing the Whistle Violate Company Loyalty?

YES: Sissela Bok, from "Whistleblowing and Professional Responsibility," New York University Education Quarterly (Summer 1980)

NO: Robert A. Larmer, from "Whistleblowing and Employee Loyalty," Journal of Business Ethics (vol. 11, 1992)

Sissla Bok believes that loyalty to the firm is fractured when an employee "blows the whistle" on the firm in a public way rather than waiting for the firm to process allegations of wrongdoing internally. For Robert Larmer, the integrity of the individual and the firm is much more important than notions of loyalty to a business.

Issue Is Employer Monitoring of Employee Social Media Justified?

YES: Brian Elzweig, and Donna K. Peeples, from "Using Social Networking Web Sites in Hiring and Retention Decisions," SAM Advanced Management Journal (Autumn 2009)

NO: Steven Greenhouse, "Even if It Enrages Your Boss, Social Net Speech is Protected," New York Times, January 21, 2013

Brian Elzweig and Donna Peeples advise that negligence in the decisions to hire and retain employees can be avoided by the prudent use of social media (like Facebook) to inform these decisions. Steven Greenhouse reports that, according to a series of advisories and rulings from labor regulators, the practice, while tempting, is illegal.

Issue Is CEO Compensation Justified by Performance?

YES: Ira T. Kay, from "Don't Mess with CEO Pay," Across the Board (January/February 2006)

NO: Edgar Woolard, Jr., from "CEOs Are Being Paid Too Much," Across the Board (January/February 2006)

Ira Kay, a consultant on executive compensation for Watson Wyatt Worldwide, argues that in general the pay of the CEO tracks the company's performance. So, in general CEOs are simply paid to do what they were hired to do–bring up the price of the stock to increase shareholder wealth. Edgar Woolard, a former CEO himself, holds that the methods by which CEO compensation is determined are fundamentally flawed, and suggests some significant changes.

Issue Will Robots Help the American Worker?

YES: Jeffrey R. Young, "The New Industrial Revolution: A Coming Wave of Robots Could Redefine our Jobs. Will That Redefine us?" The Chronicle Review, March 29, 2013

NO: Mark Kingwell, "The Barbed Gift of Leisure." The Chronicle Review, March 29, 2013

Jeffrey Young explains that automation is cheap and efficient, and that technology's increasing versatility may take some jobs away from humans; but the robots will absorb primarily the drudgery that humans may be glad to be rid of. He foresees a future of increased leisure and creativity for us. Mark Kingwell focuses on what it means to be human rather than machine, and to live in a culture and community with other human beings. He argues that we are used to deriving much of the meaning of our lives from our work, and wonders what individuals might do with their leisure time.
Unit Consumer Issues
Issue Should Advertising Directed at Children Be Restricted?

YES: Stephanie Clifford, from "A Fine Line When Ads and Children Mix," New York Times, February 14, 2010

NO: Patrick Basham and John Luik, "A Happy Meal Ban is Nothing to Smile About." CATO, November 9, 2010

On the basis of interviews with businesses and research on child-focused advertising, Stephanie Clifford concludes that most businesses have found the need to restrict advertising claims and aims because of potential harms to children. Patrick Basham and John Luik, writing for the CATO institute, argue that claims relating to advertising and children are virtually baseless. They cite research which found no significant connections between advertising and childhood behaviors.

Issue Should We Require Labeling for Genetically Modified Food?

YES: Gary Hirshberg, "Why Labeling Makes Sense," Just Label It.org, 2012

NO: Cameron English, "GMO Foods: Why We Shouldn't Label (Or Worry About) Genetically Modified Products," Policymic.com, 2013

Gary Hirshberg argues that, without labeling of genetically engineered (GE) products, consumers are uninformed about what substances are in their food, which they might want to know for health, environmental and ethical reasons. Cameron English doesn't believe that genetically engineered or modified (GMO) foods are dangerous, or for any other reason require distinctive labeling. GMOs may even be superior to "natural" foods. In any case, real consumer education will not come from food packaging.

Issue Should Patenting Genes be Understood as Unethical?

YES: Jeffrey A. Rosenfeld and Christopher E. Mason, "The Supreme Court Should Invalidate the Patent of Human DNA." The Washington Post, April 5, 2013

NO: Annabelle Lever, from "Ethics and the Patenting of Human Genes," in The Journal of Philosophy, Science and Law, V. 1, November 2001

Jeffrey Rosenfled and Christopher Mason argue that the patenting of genes is unethical and that reexamination of gene patenting is necessary. By citing the example of Jonas Salk and polio, they find that overall health is harmed through the patent process when this involves expensive drugs, research and procedures. Annabelle Lever contends that gene patenting is already pervasive and has brought much good to overall medical research, and human health.

Issue Is Hydrofracking A Safe Practice?

YES: Danny Hakim, "Gas Drilling Is Called Safe in New York," New York Times, Jan. 3, 2103

NO: Ben Goldfarb, "Hydrofracking Poses Serious Risks to Human Health," Policymic,com, 2013

Danny Hakim reports that the New York Health Department will be issuing a report claiming that the practice of hydrofracking is safe as it is practiced in the state of New York. After significant pressure from the drilling industry and landowners, the moratorium on hydrofracking was lifted for the Southern Tier of the state in the summer of 2012. Ben Goldfarb disagrees, citing a recently released Environmental Protection Agency report that links hydraulic fracturing to contaminated well-water in Wyoming.
Unit Global Objectives
Issue Are Sweat Shops an Inhumane business practice?

YES: Denis G. Arnold and Norman E. Bowie, "Respect for Workers in Global Supply Chains: Advancing the Debate over Sweatshops," Business Ethics Quarterly, V. 17, 1, pp. 135-145 (2007)

NO: Gordon G. Sollars and Fred Englander. "Sweatshops: Kant and Consequences," Business Ethics Quarterly, Volume 17, Issue 1, pp. 115-133 (2007)

Arnold and Bowie argue that managers of multinational enterprises have a duty ensure that workers in their supply chains are treated with dignity and respect, which includes a living wage for those who work in sweatshops with whom they contract. Sollars and Englander contend that this work is needed for the very survival of individuals and the multinational enterprises are not participating directly in coercion of workers in sweatshops

Issue Should the World Continue to Rely on Oil as a Major Source of Energy?

YES: Red Cavaney, from "Global Oil Production About to Peak? A Recurring Myth," World Watch (January/February 2006)

NO: James Howard Kunstler, from The Long Emergency (Grove/Atlantic, 2005)

Red Cavaney, former president and CEO of the American Petroleum Institute, argues that recent revolutionary advances in technology will yield sufficient quantities of available oil for the foreseeable future. James Howard Kunstler, author of The Long Emergency/2005, suggests that simply passing the all-time production peak of oil and heading toward its point of depletion will result in a global energy predicament that will seriously change our lives

Issue Does the 2012 Wal-Mart Case Show the Foreign Corrupt Practices Act Is Obsolete?

YES: Jeffrey Miron, "Prosecute Wal-Mart, but get rid of Anti-bribery law," CNN, April 26, 2012

NO: Charlie Savage, "With Wal-Mart Claims, Greater Attention on a Law" New York Times, April 25, 2012

Jeffrey Miron complains that the FCPA is simply not enforced and has become a needless and confusing regulation. Charlie Savage reminds us that the Foreign Corrupt Practices Act (FCPA) has been law since 1977, and on the whole has been strictly enforced. The 2012 cases of Wal-Mart bribes in Mexico have brought to light the controversies that surround the FCPA.