Note: Supplemental materials are not guaranteed with Rental or Used book purchases.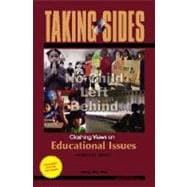 Taking Sides: Clashing Views on Educational Issues, Expanded
ISBN13:
9780073397177
by
Noll, James Wm
Summary
This EXPANDED Fourteenth Edition of TAKING SIDES: EDUCATIONAL ISSUES presents two additional current controversial issues in a debate-style format designed to stimulate student interest and develop critical thinking skills. Each issue is thoughtfully framed with an issue summary, an issue introduction, and a postscript. An instructor's manual with testing material is available for each volume. USING TAKING SIDES IN THE CLASSROOM is also an excellent instructor resource with practical suggestions on incorporating this effective approach in the classroom. Each TAKING SIDES reader features an annotated listing of selected World Wide Web sites and is supported by our student website, www.dushkin.com/online.
Table of Contents
Preliminary Contents Unit 1 Basic Theoretical Issues 35715 Issue 1. Should Schooling Be Based on Social Experiences? Yes: 3343 John Dewey, from Experience and Education, (Macmillan,1938) No: 3344 Robert M. Hutchins, from The Conflict in Education in a Democratic Society, (Harper & Row, 1953) Philosopher John Dewey suggests a reconsideration of traditional approaches to schooling, giving fuller attention to the social development of the learner and the quality of his or her total experience. Robert M. Hutchins, noted educator and one-time chancellor of the University of Chicago, argues for a liberal arts education geared to the development of intellectual powers. 35716 Issue 2. Should the Curriculum Be Standardized for All? Yes: 3357 Mortimer J. Adler, from "The Paideia Proposal: Rediscovering the Essence of Education," American School Board Journal (July 1982) No: 3346 John Holt, from Escape from Childhood, (E. P. Dutton, 1974) Philosopher Mortimer J. Adler contends that democracy is best served by a public school system that establishes uniform curricular objectives for all students. Educator John Holt argues that an imposed curriculum damages the individual and usurps a basic human right to select one's own path of development. 35717 Issue 3. Should Behaviorism Shape Educational Practices? Yes: 3350 B. F. Skinner, from Beyond Freedom and Dignity, (Alfred A. Knopf, 1971) No: 3351 Carl R. Rogers, from Freedom to Learn for the Eighties (Merrill, 1983) B. F. Skinner, an influential proponent of behaviorism and professor of psychology, critiques the concept of "inner freedom" and links learning and motivation to the influence of external forces. Professor of psychology and psychiatry Carl R. Rogers offers the "humanistic" alternative to behaviorism, insisting on the reality of subjective forces in human motivation. 41827 Issue 4. Is Constructivism the Best Philosophy of Education? Yes: 41818 David Elkind, from "The Problem with Constructivism," The Educational Forum (Summer 2004) No: 41819 Jamin Carson, from "Objectivism and Education: A Response to David Elkind's 'The Problem with Constructivism,'" The Educational Forum (Spring 2005) Child development professor David Elkind contends that the philosophical positions found in constructivism, though often difficult to apply, are necessary elements in a meaningful reform of educational practices. Jamin Carson, an assistant professor of education and former high school teacher, offers a close critique of constructivism and argues that the philosophy of objectivism is a more realistic and usable basis for the process of education. Unit 2 Current Fundamental Issues 39542 Issue 5. Can the Public Schools Produce Good Citizens? Yes: 39538 Stephen Macedo from "Crafting Good Citizens," Education Next (Spring 2004) No: 39539 Chester E. Finn, Jr., from "Faulty Engineering," Education Next (Spring 2004) Princeton politics professor Stephen Macedo expresses confidence in the public schools' ability to teach students to become active participants in our democracy, suggesting that naysayers may wish to undermine all public institutions. Thomas B. Fordham Foundation president Chester E. Finn, Jr., contends that the diversity of the American population makes the public schools ill-equipped to produce the engaged citizens our democracy requires. 39543 Issue 6. Has Resegregation Diminished the Impact of Brown? Yes: 39540 Gary Orfield, Erica D. Frankenberg, and Chungmei Lee, from "The Resurgence of School Segregation," Educational Leadership (December 2002/January 2003) No: 39541 Juan Williams, from "The Ruling That Changed America," American School Board Journal (April 2004) Harvard professor Gary Orfield and his research associates present evidence that school resegregation has been increasing a