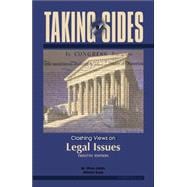 List Price: $34.32
In Stock Usually Ships in 24-48 Hours

More New and Used
from Private Sellers
Questions About This Book?
What version or edition is this?
This is the 12th edition with a publication date of 10/21/2005.
What is included with this book?
The Used copy of this book is not guaranteed to inclue any supplemental materials. Typically, only the book itself is included.
Summary
This twelfth edition of TAKING SIDES: LEGAL ISSUES presents current controversial issues in a debate-style format designed to stimulate student interest and develop critical thinking skills. Each issue is thoughtfully framed with an issue summary, an issue introduction, and a postscript. An instructor's manual with testing material is available for each volume. USING TAKING SIDES IN THE CLASSROOM is also an excellent instructor resource with practical suggestions on incorporating this effective approach in the classroom. Each TAKING SIDES reader features an annotated listing of selected World Wide Web sites and is supported by our student website, www.dushkin.com/online.
Table of Contents
Preface
v
Introduction
xv

| | |
| --- | --- |
| | PART 1 LAW AND THE INDIVIDUAL |

1
(132)

| | |
| --- | --- |
| | Issue 1. Should Persons Who Are Declared to Be ``Enemy Combatants'' Be Able to Contest Their Detention Before a Judge? |

2
(15)

| | |
| --- | --- |
| | Yes: Sandra Day O'Connor, from Majority Opinion, Hamdi, et. al. v. Rumsfeld, U.S. Supreme Court (June 28, 2004) |

4
(6)

| | |
| --- | --- |
| | No: Clarence Thomas, from Minority Opinion, Hamdi, et al. v. Rumsfeld, U.S. Supreme Court (June 28, 2004) |

10
(7)

| | |
| --- | --- |
| | Issue 2. Is Abortion Protected by the Constitution? |

17
(22)

| | |
| --- | --- |
| | Yes: Sandra Day O'Connor, from Majority Opinion, Planned Parenthood of Southeastern Pennsylvania et al. v. Casey et al. U.S. Supreme Court (1992) |

19
(12)

| | |
| --- | --- |
| | No: William H. Rehnquist, from Dissenting Opinion, Planned Parenthood of Southeastern Pennsylvania et al. v. Casey et al., U.S. Supreme Court (1992) |

31
(8)

| | |
| --- | --- |
| | Issue 3. Are Restrictions on Physician-Assisted Suicide Constitutional? |

39
(24)

| | |
| --- | --- |
| | Yes: William H. Rehnquist, from Majority Opinion, Washington et al. v. Glucksberg et al., U.S. Supreme Court (June 26, 1997) |

41
(11)

| | |
| --- | --- |
| | No: Stephen Reinhardt, from Majority Opinion, Compassion in Dying v. State of Washington, U.S. Court of Appeals for the Ninth Circuit (1996) |

52
(11)

| | |
| --- | --- |
| | Issue 4. Do People Have a Legal Right to Clone Themselves? |

63
(12)

| | |
| --- | --- |
| | Yes: Cass Sunstein, from ``The Constitution and the Clone,'' in Martha C. Nussbaum and Cass R. Sunstein, eds., Clones and Clones: Facts and Fantasies About Human Cloning (W. W. Norton, 1998) |

65
(4)

| | |
| --- | --- |
| | No: Cass Sunstein, from ``The Constitution and the Clone,'' in Martha C. Nussbaum and Cass R. Sunstein, eds., Clones and Clones: Facts and Fantasies About Human Cloning (W. W. Norton, 1998) |

69
(6)

| | |
| --- | --- |
| | Issue 5. Does the Sharing of Music Files Through the Internet Violate Copyright Laws? |

75
(20)

| | |
| --- | --- |
| | Yes: Ruth Bader Ginsburg, from Concurring Opinion, Metro-Goldwyn-Mayer Studios v. Grokster, U.S. Supreme Court (June 27, 2005) |

77
(5)

| | |
| --- | --- |
| | No: Stephen Breyer, from Concurring Opinion, Metro-Goldwyn-Mayer Studios v. Grokster, U.S. Supreme Court (June 27, 2005) |

82
(13)

| | |
| --- | --- |
| | Issue 6. Should the Insanity Defense Be Abolished? |

95
(20)

| | |
| --- | --- |
| | Yes: Jonathan Rowe, from ``Why Liberals Should Hate the Insanity Defense,'' The Washington Monthly (May 1984) |

97
(10)

| | |
| --- | --- |
| | No: Richard Bonnie, from Statement Before the Committee on the Judiciary, U.S. Senate (August 2, 1982) |

107
(8)

| | |
| --- | --- |
| | Issue 7. Can the Police Require Individuals to Identify Themselves? |

115
(18)

| | |
| --- | --- |
| | No: James P. Logan et al., from A Brief for the Petitioner, Hiibel v. Sixth Judicial District Court (2004) |

123
(10)
133
(112)

| | |
| --- | --- |
| | Issue 8. Do Religious Groups Have a Right to Use Public School Facilities After Hours? |

134
(20)

| | |
| --- | --- |
| | Yes: Clarence Thomas, from Majority Opinion, Good News Club et al. v. Milford Central School, U.S. Supreme Court (June 11, 2001) |

136
(10)

| | |
| --- | --- |
| | No: David Souter, from Dissenting Opinion, Good News Club et al. v. Milford Central School, U.S. Supreme Court (June 11, 2001) |

146
(8)

| | |
| --- | --- |
| | Issue 9. Does the Use of High-Technology Thermal Imaging Devices Violate the Fourth Amendment Search and Seizure Guarantee? |

154
(18)

| | |
| --- | --- |
| | Yes: Antonin Scalia, from Majority Opinion, Danny Lee Kyllo v. United States, U.S. Supreme Court (June 11, 2001) |

156
(7)

| | |
| --- | --- |
| | No: John Paul Stevens, from Dissenting Opinion, Danny Lee Kyllo v. United States, U.S. Supreme Court (June 11, 2001) |

163
(9)

| | |
| --- | --- |
| | Issue 10. Are Laws Requiring Schools and Public Libraries to Filter Internet Access Constitutional? |

172
(20)

| | |
| --- | --- |
| | Yes: William H. Rehnquist, from Majority Opinion, United States et al. v. American Library Association, Inc. et al., U.S. Supreme Court (June 23, 2003) |

174
(10)

| | |
| --- | --- |
| | No: John Paul Stevens, from Dissenting Opinion, United States et al. v. American Library Association, Inc. et al., U.S. Supreme Court (June 23, 2003) |

184
(8)

| | |
| --- | --- |
| | Issue 11. Does the ``Cruel and Unusual Punishment'' Clause of the Eighth Amendment Bar the Imposition of the Death Penalty on Juveniles? |

192
(16)

| | |
| --- | --- |
| | Yes: Anthony Kennedy, from Majority Opinion, Donald P. Roper, Superintendent, Potosi Correctional Center, Petitioner v. Christopher Simmons, U.S. Supreme Court (March 1, 2005) |

194
(6)

| | |
| --- | --- |
| | No: Antonin Scalia, from Minority Opinon, Donald P. Roper, Superintendent, Potosi Correctional Center, Petitioner v. Christopher Simmons, U.S. Supreme Court (March 1, 2005) |

200
(8)

| | |
| --- | --- |
| | Issue 12. Is a Sentence of Life in Prison for Stealing $150 Worth of Videotapes Constitutional? |

208
(16)

| | |
| --- | --- |
| | Yes: Sandra Day O'Connor, from Majority Opinion, Bill Lockyer, Attorney General of California, v. Leandro Andrade, U.S. Supreme Court (March 5, 2003) |

210
(8)

| | |
| --- | --- |
| | No: David Souter, from Dissenting Opinion, Bill Lockyer, Attorney General of California, v. Leandro Andrade, U.S. Supreme Court (March 5, 2003) |

218
(6)

| | |
| --- | --- |
| | Issue 13. Is Drug Use Testing of Students Who Participate in Extracurricular Activities Permitted Under the Fourth Amendment? |

224
(21)

| | |
| --- | --- |
| | Yes: Clarence Thomas, from Majority Opinion, Board of Education of Independent School District No. 92 of Pottawatomie County et al. v. Lindsay Earls et al., U.S. Supreme Court (June 27, 2002) |

226
(8)

| | |
| --- | --- |
| | No: Ruth Bader Ginsburg, from Dissenting Opinion, Board of Education of Independent School District No. 92 of Pottawatomie County et al. v. Lindsay Earls et al., U.S. Supreme Court (June 27, 2002) |

234
(11)

| | |
| --- | --- |
| | PART 3 LAW AND THE COMMUNITY |

245
(115)

| | |
| --- | --- |
| | Issue 14. Can Companies That Lie About Their Business Practices Be Punished Without Having Their First Amendment Rights Violated? |

246
(28)

| | |
| --- | --- |
| | Yes: Joyce L. Kennard, from Majority Opinion, Marc Kasky v. Nike, Inc. et al., California Supreme Court (May 2, 2002) |

248
(13)

| | |
| --- | --- |
| | No: Janice Brown, from Dissenting Opinion, Marc Kasky v. Nike, Inc. et al., California Supreme Court (May 2, 2002) |

261
(13)

| | |
| --- | --- |
| | Issue 15. Are Blanket Prohibitions on Cross Burnings Unconstitutional? |

274
(20)

| | |
| --- | --- |
| | Yes: Sandra Day O Connor, from Majority Opinion, Virginia v. Barry Elton Black, Richard J. Elliott, and Jonathan O'Mara, U.S. Supreme Court (April 7, 2003) |

276
(11)

| | |
| --- | --- |
| | No: Clarence Thomas, from Dissenting Opinion, Virginia v. Barry Elton Black, Richard J. Elliott, and Jonathan O'Mara, U.S. Supreme Court (April 7, 2003) |

287
(7)

| | |
| --- | --- |
| | Issue 16. May Marriage Be Denied to Same-Sex Couples? |

294
(18)

| | |
| --- | --- |
| | Yes: Margaret Marshall, from Majority Opinion, Goodridge et al. v. Department of Public Health, Massachusetts Supreme Court (2003) |

296
(8)

| | |
| --- | --- |
| | No: Robert Cordy, from Minority Opinion, Goodridge et al. v. Department of Public Health, Massachusetts Supreme Court (2003) |

304
(8)

| | |
| --- | --- |
| | Issue 17. Are Public School Officials Liable for Damages in Cases of Student-on-Student Sexual Harassment? |

312
(16)

| | |
| --- | --- |
| | Yes: Sandra Day O'Connor, from Majority Opinion, Davis v. Monroe County Board of Education et al., U.S. Supreme Court (May 24, 1999) |

314
(7)

| | |
| --- | --- |
| | No: Anthony Kennedy, from Dissenting Opinion, Davis v. Monroe County Board of Education et al., U.S. Supreme Court (May 24, 1999) |

321
(7)

| | |
| --- | --- |
| | Issue 18. Should Children With Disabilities Be Provided With Extraordinary Care in Order to Attend Regular Classes in Public Schools? |

328
(12)

| | |
| --- | --- |
| | Yes: John Paul Stevens, from Majority Opinion, Cedar Rapids Community School District v. Garret F., U.S. Supreme Court (March 3, 1999) |

330
(5)

| | |
| --- | --- |
| | No: Clarence Thomas, from Dissenting Opinion, Cedar Rapids Community School District v. Garret F., U.S. Supreme Court (March 3, 1999) |

335
(5)

| | |
| --- | --- |
| | Issue 19. Do Race-Conscious Programs in Public University Admissions Policies Violate the Fourteenth Amendment's Guarantee of Equal Protection Under the Law? |

340
(20)

| | |
| --- | --- |
| | Yes: Clarence Thomas, from Dissenting Opinion, Barbara Grutter v. Lee Bollinger et al., U.S. Supreme Court (June 23, 2003) |

342

| | |
| --- | --- |
| | No: Sandra Day O'Connor, from Majority Opinion, Barbara Grutter v. Lee Bollinger et al., U.S. Supreme Court (June 23, 2003) |

249
(111)
Contributors
360
(4)
Index
364