Note: Supplemental materials are not guaranteed with Rental or Used book purchases.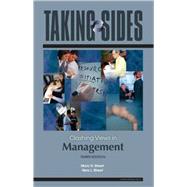 Summary
Taking Sidesvolumes present current controversial issues in a debate-style format designed to stimulate student interest and develop critical thinking skills. Each issue is thoughtfully framed with an issue summary, an issue introduction, and a postscript or challenge questions.Taking Sidesreaders feature an annotated listing of selected World Wide Web sites. An online Instructor�s Resource Guide with testing material is available for each volume.Using Taking Sides in the Classroomis also an excellent instructor resource.
Table of Contents
Ethical Issues for Managers
Do Corporations Have a Responsibility to Society Beyond Maximizing Profit?
Is it Immoral for U.S. Corporations to Use Cheap Overseas Labor?
Are U.S. CEOs Paid More Than They Deserve?
Does an Employer's Need to Monitor Workers Trump Employee Privacy Concerns?
Organizational Behavior and Human Resource Management
Has Affirmative Action Outlived Its Usefulness in the Workplace?
Is Workplace Drug Testing a Wise Corporate Policy?
Is Gender Discrimination the Main Reason Women Are Paid Less Than Men?
Should Employees Be Allowed to Vote by Secret Ballot When Deciding Whether to Support Unionization in the Workplace?
Should Corporations Be Allowed to Implement English-Only Rules in the Workplace?
Strategic Management
Is Downsizing a Sound Strategic Initiative?
Is Outsourcing a Wise Corporate Strategy?
Does Expanding via Mergers and Acquisitions Make for Sound Corporate Strategy?
Is First-to-Market a Successful Strategy?
Is Growth Always an Inherent Corporate Value?
Environmental and International Management Issues
Should Corporations Adopt Environmentally Friendly Policies of CSR and Sustainable Development?
Do Unskilled Immigrants Hurt the American Economy?
Is Economic Globalization Good for Humankind?
Are Protectionist Policies Beneficial to Business?
Table of Contents provided by Publisher. All Rights Reserved.