Note: Supplemental materials are not guaranteed with Rental or Used book purchases.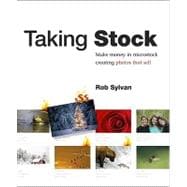 Taking Stock : Make Money in Microstock Creating Photos That Sell
ISBN13:
9780321713070
by
Sylvan, Rob
Questions About This Book?
What version or edition is this?
This is the 1st edition with a publication date of 8/13/2010.
What is included with this book?
The eBook copy of this book is not guaranteed to include any supplemental materials. Typically only the book itself is included.
Summary
The ultimate insider guide to creating stock shots that sell from a veteran iStockphoto inspector An iStockphoto inspector since 2002, author Rob Sylvan has spent the last decade as part of the team that decides which photos get sold on one of the largest, most popular microstock sites in existence. Hers"s also made tens of thousands of dollars off of his own microstock photography. As a result, no one knows better than he does what it takes to get your photos accepted to stock sites-and what to do to make those photos sell. InTaking Stock,Rob shares his hard-earned insider knowledge with real world advice on how to shoot, edit, and tag photos so you can earn while you learn, regardless of which microstock agency yours"re using. In this book, yours"ll learn how to look at the world through the eyes of designers, photo editors, and stock photographers, as well as the importance of focusing your energy on creating stock content that resonates with your passion for photography. But we all know time is money, which is why Rob explains how to set up an effective digital workflow-the real key to making money in the high-volume, low-cost microstock market. By the end of this book, yours"ll look at your work with new eyes, enabling you to make more money doing exactly what you love: shooting photos that sell. You will learn: How to license photos as stock What photos are in demand The components of a successful digital workflow How to use titles, descriptions, and keywords to give yourself an edge Specific tips for shooting food, people, places, nature, objects, animals, and more Editing techniques that will make your shots sell
Author Biography
Rob Sylvan started contributing photos to iStockphoto in 2002. In December 2002, he became the sixth photo inspector (the people who review all new submissions to the site) to be hired. Over the last seven years he has inspected thousands upon thousands of photos and is in the process of re-writing iStock's photo contributor manual. Beyond his experience with iStockphoto, Rob has been one of three people serving on the National Association of Photoshop Professionals (NAPP) Help Desk answering Photoshop and Lightroom questions for all NAPP members. He is also the author of Lightroom 2 for Dummies.
Table of Contents
Table of Contents

Ch 1
Is this Book for You?
How I Got Started
From Content Consumer to Content Creator
The $13,000 Christmas Tree
What's in it for You?
Quality vs. Quantity

Ch2
What is Stock Photography?
Who Uses Stock?
When is a Photo a Stock Photo?
Understanding the Licensing Models
Rights-Managed
Royalty-Free
Editorial
The Ways that Money Changes Hands
Pay-As-You-Go
Subscription
The History of "Microstock"
The Top Microstock Sites to Start With

Ch3
Getting into a Stock Frame of Mind
Knowing Your Customers
Doing Your Research
Keeping Track
Thinking Like an Image Consumer
Greater Than the Sum of its Parts
Spectrum of Stock
Ingredients of a Stock Photo
Communication is Key
Simplicity of Message
Give Equal Weight to the Background
Assignment

Ch4
Of Rights and Wrongs
Reading the Fine Print
Permitted Uses
Editorial Options
The Role of the Model Release
Finding People Willing to Model
Can I Get a Witness?
A Healthy Respect for Property
Prevention Pays Off
Being Inspired by Others
Assignment

Ch5
Tools of the Trade
Gear Crazy
Camera Choices
Raw vs. JPG
Keeping Your Options Open
Key Camera Settings
Do Touch that Dial
Beyond the Camera

Ch6
Shooting Tips From the Pros
The Importance of Good Exposure
Reading the Histogram
Highlight Clipping Warning
Top Tips for Your Next Photo Shoot
Get Ready
Day of the Shoot
After the Shoot
Moving Forward

Ch7
Setting Up Your Digital Darkroom
Hardware Choices
Computer
Plan B (For Backup)
Your Monitor
Calibrating Your Monitor
Software Choices
Choosing a Color Space
Color by Numbers
Understanding Bit Depth
Answering the Question
Assignment

Ch8
Digital Editing Basics
Focus on Quality
Work Smarter
A Little About that Bear Photo
Setting Defaults and Creating Presets
Choosing a Default Rendering
Creating a Develop Preset
Adjusting White Balance
Using the Tools
Speeding Up the Process
Making Exposure Adjustments
Exploring the Exposure Adjustment Tools
Practical Exposure Adjustments
The Presence Controls
Sharpening for Stock
Making the Sharpening Adjustments
Dealing with Noise
Making the Adjustments
Assignment

Ch9
Avoiding Rejection
Digital House Cleaning
The Dreaded Purple Fringe
Cropping for Composition
Removing Distracting Elements
Downsizing to Fix Minor Problems
Avoid Over-Processing
Adding a Vignette
Creating a Reverse Vignette
Assignment

Ch10
Seeing Like an Inspector
Being Your Own Worst Critic
Capture Time
First Review
Post-production
Objectivity Practice
Developing an Inspection Workflow
Creating an Upload Pre-flight Checklist
Dealing with Rejection
Assignment

Ch11
Putting it All Together
First Things First
Backups on the Go
Software Solutions
Importing into Lightroom
Import Interface Orientation
A Typical Import
Creating a Metadata Preset
Wheat from the Chaff: Reviewing
Decision Time
Collecting the Keepers
The Wonderful World of Metadata
Search Engine Optimization
Adding Titles and Descriptions
Keywording 101
Creating a Keyword List
Applying Keywords

Ch12
Moving Out into the World
Save Your Final Versions
Lightroom Export
Lightroom Publish Services
Establishing a Name for Yourself
Going Through the Application Process
Find Your Photos in Use
Google Google Google
Reverse Image Search
Move to the Next Level
Parting Words

Afterword