Note: Supplemental materials are not guaranteed with Rental or Used book purchases.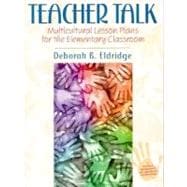 Teacher Talk : Multicultural Lesson Plans for the Elementary Classroom
ISBN13:
9780205267620
by
Eldridge, Deborah B.
Summary
Today, teachers are struggling to develop lesson plans for their increasingly multicultural and diverse student population. What do they do and how do they do it? The sharing of ideas among teachers is the only way they can enhance their lessons and increase their awareness. This book gives educators a unique opportunity -- it illustrates the "how" of multicultural education once the "why" is understood. Teachers and administrators have been waiting for a book like and here it is! Here are real, working classroom teachers struggling with the issues of multicultural education on a variety of levels, in various contents areas, and through individual personal interests. These teachers tell their stories, present their curriculum units, discuss their concerns, and describe themselves - all with the aim of helping other classroom teachers find their own answers about what to do and how to do it. Above all, this book is an opportunity for teachers to be heard as they struggle with the area of teaching for a changing and increasingly multicultural classroom and world. Teachers, educators, school administrators. A Longwood Professional Book.
Table of Contents
Contents
v
(7)
Preface
xii
(3)
Acknowledgements and Dedication
xv

| | |
| --- | --- |
| | CHAPTER ONE When the shoe won't fit: Teachers' concerns about and responses to diversity in the classroom and the curriculum |

1
(12)

| | |
| --- | --- |
| | Challenges for the classroom and curriculum |

2
(5)

| | |
| --- | --- |
| | Meeting the challenges alone and together |

7
(2)

| | |
| --- | --- |
| | Overview of the structure and contents of the chapters |

9
(3)
12
(1)

| | |
| --- | --- |
| | CHAPTER TWO Quilts, knots, and journeys: A multicultural approach to family history |

13
(21)

| | |
| --- | --- |
| | Quick View Chart of the Instructional Unit |

14
(1)

| | |
| --- | --- |
| | Lesson One: The Patchwork Quilt |

15
(3)
17
(1)

| | |
| --- | --- |
| | Lesson Two: The Josefina Story Quilt |

18
(6)
21
(1)
22
(1)
23
(1)

| | |
| --- | --- |
| | Lesson Three: Knots on a Counting Rope |

24
(4)
26
(1)
27
(1)

| | |
| --- | --- |
| | Lesson Four: Coming to America |

28
(4)
30
(1)
31
(1)
32
(1)
33
(1)

| | |
| --- | --- |
| | CHAPTER THREE Celebrations with a twist: Alternative lessons during Halloween, Christmas, and Easter |

34
(21)

| | |
| --- | --- |
| | Quick View Chart of the Instructional Unit |

35
(1)

| | |
| --- | --- |
| | Part One: Maskerade (Halloween Alternative) |

36
(7)

| | |
| --- | --- |
| | Lesson One: Phantom of the Opera |

36
(2)

| | |
| --- | --- |
| | Mask Paragraph Assignment |

37
(1)

| | |
| --- | --- |
| | Lesson Two: Comedy and Tragedy |

38
(2)
39
(1)

| | |
| --- | --- |
| | Lesson Three: Eskimo Laughing Masks |

40
(3)
41
(1)

| | |
| --- | --- |
| | At Home Extension: A Mask of Me |

42
(1)

| | |
| --- | --- |
| | Part Two: Dollup (Christmas Alternative) |

43
(4)

| | |
| --- | --- |
| | Lesson Four: William's Doll |

43
(1)

| | |
| --- | --- |
| | Lesson Five: Molly's Pilgrim |

44
(1)

| | |
| --- | --- |
| | Lesson Six: Hopi Zuni Kachina Cradle Dolls |

45
(2)

| | |
| --- | --- |
| | At Home Extension: My Doll |

46
(1)

| | |
| --- | --- |
| | Part Three: Eggstravaganza (Easter Alternative) |

47
(7)

| | |
| --- | --- |
| | Lesson Seven: Ugly Duckling Play |

47
(1)

| | |
| --- | --- |
| | Lesson Eight: Moravian Goose Eggs |

48
(2)
49
(1)

| | |
| --- | --- |
| | Lesson Nine: Polish Style Binsegraas Eggs |

50
(4)
51
(1)

| | |
| --- | --- |
| | At Home Extension: My Beautiful Egg |

52
(1)

| | |
| --- | --- |
| | "Here's What I Thought" Questionnaire |

53
(1)
54
(1)
54
(1)

| | |
| --- | --- |
| | CHAPTER FOUR Domo arigato: A study of Japan, its people, and culture |

55
(36)

| | |
| --- | --- |
| | Quick View Chart of the Instructional Unit |

56
(1)
57
(2)
58
(1)
59
(2)
59
(1)

| | |
| --- | --- |
| | Ribbon Dance Instructions |

60
(1)

| | |
| --- | --- |
| | Lesson Three: What a Country! |

61
(2)

| | |
| --- | --- |
| | Japan: What a Country! Activity Sheet |

62
(1)

| | |
| --- | --- |
| | Lesson Four: Population Facts |

63
(1)

| | |
| --- | --- |
| | Instructions for the Population Game |

63
(1)
64
(1)
65
(2)
66
(1)
67
(2)
68
(1)

| | |
| --- | --- |
| | Lesson Eight: Home Sweet Home |

69
(4)

| | |
| --- | --- |
| | Japanese Room Information Sheet |

71
(1)
72
(1)
73
(1)

| | |
| --- | --- |
| | Lesson Ten: Speaking and Writing |

74
(3)

| | |
| --- | --- |
| | Japanese Mini-Dictionary Handout |

75
(1)

| | |
| --- | --- |
| | Japanese Writing Activity Sheet |

76
(1)

| | |
| --- | --- |
| | Lesson Eleven: Itchy Knee? |

77
(3)

| | |
| --- | --- |
| | Counting in Japanese Activity Sheet |

78
(1)

| | |
| --- | --- |
| | Japanese Number Dot-to-Dot Activity Sheet |

79
(1)

| | |
| --- | --- |
| | Lesson Twelve: Folk Legend |

80
(2)

| | |
| --- | --- |
| | Momotaro, the Peach Boy Activity sheet |

81
(1)
82
(2)

| | |
| --- | --- |
| | A Letter to the President of the United States |

83
(1)

| | |
| --- | --- |
| | Lesson Fourteen: Biographies |

84
(2)
85
(1)

| | |
| --- | --- |
| | Lesson Fifteen: Pack It All Together |

86
(3)
86
(3)
89
(1)
90
(1)

| | |
| --- | --- |
| | CHAPTER FIVE How's the weather? Incorporating a multicultural approach toward meteorology |

91
(30)

| | |
| --- | --- |
| | Quick View Chart of the Instructional Unit |

92
(1)

| | |
| --- | --- |
| | Lesson One: When the Wind Stops |

93
(1)

| | |
| --- | --- |
| | Lesson Two: Forecasting the Weather |

94
(3)

| | |
| --- | --- |
| | Weather Forecast and Report Quiz |

96
(1)

| | |
| --- | --- |
| | Lesson Three: Huichol Indian Culture |

97
(2)

| | |
| --- | --- |
| | Checklist for Journal Responses |

98
(1)

| | |
| --- | --- |
| | Lesson Four: Weather Research |

99
(1)

| | |
| --- | --- |
| | Lesson Five: Expert Reports |

100
(1)
101
(2)

| | |
| --- | --- |
| | Directions for Creating a Tornado |

102
(1)

| | |
| --- | --- |
| | Lesson Seven: Snow and Thunderstorms |

103
(2)
104
(1)

| | |
| --- | --- |
| | Lesson Eight: Hurricanes, Monsoons, and Typhoons |

105
(2)
107
(1)

| | |
| --- | --- |
| | Lesson Ten: Inuit Culture |

108
(1)

| | |
| --- | --- |
| | Lesson Eleven: Culture vs. Climate |

109
(1)

| | |
| --- | --- |
| | Lesson Twelve: Ozone Depletion |

110
(2)

| | |
| --- | --- |
| | Ozone Depletion Information Sheet |

111
(1)

| | |
| --- | --- |
| | Lesson Thirteen: Global Warming |

112
(2)

| | |
| --- | --- |
| | Global Warming Information Sheet |

113
(1)

| | |
| --- | --- |
| | Lesson Fourteen: Deforestation |

114
(4)

| | |
| --- | --- |
| | Deforestation Information Sheet |

115
(1)
116
(2)

| | |
| --- | --- |
| | Lesson Fifteen: Final Assessment |

118
(1)
119
(1)
120
(1)

| | |
| --- | --- |
| | CHAPTER SIX We, the people...but which people? A study of America's primary documents |

121
(31)

| | |
| --- | --- |
| | Quick View Chart of the Instructional Unit |

122
(1)

| | |
| --- | --- |
| | Lesson One: What Do We Already Know? |

123
(4)

| | |
| --- | --- |
| | What Do We Already Know True/False Quiz |

124
(1)
125
(2)

| | |
| --- | --- |
| | Lesson Two: Letters, we get letters |

127
(3)

| | |
| --- | --- |
| | Grievances against King George Activity Sheet |

128
(1)

| | |
| --- | --- |
| | Great Grievances Activity Sheet |

129
(1)

| | |
| --- | --- |
| | Lesson Three: Presenting Out Preamble |

130
(3)

| | |
| --- | --- |
| | The Preamble to the Constitution Activity Sheet |

131
(1)

| | |
| --- | --- |
| | We, the people..but which people? Activity Sheet |

132
(1)

| | |
| --- | --- |
| | Lesson Four: Inherit the Wind |

133
(3)

| | |
| --- | --- |
| | The Bill of Rights...Was It For All? Activity Sheet |

134
(1)

| | |
| --- | --- |
| | My Bill of Rights for Everyone |

135
(1)

| | |
| --- | --- |
| | Lesson Five: The Haves vs. The Have Nots |

136
(4)

| | |
| --- | --- |
| | Answer Key for the Math Game |

137
(1)

| | |
| --- | --- |
| | The Haves vs. The Have Nots Math Game |

138
(2)

| | |
| --- | --- |
| | Lesson Six: Tuneful Biographies |

140
(3)

| | |
| --- | --- |
| | Famous Americans of the Times Handout |

141
(1)

| | |
| --- | --- |
| | "Yankee doodle Dandy" Activity Sheet |

142
(1)

| | |
| --- | --- |
| | Lesson Seven: Great Gazettes |

143
(3)

| | |
| --- | --- |
| | The Five W's of Good Reporting Activity Sheet |

144
(1)

| | |
| --- | --- |
| | A Great Gazette Activity Sheet |

145
(1)

| | |
| --- | --- |
| | Lesson Eight: In Their Shoes |

146
(4)

| | |
| --- | --- |
| | African Americans Role-Playing Scenarios |

147
(1)

| | |
| --- | --- |
| | Native Americans Role-Playing Scenarios |

148
(1)

| | |
| --- | --- |
| | Women Role-Playing Scenarios |

149
(1)
150
(1)
151
(1)

| | |
| --- | --- |
| | CHAPTER SEVEN Maya and Aztec: A study of the ancient Mexican civilizations |

152
(29)

| | |
| --- | --- |
| | Quick View Chart of the Instructional Unit |

153
(1)

| | |
| --- | --- |
| | Lesson One: Introduction and Background |

154
(2)

| | |
| --- | --- |
| | Aztec and Maya Date Sheet |

155
(1)
156
(3)

| | |
| --- | --- |
| | Mayan and Aztec Gods Handout |

158
(1)

| | |
| --- | --- |
| | Lesson Three: Family Life and Community |

159
(2)

| | |
| --- | --- |
| | Lesson Four: Food Sources |

161
(3)

| | |
| --- | --- |
| | Recipe for Mexican Hot Chocolate |

162
(1)

| | |
| --- | --- |
| | Word List for A Quetzalcoatl Tale of Chocolate |

163
(1)
164
(2)

| | |
| --- | --- |
| | Warrior Headdress Feathers and Glyphs Handout |

165
(1)

| | |
| --- | --- |
| | Lesson Six: Achievements in Art |

166
(2)

| | |
| --- | --- |
| | Mosaic Mask Model Handout |

167
(1)

| | |
| --- | --- |
| | Lesson Seven: Music and Dance |

168
(1)

| | |
| --- | --- |
| | Lesson Eight: Sports and Games |

169
(2)

| | |
| --- | --- |
| | Patolli Game Board Handout |

170
(1)
171
(2)

| | |
| --- | --- |
| | Mayan and Aztec Hieroglyphs Handout |

172
(1)
173
(1)

| | |
| --- | --- |
| | Lesson Eleven: Passports and Review |

174
(3)
175
(2)

| | |
| --- | --- |
| | Lesson Twelve: Assessment of Student Learning |

177
(3)

| | |
| --- | --- |
| | Maya and Aztec Project Evaluation Sheet |

178
(1)

| | |
| --- | --- |
| | Maya and Aztec Essay Quiz |

179
(1)
180
(1)
180
(1)

| | |
| --- | --- |
| | CHAPTER EIGHT Multicultural literary guide: A teacher's companion to independent reading in the early elementary grades |

181
(24)

| | |
| --- | --- |
| | Collection One: African Americans |

184
(5)

| | |
| --- | --- |
| | Collection Two: Asian Americans |

189
(4)

| | |
| --- | --- |
| | Collection Three: Native Americans |

193
(5)

| | |
| --- | --- |
| | Collection Four: Latino Americans |

198
(5)
203
(1)
203
(2)
ASSESSMENT APPENDIX
205
(21)
Assessments for Chapter Three: Celebrations with a twist
205
(5)
Mask Paragraph Assignment
205
(1)
Comedy Tragedy Quiz
206
(1)
Mask Rating Scale
207
(1)
Egg Rating Scale
208
(1)
Here's What I Thought !!! Questionnaire
209
(1)
Assessments for Chapter Five: How's the Weather?
210
(6)
Rubric for Expert Written Report of Weather
210
(1)
Rating Scale for Oral Report of Weather
211
(1)
Rating Scale for Cultural Presentation
212
(1)
Rating Scale for Outline of Role-Playing Activity
213
(1)
Checklist for Journal Responses
213
(1)
End of Unit Exam
214
(1)
Student Evaluation of Multicultural Meteorology Unit
215
(1)
Assessments for Chapter Six: We, the people
216
(8)
Classroom Discussion Score Sheet
216
(1)
Student Writing Rubric: Problem-Solving Assignments
217
(1)
Rubric for Working Toward the Achievement of Group Goals
218
(1)
Rubric for Choosing Alternatives to Meet the Established Criteria
219
(1)
Cooperative Groupwork Observation Checklist
220
(1)
Checklist for Student Performance: "Yankee Doodle" Biographical Song
221
(1)
Rubric for Assessing Knowledge of the Five W's
222
(1)
Student Writing Rubric: Providing Information on a Given Topic
223
(1)
Assessments for Chapter Seven: Maya and Aztec
224
(2)
Maya and Aztec Project Evaluation Sheet
224
(1)
Maya and Aztec Essay Quiz
225
(1)
REFERENCE APPENDIX
226
References for Chapter One: When the shoe won't fit
226
(2)
References for Chapter Two: Quilts, Knots and Journeys
228
(2)
Professional References
228
(1)
Stories about Quilts
229
(1)
Children and Grandparents
229
(1)
Naming Stories
229
(1)
Stories about Coming to America
230
(1)
Families Pass on Traditions
230
(1)
References for Chapter Three: Celebrations with a twist
230
(1)
References for Chapter Four: Domo arigato
231
(1)
References for Chapter Five: How's the weather?
232
(1)
References for Chapter Six: We, the people
232
(1)
References for Chapter Seven: Maya and Aztec
233
(1)
References for Chapter Eight: Multicultural literary guide
234
Professional Resources for Selecting Children's Literature
234
(1)
Children's Literature Reviewed in the Guide
235