Note: Supplemental materials are not guaranteed with Rental or Used book purchases.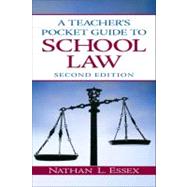 A Teacher's Pocket Guide to School Law
ISBN13:
9780135094181
by
Essex, Nathan L.
Questions About This Book?
What version or edition is this?
This is the 2nd edition with a publication date of 1/22/2010.
What is included with this book?
The eBook copy of this book is not guaranteed to include any supplemental materials. Typically only the book itself is included.
Customer Reviews
Great book
August 2, 2011
by





Nathan Essex has written a succinct, easy-to-understand guide that all teachers need to read to become "legalese savvy" in today's litigious educational climate. From understanding the procedures required for a legal search and seizure to knowing teachers' rights, "A Teacher's Pocket Guide to School Law" is a must read for educators at all grade levels. The textbook is exceptionally readable and covers the areas of school law that teachers find themselves mired in most. After reading Essex's book, I know that being apprised of the legal ramifications of what I do in the classroom is critical for my own safety as well as the safety of my students. I received a great price on the textbook! Also, it shipped quickly and I received it quickly!

Flag Review
---
A Teacher's Pocket Guide to School Law

:
stars based on
1
user reviews.
Summary
A concise, user-friendly reference book that covers the critical and contemporary aspects of school law. A Teacherís Pocket Guide to School Law is a practical, informative reference for in-service and pre-service teachers in need of a school law resource written specifically with educators in mind. With an entertaining style that does not assume background knowledge in legal issues, this crisp, succinct text covers both the traditional and contemporary legal issues faced in todayís classrooms.
Examining religion in the classroom, student record confidentiality, zero tolerance policies, gang activity, and students with disabilities, the Teacherís Pocket Guide not only covers relevant school legal topics, but also provides readers with practical guides that assist teachers in resolving possible legal problems and avoiding lawsuits.
In the newly revised second edition of the text, author Nathan L. Essex has significantly expanded the guide to include the most recent school law topics, keeping the book up-to-date and practical for 21stCentury educators everywhere.
Author Biography
Nathan L. Essex has taught public school law for more than 25 years and has led over 350 workshops and seminars on legal issues in education. He has published more than 75 national articles on various aspects of law, published a public school law textbook, School Law and the Public Schools: A Practical Guide for Educational Leaders, now in its 5th edition and completed the first edition of a law book entitled The 200 Most Frequently Asked Legal Questions for Educators.
Table of Contents
CHAPTER 1
CONTROL OF PUBLIC SCHOOLS
STATE AND LOCAL CONTROL OF EDUCATION
State Board of Education
Chief State School Office
State Department of Education
Local Control of Public Schools
Teachers as Employees of Local School Boards
School District Rules and Regulations
School Board Meetings
Curriculum Standards
Guides, Control of Public Schools
________________________________________________________________________
CHAPTER 2
INSTRUCTION AND CURRICULUM STANDARDS
ACADEMIC ISSUES
Curriculum Standards
NO CHILD LEFT BEHIND ACT OF 2001
Public School Choice
PUTTING READING FIRST
Summary and Implications, Accountability
Participation
Adequately Yearly Progress
Teacher Quality
Qualified Teachers
Paraprofessionals
Restructuring
Alternative Governance
VOUCHERS
CHARTER SCHOOLS
Guides, Instructional Program
INTELLECTUAL PROPERTY AND FAIR USE
Copying Computer Software
USE OF THE INTERNET FOR INSTRUCTION
School or District Responsibility
Guides, Use of the Internet for Instruction
GRADING AND ACADEMIC REQUIREMENTS
Student Testing
Grade Reduction for Absences
Grade Reduction for Unexcused Absences
Grade Reduction for Academic Misconduct
Physical Punishment for Poor Academic Performance
Guides, Grading and Academic Requirements
EDUCATIONAL MALPRACTICE
Guides, Educational Malpractice
_______________________________________________________________________
CHAPTER 3
RELIGION AND PUBLIC SCHOOLS
PRAYER, BIBLE READING AND RELIGIOUS SYMBOLS
School Sponsored Prayer
Silent Prayer and Meditation
Prayer at School Events
School-Sponsored Bible Reading
Religious Symbols
Religious Displays
Ten Commandments
Prayer at School Board Meetings
Guides, Prayer and Bible Use in School
RELIGIOUS ACTIVITIES AND HOLIDAY PROGRAMS
Distribution of Religious Materials
Pledge of Allegiance
Landmark Case
Guides, Religious Activities
________________________________________________________________________
CHAPTER 4
STUDENTS, THE LAW AND PUBLIC SCHOOLS
FREEDOM OF EXPRESSION
Tinker Case
Guides, Freedom of Expression
Protests and Demonstrations
Guides, Protests and Demonstrations
SCHOOL SPONSORED NEWSPAPERS
Guides, Student Newspapers
CENSORSHIP
Guides, Censorship
DRESS AND APPEARANCE
Health and Safety Issues
Controversial Slogans
Guides, Dress and Appearance
SEARCH AND SEIZURE
Reasonable Suspicion
Student Desks
Student Lockers
Book Bags
Automobiles
Personal Searches
Guides, Search and Seizure
USE OF PAGERS AND CELLULAR PHONES
Guides, Pagers and Cellular Phones
CORPORAL PUNISHMENT
Reasonable Punishment
Minimal Due Process
Excessive Punishment
Guides, Corporal Punishment
CLASSROOM HARASSMENT
The Supreme Court's Decision
Guides, Classroom Harassment
CHILD ABUSE
PREGNANT STUDENTS
MARRIED STUDENTS
Guides, Pregnant and Married Students
________________________________________________________________________
CHAPTER 5
DUE PROCESS AND STUDENT SAFETY
CREATING SAFE SCHOOLS
GANGS AND DRESS
Guides, Gangs and Dress
School Uniform Dress Policies and Students' Freedom of Expression Rights
Early Legal Challenges
Guides, Uniforms
ZERO TOLERANCE AND SCHOOL SAFETY
Recent Zero Tolerance Practices
Guides, Zero Tolerance
SCHOOL SUSPENSION
Guides, School Suspension
Procedural and Substantive Due Process
EXPULSION
Guides, Expulsion
Metal Detectors
Guides, Metal Detectors
Drug Testing
Alcohol Use and Breathalyzers
Guides, Drugs And Alcohol Testing
________________________________________________________________________
CHAPTER 6
LIABILITY AND STUDENT RECORDS
SANCTIONS FOR VIOLATING FAMILY PRIVACY RIGHTS
Rights of Parents
Rights of Noncustodial Parents
Rights of Eligible Students
Rights of School Personnel
Enforcement of State or Federal Statutes
FAMILY EDUCATION RIGHTS AND PRIVACY ACT
Significant U.S. Supreme Court Rulings
DEFAMATION INVOLVING SCHOOL PERSONNEL
Slander
Libel
Privilege
Good Faith
Acts of Malice
CONFIDENTIALITY ISSUES INVOLVING SCHOOL COUNSELORS
Guides, Liability and Students Records
________________________________________________________________________
CHAPTER 7
INDIVIDUALS WITH DISABILITIES
INDIVIDUALS WITH DISABILITIES EDUCATION ACT OF 1990 (IDEA)
Mandatory Requirements
Functional Exclusion of Children with Disabilities
Interpretation and Identification of Children with Disabilities
Response to Intervention
Individualized Education Program Requirement
No Child Left Behind
Least Restrictive Environment
Equal Access to Assistive Technology for Students with Disabilities
Technology Assistive Services
Program Review and Changes
Education-Related Service Requirement
Inclusion of Children with Disabilities
Attention Deficit Hyperactivity Disorder and Federal Protection
DISCIPLING STUDENTS WITH DISABILITIES
Expulsion
Suspension
Rehabilitation Act of 1973, Sec. 504
Guides, Students with Disabilities
________________________________________________________________________
CHAPTER 8
THE TEACHER AND SCHOOL LIABILITY
THE SCHOOL AS A SAFE PLACE
LIABILITY OF SCHOOL PERSONNEL
Individual Liability
Vicarious Liability
Foreseeability
Nuisance
INTENTIONAL TORTS
Mental Distress
False Imprisonment
Trespassing on Personal Property
UNINTENTIONAL TORTS
Standard of Care
Breach of Duty
Proximity or Legal Cause
Injury
DEFENSES FOR NEGLIGENCE
Contributory Negligence
Assumption of Risk
Comparative Negligence
Immunity
Liability Costs
DUTIES OF SUPERVISION
Supervision Before School and After School
Field Trips
Parental Consent and Written Waivers
Guides, School Liability
________________________________________________________________________
CHAPTER 9
DISCRIMINATION IN EMPLOYMENT
TITLE VII, DISCRIMINATION
Sexual Discrimination
THE REHABILITATION ACT OF 1973 AND THE AMERICANS WITH DISABILITIES ACT OF 1990
Qualifications for Employment
Scope of Protection–Section 504 and ADA
Guides, Americans with Disabilities
Racial Discrimination
Religious Discrimination
Age Discrimination
PREGNANCY AND SCHOOL EMPLOYMENT
FAMILY AND MEDICAL LEAVE ACT (FMLA)
Guides, Discrimination
SEXUAL HARASSMENT
Sexual Harassment of Students by School Personnel
Guides, Sexual Harassment
________________________________________________________________________
CHAPTER 10
TEACHER FREEDOMS
SUBSTANTIVE AND PROCEDURAL CONSIDERATIONS
FREEDOM OF EXPRESSION
Speech Outside the School Environment
Academic Freedom
FREEDOM OF ASSOCIATION
POLITICAL RIGHTS
DRESS AND GROOMING
UNWED PREGNANT TEACHERS
RIGHT TO PRIVACY
Guides, Teacher Freedoms
RELIGIOUS FREEDOMS
Use of Religious Garb by School Personnel
TITLE VII–RELIGIOUS DISCRIMINATION
Guides, Religious Discrimination
________________________________________________________________________
CHAPTER 11
TENURE, DISMISSAL AND COLLECTIVE BARGAINING
TENURE
Acquisition of Tenure
Nonrenewal
Guides, Tenure
Teacher Evaluation
Guides, Teacher Evaluation
FINANCIAL EXIGENCY (ABOLITION OF POSITIONS)
Guides, Financial Exigency
DISMISSAL FOR CAUSE
Incompetency
Insubordination
Neglect of Duty
Immorality
Conduct Involving Morality
Sexual Advances Toward Students
Guides, Dismissal for Cause
Good or Just Cause
Guides, Good or Just Cause
COLLECTIVE BARGAINING
Private Sector Versus Public Sector Bargaining
State Involvement
Scope of Collective Bargaining
Impasse and Bargaining
Worker's Compensation
Guides, Collective Bargaining
Appendix A: Selected Constitutional Provisions
Appendix B: Selected Federal Statutes
Appendix C: Relevant Educational Resources for Teachers and Other Professional Educators
Glossary of Relevant Legal Terms
Index