Note: Supplemental materials are not guaranteed with Rental or Used book purchases.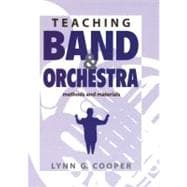 Teaching Band and Orchestra : Methods and Materials
ISBN13:
9781579992750
by
Unknown
Questions About This Book?
What version or edition is this?
This is the edition with a publication date of 4/1/2004.
What is included with this book?
The New copy of this book will include any supplemental materials advertised. Please check the title of the book to determine if it should include any CDs, lab manuals, study guides, etc.
The Used copy of this book is not guaranteed to include any supplemental materials. Typically, only the book itself is included.
Summary
This book covers every critical area in the professional life of band and orchestra teachers working at the primary and secondary levels. Topics explored include recruiting and retention, creating lesson plans, assessment, curriculum development, selecting literature, running effective rehearsals, and organising concerts. Also addressed are the administrative realities of being a music teacher, from the job search to fundraising. A plethora of forms, sample letters, charts, and lists of suggested literature round out this resource-packed text.
Table of Contents
Introduction
ix
Acknowledgements
xi
PART I: THE BEGINNING PROGRAM

| | |
| --- | --- |
| | Chapter One: Laying the Foundation |

3
(16)
3
(8)
11
(2)
13
(2)
15
(4)

| | |
| --- | --- |
| | Chapter Two: Recruiting and Retaining Beginning Students |

19
(22)
19
(14)
20
(4)
24
(1)
25
(8)
33
(2)
35
(6)

| | |
| --- | --- |
| | Chapter Three: Planning for Success |

41
(22)
41
(2)
43
(4)
47
(8)
55
(2)
57
(6)
PART II: THE SECONDARY PROGRAM

| | |
| --- | --- |
| | Chapter Four: Building a Curriculum |

63
(24)
63
(3)
63
(2)

| | |
| --- | --- |
| | The Total Secondary Music Program |

65
(1)
66
(10)
66
(1)
66
(2)
68
(19)
69
(1)
70
(3)
73
(1)
74
(1)
75
(1)

| | |
| --- | --- |
| | Community Bands and Orchestras |

75
(1)
76
(2)
78
(1)
79
(8)

| | |
| --- | --- |
| | Chapter Five: Selecting Literature and Organizing the Music Library |

87
(30)
87
(5)
88
(1)
88
(2)
90
(2)
92
(7)

| | |
| --- | --- |
| | The Band and Orchestra Library |

99
(14)
99
(4)

| | |
| --- | --- |
| | Music Library Organization |

103
(7)
103
(4)
107
(3)

| | |
| --- | --- |
| | Music Library Facilitation |

110
(3)
113
(4)

| | |
| --- | --- |
| | Chapter Six: Running Effective Rehearsals |

117
(18)
117
(1)
118
(10)

| | |
| --- | --- |
| | The Daily Plan-Rehearsal Content |

119
(1)
119
(3)
122
(1)

| | |
| --- | --- |
| | Technique Building in the Ensemble |

123
(1)
124
(2)
126
(1)
127
(1)
128
(1)

| | |
| --- | --- |
| | Teaching Ensemble Sight-Reading |

129
(6)
129
(1)
129
(1)
130
(2)
132
(3)

| | |
| --- | --- |
| | Chapter Seven: Programming and Performing |

135
(22)
135
(2)

| | |
| --- | --- |
| | Concert Logistics and Concerns |

137
(4)
140
(1)
141
(2)
143
(11)
154
(3)

| | |
| --- | --- |
| | Chapter Eight: Considering Some Core Issues |

157
(42)

| | |
| --- | --- |
| | Motivation and Discipline |

157
(6)
157
(3)
160
(1)

| | |
| --- | --- |
| | Some Specific Suggestions to Enhance the Learning Environment |

161
(2)
163
(29)
163
(3)
166
(10)

| | |
| --- | --- |
| | Suggestions for Festival Performances |

176
(1)
177
(15)

| | |
| --- | --- |
| | Competition for Music Groups |

192
(7)

| | |
| --- | --- |
| | Chapter Nine: Organizing and Administering the Program |

199
(48)
199
(19)

| | |
| --- | --- |
| | Band and Orchestra Handbooks |

200
(6)
206
(9)
215
(1)
215
(3)
218
(6)

| | |
| --- | --- |
| | School-owned Instruments, Equipment, and Uniforms |

224
(9)

| | |
| --- | --- |
| | Instruments and Equipment |

224
(8)
232
(1)
233
(3)
233
(2)
235
(1)
236
(11)
236
(11)

| | |
| --- | --- |
| | Chapter Ten: Organizing and Administering Your Teaching |

247
(26)
247
(20)
247
(5)
252
(5)
257
(10)
267
(1)

| | |
| --- | --- |
| | Technology in the Music Program |

268
(1)

| | |
| --- | --- |
| | Teaching Away from Your Expertise |

269
(4)

| | |
| --- | --- |
| | Chapter Eleven: Handling Business Issues |

273
(28)

| | |
| --- | --- |
| | A Public Relations Program |

273
(15)

| | |
| --- | --- |
| | Long-Term Public Relations |

276
(2)
278
(10)

| | |
| --- | --- |
| | Business Skills and the Ensemble Director |

288
(8)

| | |
| --- | --- |
| | Budget Practices and Procedures |

288
(5)
293
(3)
296
(5)
PART III: THE BIG PICTURE

| | |
| --- | --- |
| | Chapter Twelve: Knowing the Profession Today |

301
(16)
301
(3)
304
(3)

| | |
| --- | --- |
| | National Standards for Arts Education |

307
(5)
312
(5)

| | |
| --- | --- |
| | Chapter Thirteen: Exploring Personal Issues for the Music Educator |

317
(26)
317
(16)
318
(6)
324
317
(16)
333
(3)
336
(1)
337
(2)
339
(1)

| | |
| --- | --- |
| | Habits of Effective Teachers |

340
(3)
Chapter Fourteen: Contemplating Then, Now, and Why in Music Education
343
(36)

| | |
| --- | --- |
| | Historic and Current Influences |

343
(15)
343
(1)
344
(1)

| | |
| --- | --- |
| | The Influence of the Church in Colonial America |

345
(1)
346
(1)

| | |
| --- | --- |
| | The Work of Lowell Mason and Others |

347
(4)

| | |
| --- | --- |
| | The Growth of Music in the Schools |

351
(2)
353
(1)
354
(2)
356
(1)

| | |
| --- | --- |
| | Instrumental Music Education Today |

357
(1)

| | |
| --- | --- |
| | A Personal Philosophy of Music Education |

358
(23)
359
(1)

| | |
| --- | --- |
| | Contributions to Music Education Philosophical Thought |

360
(4)
364
(3)

| | |
| --- | --- |
| | Writing Your Music Education Philosophy |

367
(1)

| | |
| --- | --- |
| | Some Quotes for Reflection |

368
(11)
Final Comments
379
(2)
APPENDICES

| | |
| --- | --- |
| | A: Suggested Band Literature (grades 1-6) |

381
(13)

| | |
| --- | --- |
| | B: Suggested Orchestra Literature (grades 1-6) |

394
(6)

| | |
| --- | --- |
| | C: Recommended Reading for Music Educators |

400
(2)

| | |
| --- | --- |
| | D: Internet Sites for Instrumental |

Music Educators
402
(3)
INDEX
405