Note: Supplemental materials are not guaranteed with Rental or Used book purchases.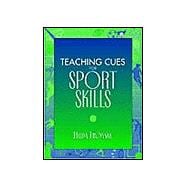 Teaching Cues for Sports Skills
ISBN13:
9780205186105
by
Fronske, Hilda Ann
Prentice Hall Professional Technical Reference
Summary
Designed for courses in Skill Analysis of Sport, Secondary Physical Education, Coaching, Teaching Methods, and Biomechanics of Sport. This valuable resource provides verbal teaching cues, alternate teaching cues, and points out common errors in a variety of sports. Experts in each sport have provided teaching tips designed to help students and professionals teach skills and drills. Cluster sell with Pangrazi/Darst and Schmottlach.
Table of Contents
Preface
p. ix
Sport Consultants
p. xi
What Are Teaching Cues?
p. 1
What Are the Benefits of Using Teaching Cues?
p. 1
Cues Used in Conjunction with a Demonstration
p. 2
Rules to Follow When Using Cues
p. 3
Cues Help Instructors Analyze a Skill
p. 3
Guidelines for Incorporation of Cues
p. 3
Using Cues to Strengthen Correct Performance
p. 4
Instructors Correct Errors in Technique by Using Cues
p. 4
Students/Peers Correct Errors in Technique by Using Cues
p. 4
Cues Need to Be Given in a Supportive Climate
p. 5
Using Cues to Motivate Students to Develop and Refine Skills
p. 6
A Successful Teaching Model
p. 6
Guidelines to Cue Making
p. 7
Using Cues to Evaluate Student Performances for Grading
p. 8
Conclusion
p. 8
Aerobic Kickboxing
p. 11
Archery
p. 19
Badminton
p. 25
Baseball
p. 35
Basketball
p. 45
Bowling
p. 67
Cycling--Mountain Biking
p. 77
Cycling--Road Biking
p. 87
Field Hockey
p. 97
Flag Football
p. 105
Floor Hockey
p. 117
Golf
p. 121
In-Line Skating
p. 135
Lacrosse
p. 141
Pickle-Ball
p. 151
Racquetball
p. 161
Recreational Running
p. 171
Soccer
p. 181
Softball, Fast-Pitch and Slow-Pitch
p. 193
Strength Training
p. 207
Swimming
p. 215
Team Handball
p. 231
Tennis
p. 245
Track and Field Events
p. 259
Tumbling
p. 277
Ultimate Frisbee
p. 287
Volleyball
p. 295
References
p. 307
Index
p. 309
Table of Contents provided by Syndetics. All Rights Reserved.