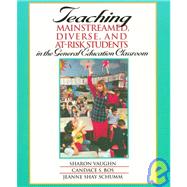 Summary
This book contains more than 40 specific learning activities and sample lessons for immediate practical application in the inclusive classroom. This book emphasizes professional planning and collaboration and also features separate chapters on teaching culturally and linguistically diverse students and students at risk.
Table of Contents
Special Education and Inclusive Schooling
p. 2
Planning and Grouping Strategies for Special Learners
p. 34
Managing Student Behavior and Promoting Social Acceptance
p. 66
Collaborating and Coordinating with Other Professionals and Family Members
p. 98
Teaching Students with Learning Disabilities or Attention Deficit Disorders
p. 128
Teaching Students with Communication Disorders
p. 160
Teaching Students with Emotional and Behavioral Disorders
p. 190
Teaching Students with Mental Retardation and Severe Disabilities
p. 214
Teaching Students with Visual, Hearing, Physical, or Health Impairments
p. 244
Teaching Culturally and Linguistically Diverse Students
p. 272
Teaching Students At Risk
p. 306
Teaching Students Who Are Gifted and Talented
p. 332
Facilitating Reading
p. 360
Facilitating Writing
p. 394
Helping All Students Succeed in Mathematics
p. 426
Teaching in the Content Areas
p. 458
Making a Difference through Action Learning: Teaching Study Skills, Learning Strategies, and Self-Advocacy
p. 488
Table of Contents provided by Blackwell. All Rights Reserved.