Note: Supplemental materials are not guaranteed with Rental or Used book purchases.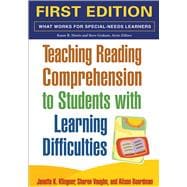 Summary
A highly practical resource for the classroom, this book offers clear, research-based recommendations for helping students at all grade levels understand and learn from what they read. Explaining the skills and strategies that good readers use to comprehend text, the authors show how to support struggling students in developing these skills. They present a variety of effective assessment procedures, ways to enhance vocabulary instruction and teach students about different text structures, and instructional practices that promote comprehension before, during, and after reading. Special features include discussion questions in every chapter and reproducible instructional materials and lesson plans.
Author Biography
Janette K. Klingner, PhD, is an associate professor at the University of Colorado at Boulder. Before earning her doctorate in reading and learning disabilities from the University of Miami, she was a bilingual special education teacher for 10 years in California and Florida. Dr. Klingner is a co-principal investigator for the National Center for Culturally Responsive Educational Systems, and recently was an investigator for the Center on Personnel Studies in Special Education. She has authored or edited 49 journal articles, 9 books, and 14 book chapters. Her research interests include reading comprehension strategy instruction for diverse populations, overrepresentation of culturally and linguistically diverse students in special education, and special education teacher quality. She is past Coeditor of the Review of Educational Research and an Associate Editor of the Journal of Learning Disabilities. In 2004 Dr. Klingner received the American Educational Research Association's Early Career Award for outstanding research.



Sharon Vaughn, PhD, holds the H. E. Hartfelder/Southland Corp. Regents Chair in Human Development at the University of Texas at Austin and has served as the Editor in Chief of the Journal of Learning Disabilities and the Coeditor of Learning Disabilities Research and Practice. She has received the American Educational Research Association's Special Education Special Interest Group Distinguished Researcher Award and has written numerous books and research articles that address the reading and social outcomes of students with learning difficulties. Dr. Vaughn is currently the principal investigator or co-principal investigator on several Institute of Education Sciences, National Institute of Child Health and Human Development, and Office of Special Education Programs research grants investigating effective interventions for students with reading difficulties and students who are English language learners.



Alison Boardman, PhD, is an adjunct professor at the University of Colorado at Boulder, where she teaches undergraduate- and graduate-level courses in special education and educational psychology. She works with school districts and state departments across the United States to plan and implement effective professional development in reading. Dr. Boardman is also a consultant for the Vaughn Gross Center for Reading and Language Arts at the University of Texas at Austin. Her research interests include struggling readers, providing effective professional development, and collaboration among general education and special education teachers, and she has published research articles on these topics in leading journals. Dr. Boardman also has many years of experience as a special education teacher in elementary and middle schools.


Table of Contents
Overview of Reading Comprehension
p. 1
What Do Good and Poor Readers Do Related to Reading Comprehension?
p. 3
To What Degree Do the Foundational Skills of Phonics, Fluency, and Vocabulary Influence Reading Comprehension?
p. 5
What Is Involved in Reading Comprehension?
p. 8
Conclusion
p. 12
Assessing Reading Comprehension
p. 13
Limitations of Traditional Comprehension Assessment Procedures
p. 15
Reading Comprehension Measures
p. 16
Conclusion
p. 41
Vocabulary Instruction
p. 46
How Does Teaching Vocabulary Facilitate Reading Comprehension?
p. 47
How Can We Assess and Monitor Vocabulary Learning?
p. 48
Assessing Vocabulary
p. 49
What Are the Best Practices for Promoting Vocabulary Acquisition?
p. 56
Conclusion
p. 69
Text Structure and Reading Comprehension
p. 75
Text Structure and Students with Learning Disabilities
p. 76
Narrative Story Structure
p. 77
Expository Text Structure
p. 87
Conclusion
p. 96
Instructional Practices That Promote Reading Comprehension
p. 101
Instructional Practices in Reading Comprehension for Students with Learning Disabilities
p. 102
Before Reading
p. 103
During and after Reading
p. 107
Conclusion
p. 124
Multicomponent Approaches to Strategy Instruction
p. 130
Reciprocal Teaching
p. 131
Transactional Strategies Instruction
p. 136
Collaborative Strategic Reading
p. 139
Conclusion
p. 147
Glossary
p. 151
Reading Comprehension Websites
p. 156
References
p. 159
Index
p. 175
Table of Contents provided by Ingram. All Rights Reserved.