Note: Supplemental materials are not guaranteed with Rental or Used book purchases.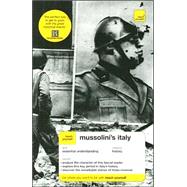 Teah Tourself Mussolini's Italy
ISBN13:
9780071461474
by
Evans, David
Summary
Teach Yourself HistoryEach title in the history category of Teach Yourself makes complex events accessible when you're seeking an alternative to dry, academic texts. Incorporating gripping personal stories, our Teach Yourself History Books transform history from a record of facts and dates to a dynamic, fascinating experience.Teach Yourself Mussolini's Italytraces the development of the dictator Benito Mussolini and his influence on the country, and shows how a former socialist became one of the most hated dictators of the twentieth century.
Author Biography
David Evans is an established writer and lecturer.
Table of Contents
introduction
vii

| | |
| --- | --- |
| | the Italy into which Mussolini was born |

1
(14)
2
(1)

| | |
| --- | --- |
| | the problems facing a united Italy |

3
(1)

| | |
| --- | --- |
| | relations between the State and the Church |

4
(1)
5
(1)

| | |
| --- | --- |
| | the constitution and government of Italy |

6
(2)

| | |
| --- | --- |
| | Agostini Depretis and transformismo |

8
(1)

| | |
| --- | --- |
| | recession, poverty and emigration |

9
(1)

| | |
| --- | --- |
| | years of discontent and civil unrest |

10
(2)

| | |
| --- | --- |
| | Giovanni Giolitti, master manipulator |

12
(1)

| | |
| --- | --- |
| | events in the on-going conflict between Church and State |

13
(1)

| | |
| --- | --- |
| | ... and what of Benito Mussolini during these years? |

14
(1)

| | |
| --- | --- |
| | Italy's imperial ambitions and search for great power status |

15
(7)
16
(1)

| | |
| --- | --- |
| | the issue of Italia Irredenta |

16
(1)

| | |
| --- | --- |
| | Italy's attempts at colonization in Africa |

17
(3)
20
(2)

| | |
| --- | --- |
| | Italy and the First World War |

22
(13)
23
(1)
24
(3)

| | |
| --- | --- |
| | how prepared was Italy for war? |

27
(1)
28
(3)
31
(2)
33
(1)

| | |
| --- | --- |
| | Mussolini's part in the war |

34
(1)

| | |
| --- | --- |
| | post-war Italy -- years of crisis |

35
(13)

| | |
| --- | --- |
| | the condition of post-war Italy |

36
(1)

| | |
| --- | --- |
| | the post-war peace settlement |

37
(2)
39
(3)

| | |
| --- | --- |
| | mounting political problems |

42
(1)

| | |
| --- | --- |
| | Mussolini's bandwagon begins to roll |

43
(1)

| | |
| --- | --- |
| | Bienno Rosso -- the `Two Red Years' |

44
(4)

| | |
| --- | --- |
| | the march on Rome and the Fascist coup of 1922 |

48
(12)

| | |
| --- | --- |
| | the Fascist Party Conference of 1921 |

49
(2)
51
(4)
55
(1)
55
(1)

| | |
| --- | --- |
| | some definitions of Fascism |

56
(4)

| | |
| --- | --- |
| | towards a totalitarian dictatorship |

60
(15)

| | |
| --- | --- |
| | Mussolini rigs the electoral system |

61
(2)

| | |
| --- | --- |
| | the Gran Consiglio -- the Fascist Grand Council |

63
(1)
64
(1)
65
(1)
66
(2)
68
(3)

| | |
| --- | --- |
| | the end of parliamentary democracy |

71
(2)

| | |
| --- | --- |
| | attempts on Mussolini's life |

73
(2)

| | |
| --- | --- |
| | the early years of the Fascist dictatorship |

75
(13)

| | |
| --- | --- |
| | Benito Mussolini -- the man and the myth |

76
(5)

| | |
| --- | --- |
| | leading figures in the Fascist hierarchy |

81
(1)

| | |
| --- | --- |
| | Mussolini gains control of the Party and parliament |

82
(2)

| | |
| --- | --- |
| | II Duce and King Victor Emmanuel III |

84
(1)
85
(1)

| | |
| --- | --- |
| | Mussolini's regime -- its strengths and weaknesses |

86
(2)
88
(22)

| | |
| --- | --- |
| | the Fascist State and the Roman Catholic Church |

89
(1)

| | |
| --- | --- |
| | the Lateran Treaty of 1929 |

90
(2)

| | |
| --- | --- |
| | indoctrination -- the Fascist education system and youth movements |

92
(4)

| | |
| --- | --- |
| | the role of women in Fascist society |

96
(2)
98
(1)

| | |
| --- | --- |
| | Fascist intrusion into the everyday lives of the people |

99
(1)

| | |
| --- | --- |
| | the Opera Nazionale Dopolavoro |

100
(2)

| | |
| --- | --- |
| | Mussolini's switch to racist and anti-Semitic policies |

102
(3)

| | |
| --- | --- |
| | art and culture in Mussolini's Italy |

105
(2)
107
(1)
108
(2)
110
(12)

| | |
| --- | --- |
| | the economic condition of Italy |

112
(1)

| | |
| --- | --- |
| | corporatism and the Corporate State |

112
(4)
116
(1)

| | |
| --- | --- |
| | the struggle to achieve autarky |

117
(3)

| | |
| --- | --- |
| | the impact on Italy of the world recession of the 1930s |

120
(1)
121
(1)

| | |
| --- | --- |
| | Italian foreign policy 1922--40 |

122
(28)

| | |
| --- | --- |
| | the aims of Mussolini's foreign policy |

124
(3)

| | |
| --- | --- |
| | Italy's relations with other European powers |

127
(1)
128
(2)

| | |
| --- | --- |
| | Mussolini -- a man of peace? |

130
(2)

| | |
| --- | --- |
| | Mussolini's reaction to the rise of Nazi Germany |

132
(3)

| | |
| --- | --- |
| | the Italian invasion of Abyssinia |

135
(7)

| | |
| --- | --- |
| | Italian involvement in the Spanish Civil War |

142
(1)

| | |
| --- | --- |
| | Fascist Italy and Nazi Germany -- `the brutal friendship' |

143
(2)

| | |
| --- | --- |
| | Italy joins the Anti-Comintern Pact |

145
(1)

| | |
| --- | --- |
| | the crises over Austria and Czechoslovakia |

145
(4)

| | |
| --- | --- |
| | the Pact of Steel of 1939 |

149
(1)

| | |
| --- | --- |
| | Italian involvement in the Second World War |

150
(13)

| | |
| --- | --- |
| | Italy's entry into the war |

151
(3)

| | |
| --- | --- |
| | Italy's contribution to the war |

154
(1)
155
(2)

| | |
| --- | --- |
| | the impact of the war on the Italian people |

157
(4)

| | |
| --- | --- |
| | Pope Plus XII and the Holocaust |

161
(2)

| | |
| --- | --- |
| | the final stages of the war and the end of Mussolini |

163
(11)
164
(2)
166
(2)

| | |
| --- | --- |
| | Italian resistance to Fascism, 1943-5 |

168
(1)
169
(1)

| | |
| --- | --- |
| | the last days of Benito Mussolini |

169
(3)

| | |
| --- | --- |
| | Mussolini's Fascist Italy -- an overview |

172
(2)
glossary
174
(2)
taking it further
176
(2)
index
178