Note: Supplemental materials are not guaranteed with Rental or Used book purchases.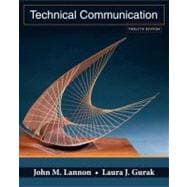 Questions About This Book?
What version or edition is this?
This is the 12th edition with a publication date of 10/25/2010.
What is included with this book?
The New copy of this book will include any supplemental materials advertised. Please check the title of the book to determine if it should include any CDs, lab manuals, study guides, etc.
The Used copy of this book is not guaranteed to include any supplemental materials. Typically, only the book itself is included.
Customer Reviews
Useful reference text
April 20, 2011
by





I had to get this textbook for a college required class, but have found it to be very useful in everyday life as well. I feel that I was very satisfied with the material that was given in this text. This textbook is a step-by-step instruction to different kinds of technical writing. It is easy to understand and follow. The topics are well organized and clearly outlined, which makes it easy to read. Simply wonderful and highly recommended.

Flag Review
---
Technical Communication

:
stars based on
1
user reviews.
Summary
Technical Communication offers complete coverage of technical communication, business communication, and professional writing in a user-friendly writing style. The topics move from basic foundational concepts, to chapters on research, visuals, style, document design, usability, and finally to specific documents (basic workplace correspondence to more complex documents, technologies, and oral presentations).
Simple, straightforward explanations of concepts and audience/purpose analyses of specific document types make the learning process easy for students who often have a difficult time separating technical communication from academic writing.
The appendix includes thorough coverage of MLA, APA, and CSE (Council of Science Editors) documentation styles, and a handbook of grammar, mechanics, and usage. All descriptions of and instructions for creating technical documents are accompanied by clear, annotated model documents. In addition, graphic illustrations appear throughout the book to make abstract concepts easy to understand. Checklists and Projects provide plentiful opportunities to learn and reinforce chapter topics.
Thoroughly revised and updated, this newly designed full color and streamlined 12th edition places special emphasis on up-to-the-minute coverage of ethics, global communication, and technology.
Author Biography
John Lannon is Professor Emeritus and former Director of Writing at the University of Massachusetts Dartmouth, where he developed the undergraduate major in professional writing and later co-developed the M.A. program in professional writing.
He has also taught at Cape Cod Community College, University of Idaho, Southern Vermont College, and University of Strasbourg.
He has authored and coauthored five major textbooks in business communication, rhetoric, and technical communication, book reviews, filmstrips, and environmental documents and instructional software. He is the recipient of an NDEA Fellowship and Fulbright Lectureship. He holds a B.S., M.A. and Ph.D. from the University of Massachusetts Amherst. His initial training and work was in biomedical science and technology with the USAF. He has served as a communications consultant for various companies and government institutions. He worked seven years in medical laboratories.

Laura J. Gurak is professor and founding chair of the Department of Writing Studies at the University of Minnesota. She holds an M.S. in technical communication and a Ph.D. in communication and rhetoric from Rensselaer Polytechnic Institute. She is author of two books from Yale University Press (1997, 2001), the earlier of which was the first book-length work to study online communities and Internet-based social actions. Gurak is also co-editor of several edited collections and author on numerous conference presentations and papers; she is a recipient of the Society for Technical Communication's Outstanding Article award. Gurak has authored and coauthored five textbooks in technical communication published by Pearson. She has worked as a technical writer and communications consultant for various companies and organizations.

Table of Contents
PART I
COMMUNICATING IN THE WORKPLACE
Chapter 1: INTRODUCTION TO TECHNICAL COMMUNICATION
Learning Objectives for This Chapter
What is Technical Communication?
Technical Communication Is a Digital and a Human Activity
Technical Communication Reaches a Diverse Audience
Technical Communication Is Part of Most Careers
Technical Communicators Play Many Roles
Characteristics of Effective Technical Communication
Purposes of Technical Communication
Types of Technical Communication
Preparing an Effective Technical Document
Case: Providing Information Readers Can Use
Case: Being Persuasive
Case: Considering the Ethical Issues
Case: Working on a Team and Thinking Globally
Consider This: Most Workplace Settings Have a Virtual Component
Projects
Chapter 2: MEETING THE NEEDS OF SPECIFIC AUDIENCES
Learning Objectives for This Chapter
Know What Different Audiences Expect
Analyze Your Document's Audience and Purpose
Assess the Audience's Technical Background
Case: Tailoring a Single Document for Multiple Audiences
Identify the Audiences' Cultural Background
Anticipate Your Audience's Preferences
Guidelines for Analyzing Audience and Purpose
Develop an Audience and Use Profile
Case: Developing an Audience and Use Profile
Brainstorm as a Way of Getting Started
Consider This: Failure to Communicate with the Audience Can Have Drastic Consequences
Checklist: Analyzing Audience and Purpose
Projects
Chapter 3: PERSUADING YOUR READERS
Learning Objectives for This Chapter
Identify Your Specific Persuasive Goal
Try to Predict Audience Reaction
Expect Audience Resistance
Know How to Connect with the Audience
Case: Connecting with the Audience
Allow for Give-and-Take
Ask for a Specific Response
Never Ask for Too Much
Recognize All Constraints
Consider This: People Often React Emotionally to Persuasive Appeals
Support Your Claims Convincingly
Consider the Cultural Context
Guidelines for Persuasion
Shaping Your Argument
Checklist: Persuasion
Projects
Chapter 4: WEIGHING THE ETHICAL ISSUES
Learning Objectives for This Chapter
Recognize Unethical Communication in the Workplace
Know the Major Causes of Unethical Communication
Understand the Potential for Communication Abuse
Rely on Critical Thinking for Ethical Decisions
Anticipate Some Hard Choices
Case: A Hard Choice
Never Depend Only on Legal Guidelines
Learn To Recognize Plagiarism
Consider This- Ethical Standards Are Good for Business
Decide Where and How to Report Ethical Abuses
Checklist: Ethical Communication
Guidelines for Ethical Communication
Projects
Chapter 5: TEAMWORK AND GLOBAL CONSIDERATIONS
Learning Objectives for This Chapter
Teamwork and Project Management
Guidelines for Managing a Collaborative Project
Conducting Meetings
Guidelines for Running a Meeting
Sources of Conflict in Collaborative Groups
Managing Group Conflict
Overcoming Difference by Active Listening
Guidelines for Active Listening
Thinking Creatively
Reviewing and Editing Others' Work
Guidelines for Peer Reviewing and Editing
Ethical abuses in Workplace Collaboration
Global Considerations when Working in Teams
Guidelines for Global Team Communication
Checklist: Teamwork and Global Considerations
Projects
Chapter 6: AN OVERVIEW OF THE TECHNICAL WRITING PROCESS
Learning Objectives for This Chapter
Critical Thinking in the Writing Process
A Sample Writing Situation
Make Proofreading Your Final Step
Guidelines for Proofreading
Checklist: Proofreading
Limitations of Writing with Digital Technology
Projects
PART II
THE RESEARCH PROCESS
Chapter 7: THINKING CRITICALLY ABOUT THE RESEARCH PROCESS
Learning Objectives for This Chapter
Asking the Right Questions
Case: Defining and Refining a Research Question
Exploring a Balance of Views
Achieving Adequate Depth in Your Search
Evaluating Your Finding
Interpreting Your Findings
Guidelines for Thinking Critically about Research
Primary versus Secondary Sources
Exploring Secondary Sources
Guidelines for Researching on the Internet
Exploring Primary Sources
Guidelines for Informational Interviews
Guidelines for Surveys
Consider This: Frequently Asked Questions about Copyright
Checklist: Doing Research
Projects
Chapter 8: EVALUATING AND INTERPRETING INFORMATON
Learning Objectives for This Chapter
Evaluate the Sources
Evaluate the Evidence
Interpret Your Findings
Consider This: Standards of Proof Vary for Different Audiences and Cultural
Avoid Distorted or Unethical Reasoning
Acknowledge the Limits of Research
Guidelines for Evaluating and Interpreting Information
Checklist: Evaluating and Interpreting Information
Projects
Chapter 9: SUMMARIZING RESEARCH FINDINGS AND OTHER COMPLEX INFORMATION
Learning Objectives for This Chapter
Audience and Purpose
What Readers Expect from a Summary
Guidelines for Summarizing Information
A Situation Requiring a Summary
Special Types of Summaries
Ethical and Global Considerations in Summarizing Information
Checklist : Summaries
Projects
PART III
ORGANIZATION, STYLE, AND VISUAL DESIGN
Chapter 10: ORGANIZING FOR READERS
Learning Objectives for This Chapter
The Typical Shape of Workplace Documents
Outlining
Guidelines for Outlining
Storyboarding
Paragraphing
Sequencing
Chunking
Producing and Overview
Organizing for Global Audiences
Checklist for Organizing Information
Projects
Chapter 11: EDITING FOR A PROFESSIONAL STYLE AND TONE
Learning Objectives for This Chapter
Editing for Clarity
Editing for Conciseness
Editing for Fluency
Finding the Exact Words
Adjusting Your Tone
Guidelines for Deciding about Tone
Guidelines for Nonsexist Usage
Guidelines for Inoffensive Usage
Considering the Global Context
Legal and Ethical Implications of Word Choice
Using Automated Editing Tools Effectively
Checklist: Style
Projects
Chapter 12: DESIGNING VISUAL INFORMATION
Learning Objectives for This Chapter
Why Visuals Matter
When to Use Visuals
Types of Visuals to Consider
How to Choose the Right Visuals for Your Readers
Tables
Graphs
Guidelines for Creating Tables and Graphs
Charts
Guidelines for Creating Charts
Graphic Illustrations
Guidelines for Creating Graphic Illustrations
Photographs
Guidelines for Using Photographs
Videos
Guidelines for Using Videos
Software and Downloadable Images
Using Color
Guidelines for Incorporating Color
Ethical Considerations
Guidelines for Obtaining and Citing Visual Material
Cultural Considerations
Guidelines for Fitting Visuals with Text
Checklist: Effective Use of Visuals
Projects
Chapter 13: DESIGNING PAGES AND DOCUMENTS
Learning Objectives for This Chapter
Page Design in Workplace Documents
How Page Design Transforms a Document
Design Skills Needed in Today's Workplace
Creating a Design that Works for Your Readers
Guidelines for Shaping the Page
Guidelines for Styling the Words and Letters
Guidelines for Adding Emphasis
Guidelines for Using Headings for Access and Orientation
Audience Considerations in Page Design
Designing Digital Documents
Checklist: Effective Page Design
Projects
PART IV
SPECIFIC DOCUMENTS AND APPLICATIONS
Chapter 14:DESIGNING AND TESTING DOCUMENTS FOR USABILITY
Learning Objectives for This Chapter
Why Usable Design Is Essential
Achieving a Usable Design
Creating a Document Plan
Writing, Testing, and Revising your Document
Guidelines for Preparing a Document and Testing it for Usability
Ethical and Global Issues Affecting Usability
Usability Issues in Online or Multimedia Documents
Checklist: for Usability
Projects
Chapter 15: MEMOS
Learning Objectives for This Chapter
Considering your Audience and Purpose
Memo Parts and Format
Memo Tone
Common Types of Memos
Guidelines for Memos
Checklist : Memos
Projects
Chapter 16: EMAIL AND INSTANT MESSAGING
Learning Objectives for This Chapter
Email
Email Style and Tone
Using Visuals with Email
Ethical Issues when Using Email
Global Considerations When Using Email
Guidelines for Writing and Using Email
Guidelines for Choosing Email versus Paper, Telephone, or Fax
Instant Messaging
Instant Messaging: Considering Audience and Purpose
Guidelines for Instant Messaging
Checklist for Email and Instant Messaging
Projects
Chapter 17: WORKPLACE LETTERS
Learning Objectives for This Chapter
Considering Your Audience and Purpose
Letter Parts, Format, and Design Elements
Letter Tone
Global and Ethical Considerations
Guidelines for Letters in General
Conveying Bad or Unwelcome News
Guidelines for Conveying Bad News
Common Types of Letters
Guidelines for Inquiry Letters
Guidelines for Claim Letters
Guidelines for Sales Letters
Guidelines for Adjustment Letters, Granting Adjustments and Refusing Adjustments
Checklist for Letters
Projects
Chapter 18: RÉSUMÉS AND OTHER JOB-SEARCH MATERIALS
Learning Objectives for This Chapter
Assessing Yours Skills and Aptitudes
Researching the Job Market
Résumés
Considering Your Audience and Purpose
Guidelines for Hard CopyRésumés
Guidelines for Scannable and Emailed Résumés
Guidelines for Online Résumés
Application Letters
Guidelines for Application Letters
Consider This : How applicants are Screened for Personal Qualities
Dossiers, Portfolios, and Webfolios
Guidelines Dossiers, Portfolos, and Webfolios
Interviews and Follow up Letters
Guidelines for Interviews and Follow-Up Letters
Checklist: Résumés
Checklist: Application Letters
Checklist: Supporting Material
Projects
Chapter 19: TECHNICAL DEFINITIONS
Learning Objectives for This Chapter
Audience and Purpose
Legal, Ethical, Societal, and Global Implications
Types of Definition
Methods for Expanding Definitions
Situations Requiring Definitions
Placement of Definitions in a Document
Guidelines for Definitions
Checklist for Definitions
Projects
Chapter 20: TECHNICAL DESCRIPTIONS, SPECIFICATIONS, AND MARKETING MATERIALS
Learning Objectives for This Chapter
Considering Audience and Purpose
Types of Technical Descriptions
Objectivity in Technical Descriptions
Elements of a Usable Description
An Outline and Model for Product Description
A Situation Requiring Product Description
An Outline for Process Description
A Situation Requiring Process Description
Case: A Process Description for a Nontechnical Audience
Guidelines for Descriptions
Specifications
Guidelines for Specifications
Technical Marketing Materials
Guidelines for Technical Marketing Materials
Checklist : Technical Descriptions
Checklist : Specifications
Checklist : Technical Marketing Materials
Projects
Chapter 21: INSTRUCTIONS AND PROCEDURES
Learning Objectives for This Chapter
Considering Audience and Purpose
Formats for Instructional Documents
Faulty Instructions and Legal Liability
Elements of Effective Instructions
Guidelines for Providing Appropriate Detail
Guidelines for Designing Instructions
An Outline for Instructions
A Situation Requiring Instructions
Digital and Online Instructions
Video Instructions
Evaluating the Usability of Instructional Documents
Procedures
Checklist : Effective Instructions and Procedures
Projects
Chapter 22 : INFORMAL REPORTS
Learning Objectives for This Chapter
Informational versus Analytical Reports
Progress Reports
Guidelines for Progress Reports
Periodic Activity Reports
Guidelines for Periodic Activity Reports
Trip Reports
Guidelines for Trip Reports
Meeting Minutes
Guidelines for Meeting Minutes
Feasibility Reports
Guidelines for Feasibility Reports
Recommendation Reports
Guidelines for Recommendation Reports
Justification Reports
Guidelines for Justification Reports
Peer Review Reports
Guidelines for Peer Review Reports
Checklist : Informal Reports
Projects
Chapter 23: FORMAL ANALYTICAL REPORTS
Learning Objectives for This Chapter
Considering Audience and Purpose
Typical Analytical Problems
Case: The Reasoning Process in Casual Analysis
Case: The Reasoning Process in Comparative Analysis
Case: The Reasoning Process in Feasibility Analysis
Elements of a an Effective Analysis
An Outline and Model for Analytical Reports
Front Matter and End Matter
A Situation Requiring an Analytical Report
Guidelines for Reasoning through an Analytical Problem
Checklist : Analytical Reports
Projects
Chapter 24: PROPOSALS
Learning Objectives for This Chapter
Considering Audience and Purpose
The Proposal Process
Case: Submitting a Competitive Proposal
Types of Proposals
Elements of a Persuasive Proposal
An Outline and Model for Proposals
Guidelines for Proposals
Situation Requiring a Formal Proposal
Checklist : Usability of Proposals
Projects
Chapter 25: ORAL PRESENTATIONS AND WEBINARS
Learning Objectives for This Chapter
Advantages and Drawbacks of Oral Presentations
Avoiding Presentation Pitfalls
Planning Your Presentation
Preparing Your Presentation
Planning and Creating Your Visuals
Guidelines for Readable Visuals
Guidelines for Understandable Visuals
Choosing the Right Technology
Using Presentation Software
Case: PowerPoint and the Space Shuttle ColumbiaDisaster
Guidelines for Using Presentation Software
Delivering Your Presentation
Guidelines for Using Visual Aids
Guidelines forManaging Listener Questions
Guidelines for Delivering Oral Presentations
Consider This: Cross Cultural Audiences May Have Specific Expectations
Webinars and Distance Presentations
Guidelines forWebinars and Distance Presentations
Checklist : Oral Presentations
Projects
Chapter 26: WEB PAGES
Learning Objectives for This Chapter
Considering Audience and Purpose
How Readers Read Web Pages
Writing for the Web
Guidelines for Writing Web Pages
Designing Web Pages
Guidelines for Designing Web Pages
Techniques and Technologies for Creating Web Sites
Global Issues and Web Pages
Guidelines for Addressing Global Audiences
Ethical and Legal Considerations for Web Sites
Checklist: Web Pages
Projects
Chapter 27: BLOGS, WIKIS, AND SOCIAL NETWORKS
Learning Objectives for This Chapter
Considering Audience and Purpose
Using Blogs for Technical Communication
Using Wikis for Technical Communication
Guidelines for Writing and Using Blogs and Wikis
Using Social Networks for Technical Communication
Guidelines for Writing and Using Social Networks
Ethical and Legal Considerations
Consider This: Blogs, Wikis, and Social Networks Change How We Work and Learn
Checklist: Blogs, Wikis, and Social Networks
Projects