Note: Supplemental materials are not guaranteed with Rental or Used book purchases.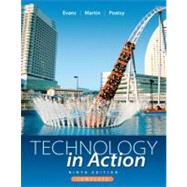 Questions About This Book?
Why should I rent this book?
Renting is easy, fast, and cheap! Renting from eCampus.com can save you hundreds of dollars compared to the cost of new or used books each semester. At the end of the semester, simply ship the book back to us with a free UPS shipping label! No need to worry about selling it back.
How do rental returns work?
Returning books is as easy as possible. As your rental due date approaches, we will email you several courtesy reminders. When you are ready to return, you can print a free UPS shipping label from our website at any time. Then, just return the book to your UPS driver or any staffed UPS location. You can even use the same box we shipped it in!
What version or edition is this?
This is the 9th edition with a publication date of 1/18/2012.
What is included with this book?
The Used copy of this book is not guaranteed to include any supplemental materials. Typically, only the book itself is included.
The Rental copy of this book is not guaranteed to include any supplemental materials. You may receive a brand new copy, but typically, only the book itself.
The eBook copy of this book is not guaranteed to include any supplemental materials. Typically only the book itself is included.
Summary
For introductory courses in computer concepts or computer literacy, often including instruction in Microsoft Office. A Computer Concepts Text Focused on Today's Student! Technology in Actionengages students by covering topics in a progressive approach and providing rich companion media.
Author Biography
Three professors from Montgomery County Community College traveled with the Prentice Hall Information Technology team for over two years to uncover what students and professors today wanted and needed in an Intro to Computer Concepts text. After meeting with more than 1,000 students and instructors they developed Technology in Action. Due to overwhelming success, they recently published Technology in Action 9/e!

Alan D. Evans, M.S., CPA
Alan Evans is currently a faculty member at Moore College of Art and Design and Montgomery County Community College teaching a variety of computer science and business courses. He holds a B.S. in Accounting from Rider University and an M.S. in Information Systems from Drexel University, and he is a certified public accountant. After a successful career in business, Alan finally realized his true calling was education. He has been teaching at the college level since 2000. Alan enjoys giving presentations at technical conferences and meets regularly with computer science faculty and administrators from other colleges to discuss curriculum development and new methods of engaging students.

Kendall E. Martin, Ph.D.
Kendall has been teaching since 1988 at a number of institutions, including Villanova University, DeSales University, Arcadia University, Ursinus College, County College of Morris, and Montgomery County Community College, at both the undergraduate and master's degree level. Kendall's education includes a B.S. in Electrical Engineering from the University of Rochester and an M.S. and Ph.D. in Engineering from the University of Pennsylvania. She has industrial experience in research and development environments (AT&T Bell Laboratories) as well as experience from several start-up technology firms. At Ursinus College, Kendall developed a successful faculty training program for distance education instructors, and she makes conference presentations during the year.

Mary Anne Poatsy, MBA, CFP
Mary Anne is an adjunct faculty member at Montgomery County Community College, teaching various computer application and concepts courses in face-to-face and online environments. Mary Anne holds a B.A. in Psychology and Elementary Education from Mount Holyoke College and an MBA in Finance from Northwestern University's Kellogg Graduate School of Management. Mary Anne has more than nine years of educational experience, ranging from elementary and secondary education to Montgomery County Community College, Muhlenberg College, and Bucks County Community College, as well as training in the professional environment. Prior to teaching, Mary Anne was a vice president at Shearson Lehman Hutton in the Municipal Bond Investment Banking department.
Table of Contents
Chapter 1: Using Technology to Change the World
More Than Just a Job
Technology on the World Stage
Political Issues
Human Rights
The Environment
The Digital Divide
ETHICS IN IT: The Digital Divide and the Mobile Bridge
Technology and Our Society
Technology Impacts How We Think
How We Connect
How We Consume
Technology and Your Life
Boost Your Productivity
Be a Savvy Computer User
Prepare for Your Career
Dig Deeper: Making Reality Even More Real
Technology In focus: The History of the PC
Chapter 2: Looking at Computers: Understanding the Parts
Understanding Your Computer
Computers Are Data Processing Devices
Bits and Bytes: The Language of Computers
Types of Computers
Input Devices
Keyboards
Mice and Other Pointing Devices
Touch Screens
Image Input
Sound Input
ETHICS IN IT: What Is Ethical Computing?
Output Devices
Monitors
Printers
Dig Deeper: How Touch Screens Work
Sound Output
Processing and Memory on the Motherboard
Memory
Processing
Storing Data and Information
Hard Drives
Flash Storage
Optical Storage
Connecting Peripherals to the Computer
High-Speed and Data Transfer Ports
Connectivity and Multimedia Ports
Adding Ports: Expansion Cards and Hubs
Power Controls
Setting It All Up
TRENDS IN IT: Innovations in Printing
Chapter 3: Using the Internet: Making the Most of the Web's Resources
The Origin of the Internet
The Internet and How It Works
Communicating and Collaborating Through the Internet
Social Networking
E-Mail
Instant Messaging
Weblogs (Blogs) and Video Logs (Vlogs)
Wikis
Podcasts and Webcasts
Web Entertainment
TRENDS IN IT: The Internet Makes Business Startups Affordable
Conducting Business over the Internet: E-Commerce
E-Commerce Safeguards
Accessing the Web: Web Browsers
Getting Around the Web: URLs, Hyperlinks, and Other Tools
URLs
Hyperlinks and Beyond
Favorites, Live Bookmarks, and Tagging
Searching the Web Effectively
Search Engines
Evaluating Web Sites
ETHICS IN IT: Plagiarism and Copyright Violation: What Can You Borrow from the Internet?
Dig Deeper: Discovering the Semantic Web
Technology In focus: Information Technology Ethics
Chapter 4: Application Software: Programs That Let You Work and Play
The Nuts and Bolts of Software
Web-Based Applications
Productivity Software for Home and Office
Word Processing Software
Spreadsheet Software
Presentation Software
Database Software
Note Taking Software
Personal Information Manager (PIM) Software
Productivity Software Features
Software Suites
Personal Financial Software
Business Software for Home and Office
Home Business Software
Large Business Software
Specialized Business Software
Media Software for Home
Digital Image Editing Software
Digital Audio Software
Dig Deeper: How Cloud Computing Works
Digital Video Editing Software
Media Management Software
Software for Home
Gaming Software
Educational Software
Drawing Software
TRENDS IN IT: "There's an App for That!"
Buying Software
Software Licenses
ETHICS IN IT: Can I Borrow Software That I Don't Own?
Pre-Installed Software
Discounted Software
Freeware and Shareware
Software Versions and System Requirements
Installing, Uninstalling, and Starting Software
Getting Help with Software
Chapter 5: Using System Software: The Operating System, Utility Programs, and File Management
System Software Basics
Types of Operating Systems
Real-Time Operating Systems
Operating Systems for Networks, Servers, and Mainframes
Operating Systems for Mobile Devices
Operating Systems for Personal Computers
What the Operating System Does
The User Interface
TRENDS IN IT: Open Source Software: Why Isn't Everyone Using Linux?
Processor Management
ETHICS IN IT: Sugar: The Sweet OS for Every Child
Memory and Storage Management
Hardware and Peripheral Device Management
Software Application Coordination
The Boot Process: Starting Your Computer
Step : Activating BIOS
Step : Performing the Power-On Self-Test
Step : Loading the Operating System
Step : Checking Further Configurations and Customizations
Handling Errors in the Boot Process
The Desktop and Window Features
Organizing Your Computer: File Management
Organizing Your Files
Viewing and Sorting Files and Folders
Naming Files
Working with Files
Utility Programs
Display Utilities
The Programs and Features Utility
File Compression Utilities
System Maintenance Utilities
System Restore and Backup Utilities
Dig Deeper: How Disk Defragmenter Utilities Work
The Task Scheduler Utility
Accessibility Utilities
Technology In focus: Computing Alternatives
Chapter 6: Understanding and Assessing Hardware: Evaluating Your System
Your Ideal Computer
Evaluating the CPU Subsystem
Evaluating the Memory Subsystem: RAM
Adding RAM
Evaluating the Storage Subsystem
Hard Drive
Optical Storage
Dig Deeper: How a Mechanical Hard Drive Works
Evaluating the Video Subsystem
Video Cards
Evaluating the Audio Subsystem
Sound Card
Evaluating System Reliability
ETHICS IN IT: Free (as in Speech, not Beer)
Making the Final Decision
TRENDS IN IT: Thunderbolt
Chapter 7: Networking: Connecting Computing Devices
Networking Fundamentals
Network Architectures
Describing Networks Based on Network Administration
Describing Networks Based on Distance
Network Components
Transmission Media
Network Adapters
ETHICS IN IT: Sharing Your Internet Connection with Your Neighbors: Legal?
Ethical? Safe?
Network Navigation Devices
Networking Software
Connecting to the Internet
Broadband Connections
Dial-Up Connections
Choosing the Right Internet Connection Option
Home Networks
Ethernet Home Networks
Home Network Cabling
Wired and Wireless on One Network
Configuring Home Network Equipment
Routers and Switches: Moving Data Around Your Network
Connecting Devices to Routers
Securing Wireless Networks
Connecting Devices to Networks
Connecting Computers
Network-Ready Devices
Digital Entertainment Devices on a Network
Specialized Home Networking Devices
Configuring Software for Your Home Network
Windows Configuration
TRENDS IN IT: Where Should You Stone Your Files? The Cloud is Calling
Wireless Node Configuration and Testing
Troubleshooting Network Problems
Technology In focus: Under the Hood
Chapter 8: Digital Lifestyle: Managing Digital Data and Devices
A Digital Lifestyle
Digital Telephony
Cell Phones and Smartphones
How Cellular Works
Cell Phone Components
Synchronizing
Text Messaging
Mobile Internet
Cell Phone/Smartphone Security
Voice over Internet Protocol
Digital Media and Information
Digital Publishing
Digital Music
Digital Photography
Digital Video
ETHICS IN IT: Managing Your Copyrights: Copyleft Might Simplify Your Life
Digital Navigation
Digital Convergence
TRENDS IN IT: Near Field Communication
Chapter 9: Securing Your System: Protecting Your Digital Data and Devices
Cybercrime
Computer Threats: Computer Viruses
Types of Viruses
Virus Classifications
Computer Safeguard: Antivirus Software and Software Updates
Computer Threats: Hackers
Restricting Access to Your Digital Assets
Dig Deeper: Computer Forensics: How It Works
Managing Online Annoyances
Protecting Yourself from Yourself!
Protecting Your Physical Computing Assets
Technology In focus: Careers in IT
Chapter 10: Behind the Scenes: Software Programming
Understanding Software Programming
The Life Cycle of an Information System
System Development Life Cycle
ETHICS IN IT: When Software Runs Amok
The Life Cycle of a Program
Describing the Problem: The Problem Statement
Making a Plan: Algorithm Development
Developing the Algorithm: Decision Making and Design
Top-Down Design
Object-Oriented Analysis
Writing Program Code
Coding: Speaking the Language of the Computer
What happens first when you write a program?
Dig Deeper: The Building Blocks of Programming Languages:
Syntax, Keywords, Data Types, and Operators
Compilation
Coding Tools: Integrated Development Environments
Debugging: Getting Rid of Errors
Finishing the Project: Testing and Documentation
Programming Languages: Many Languages for Many Projects
Selecting the Right Language
Building Applications
Visual Basic
C and C++
Java and C#
Objective C
Building Web Applications
Scripting Languages for the Web
ASP, JSP, and PHP
Flash and XML
Building Mobile Applications
The Next Great Language
TRENDS IN IT: Emerging Technologies: Unite All Your
Video Game Design Tools
Chapter 11: Behind the Scenes: Databases and Information Systems
Life Without Databases
Database Building Blocks
Advantages of Using Databases
Database Terminology
Fields
Records and Tables
Primary Keys
Database Types
Relational Databases
Object-Oriented Databases
Multidimensional Databases
Database Management Systems: Basic Operations
Creating Databases and Entering Data
Inputting Data
Data Validation
Viewing and Sorting Data
Dig Deeper: Structured Query Language (SQL)
Extracting or Querying Data
Outputting Data
Relational Database Operations
Normalization of Data
TRENDS IN IT: Computers in Society: User-Populated Databases
Data Storage
Data Warehouses
TRENDS IN IT: Emerging Technologies: Can Your Business Partner
Deliver the Goods? Enhanced Databases Can Help You Decide!
Populating Data Warehouses
Data Staging
Data Marts
Managing Data: Information and Business Intelligence Systems
Office Support Systems
Transaction-Processing Systems
Management Information Systems
Decision Support Systems
Internal and External Data Sources
Model Management Systems
Knowledge-Based Systems
Enterprise Resource Planning Systems
Data Mining
ETHICS IN IT: Data, Data Everywhere–But Is It Protected?
Chapter 12: Behind the Scenes: Networking and Security in the Business World
Networking Advantages
Client/Server Networks
Classifications of Client/Server Networks: LANs, WANs, MANs, and PANs
Servers
Print Servers
Application Servers
Database Servers
E-Mail Servers
Communications Servers
Web Servers and Cloud Servers
TRENDS IN IT: Virtualization: Making Servers Work Harder
Network Topologies
Bus Topology
Ring Topology
Star Topology
Comparing Topologies
Transmission Media
Wired Transmission Media
Twisted-Pair Cable
Coaxial Cable
Fiber-Optic Cable
Wireless Media Options
Comparing Transmission Media
Network Operating Systems
Network Adapters
Network Navigation Devices
MAC Addresses
Switches and Bridges
Routers
Network Security for Client/Server Networks
Authentication
Access Privileges
Physical Protection Measures
Firewalls
Chapter 13: Behind the Scenes: How the Internet Works
The Management of the Internet
Internet Networking
Internet Networking
Connecting to the Internet
The Network Model of the Internet
Data Transmission and Protocols
Packett Switching
TCP/IP
Internet Identity
IP Addresses
DIG DEEPER: Making the Connection-Connection-Oriented Versus Connectionless Protocols
Domain Names
HTTP, HTML, and Other Web Building Blocks
Web Browser Security Protocols
HTML/XHTML
XML
Common Gateway Interface
Dynamic HTML
Client-Side Applications
Communications over the Internet
E-Mail
ETHICS IN IT: Web Browsing: Not as Private as You May Think
E-Mail Security: Encryption and Specialized Software
Instant Messaging
TRENDS IN IT: Crowdsourcing: Harnessinf the Power of Social Networks
Voice over Internet Protocol (VoIP)
Glossary
Index