Note: Supplemental materials are not guaranteed with Rental or Used book purchases.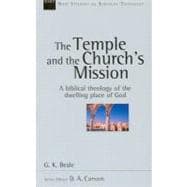 The Temple and the Church's Mission: A Biblical Theology of the Temple
ISBN13:
9780830826186
by
Beale, G. K.
Questions About This Book?
What version or edition is this?
This is the edition with a publication date of 7/1/2004.
What is included with this book?
The New copy of this book will include any supplemental materials advertised. Please check the title of the book to determine if it should include any CDs, lab manuals, study guides, etc.
The eBook copy of this book is not guaranteed to include any supplemental materials. Typically only the book itself is included.
Summary
"Then I saw a new heaven and a new earth. . . . And I saw the holy city, new Jerusalem. . . . And I heard a loud voice from the throne saying, 'Behold, the dwelling place of God is with man." (Revelation 21:1-3, ESV).In this comprehensive study, G. K. Beale argues that the Old Testament tabernacle and temples were symbolically designed to point to the end-time reality that God's presence, formerly limited to the Holy of Holies, would be extended throughout the cosmos. Hence, John's vision in Revelation 21 is best understood as picturing the new heavens and earth as the eschatological temple.Beale's stimulating exposition traces the theme of the tabernacle and temple across the Bible's story-line, illuminating many texts and closely-related themes along the way. He shows how the significance and symbolism of the temple can be better understood in the context of ancient Near Eastern assumptions, and offers new insights into the meaning of the temple in both Old and New Testaments.
Author Biography
Gregory K. Beale is Kenneth T. Wessner Chair of Biblical Studies and Professor of New Testament at Wheaton College Graduate School of Biblical and Theological Studies, Illinois.
Table of Contents
Series preface
9
(2)
Author's preface
11
(4)
Preface by Mary Dorinda Beale
15
(4)
Abbreviations
19
(294)
23
(6)

| | |
| --- | --- |
| | The final vision of the Apocalypse and its implications for a biblical theology of the temple |

23
(3)

| | |
| --- | --- |
| | A brief comment on the interpretative approach of this book |

26
(3)

| | |
| --- | --- |
| | 2 Cosmic symbolism of temples in the Old Testament |

29
(52)

| | |
| --- | --- |
| | The Old Testament view of Israel's earthly temple as a reflection of the heavenly or cosmic temple |

31
(14)

| | |
| --- | --- |
| | Judaism's view of the symbolism of the temple |

45
(3)

| | |
| --- | --- |
| | Conclusion: symbolism of the temple in the Old Testament and Judaism |

48
(2)

| | |
| --- | --- |
| | Israel's temple in the light of the Ancient Near Eastern view of the earthly temple as a reflection of the heavenly or cosmic temple |

50
(10)

| | |
| --- | --- |
| | Divine 'rest' after creating the cosmos and after constructing the sanctuary |

60
(6)

| | |
| --- | --- |
| | Israel's earthly tabernacle and temple as reflections and recapitulations of the first temple in the Garden of Eden |

66
(15)

| | |
| --- | --- |
| | 3 The expanding purpose of temples in the Old Testament |

81
(42)

| | |
| --- | --- |
| | Humanity's kingly and priestly role in serving God in the temple |

81
(1)

| | |
| --- | --- |
| | The cosmic expansion of the garden sanctuary through Adam's rule as a priest-king in God's image |

81
(6)

| | |
| --- | --- |
| | The Ancient Near Eastern concept of the cosmic expansion of temples through the rule of priest-kings in the image of a deity |

87
(6)

| | |
| --- | --- |
| | Adam's commission as a priest-king to rule and expand the temple is passed on to others |

93
(30)

| | |
| --- | --- |
| | 4 The expanding end-time purpose of temples in the Old Testament |

123
(46)

| | |
| --- | --- |
| | The view of the Old Testament |

123
(31)

| | |
| --- | --- |
| | Views of early Jewish commentators |

154
(12)

| | |
| --- | --- |
| | Concluding thoughts on the Old Testament and Jewish views about an expanding garden or temple |

166
(3)

| | |
| --- | --- |
| | 5 The 'already and not yet' fulfilment of the end-time temple in Christ and his people: the Gospels |

169
(32)
169
(2)

| | |
| --- | --- |
| | Jesus as the Last Adam and the temple of the new creation in the Synoptic Gospels |

171
(9)

| | |
| --- | --- |
| | Excursus: an early patristic text linking the Adamic commission to Christ and the church as a temple under construction |

180
(12)

| | |
| --- | --- |
| | Jesus as the temple of the new creation in John |

192
(9)

| | |
| --- | --- |
| | 6 The inauguration of a new temple in the book of Acts |

201
(44)

| | |
| --- | --- |
| | The descent of the new temple in the form of the Spirit at Pentecost |

201
(15)

| | |
| --- | --- |
| | Christ as the cornerstone of the new temple |

216
(1)

| | |
| --- | --- |
| | Christ as the emerging new temple: Stephen's testimony |

216
(16)

| | |
| --- | --- |
| | Christ as the emerging new temple: James's testimony |

232
(13)

| | |
| --- | --- |
| | 7 The inauguration of a new temple in the epistles of Paul |

245
(24)
245
(8)
253
(6)
259
(4)
263
(6)

| | |
| --- | --- |
| | 8 The temple in 2 Thessalonians 2 |

269
(24)

| | |
| --- | --- |
| | The content of the false teaching in Thessalonica |

269
(2)

| | |
| --- | --- |
| | The prophesied sign of the final future apostasy |

271
(1)

| | |
| --- | --- |
| | The prophesied sign of the future Antichrist in the temple |

272
(12)

| | |
| --- | --- |
| | The beginning fulfilment of Antichrist's prophesied defilement of the temple in the Thessalonian church |

284
(4)

| | |
| --- | --- |
| | Conclusion: does Paul spiritualize Daniel's temple prophecy? A 'literal' versus a 'redemptive-historical' approach |

288
(5)

| | |
| --- | --- |
| | 9 The inauguration of a new temple in Hebrews |

293
(20)
294
(6)

| | |
| --- | --- |
| | Christ as the veil of the heavenly end-time tabernacle |

300
(1)

| | |
| --- | --- |
| | Christ as the heavenly end-time tabernacle itself |

301
(1)

| | |
| --- | --- |
| | 'Mount Zion' and the 'heavenly Jerusalem' as equivalent to the end-time temple |

301
(8)

| | |
| --- | --- |
| | Excursus: further biblical-theological reflections related to Hebrews' contention that the eternal end-time temple cannot be 'handmade' |

309
(4)
10 The world-encompassing temple in Revelation
313
(22)

| | |
| --- | --- |
| | The church as the eschatological temple in Revelation 11:1-4 |

313
(15)

| | |
| --- | --- |
| | Other texts in the Apocalypse that further contribute to understanding the end-time temple in Revelation 11 and 21 - 22 |

328
(3)

| | |
| --- | --- |
| | The church as the eschatological temple in 1 Peter 2 and its relationship to Revelation's temple |

331
(2)

| | |
| --- | --- |
| | Excursus on Christ as the foundation stone of the temple, and, hence of the new creation in the light of the Ancient Near East |

333
(2)
11 The temple in Ezekiel 40 - 48 and its relationship to the New Testament
335
(30)

| | |
| --- | --- |
| | The contextual connections of chapters 40 - 48 within the book of Ezekiel that point to a non-structural end-time temple |

336
(4)

| | |
| --- | --- |
| | The descriptions within chapters 40 - 48 that point to a non-structural end-time temple |

340
(6)

| | |
| --- | --- |
| | Is the temple-city in Revelation 21 the fulfilment of Ezekiel's vision? |

346
(7)
353
(1)

| | |
| --- | --- |
| | Excursus: further reflections on the nature of Ezekiel's vision of the temple |

354
(11)
12 Theological conclusions: the physical temple as a foreshadowing of God's and Christ's presence as the true temple
365
(30)

| | |
| --- | --- |
| | The consummate eschatological stage of the world-encompassing temple in Revelation 21:1 - 22:5 |

365
(8)

| | |
| --- | --- |
| | Hermeneutical reflections on the theological relationship of the Old Testament temple to the temple in the New Testament |

373
(12)

| | |
| --- | --- |
| | Theological reflections on the relationship of the Old Testament temple to the temple in the New Testament |

385
(7)
392
(3)
13 Practical reflections on Eden and the temple for the church in the twenty-first century
395
(8)
Bibliography
403
(22)
Index of modern authors
425
(5)
Index of Bible references
430
(20)
Index of ancient sources
450