Note: Supplemental materials are not guaranteed with Rental or Used book purchases.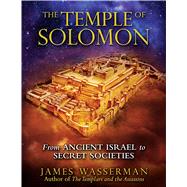 The Temple of Solomon: From Ancient Israel to Secret Societies
by
Wasserman, James
Summary
Richly illustrated, with many rare images, this book explains why the Temple of Solomon was built, the magical forces Solomon may have used in its creation, what its destruction meant for Jews and Christians alike, and why secret societies named their orders after it.
Author Biography
James Wasserman is the author of several books, including The Templars and the Assassins and The Secrets of Masonic Washington. A longtime student of the occult and a member of the Ordo Templi Orientis since 1976, he lives in New York City.
Table of Contents

Foreword by Peter Levenda

Prologue The Presence of the Lord

Introduction The Key to Solomon's Temple


Part One
In the Beginning
1 Creation and Destruction: The Garden to the Flood
2 The Patriarchs and Matriarchs

Part Two
Moses, the Tabernacle, and the Law
3 Exodus: The Freedom to Worship
4 Leviticus: The Laws of Sacrifice
5 Numbers: The Journey to the Promised Land Continues
6 Deuteronomy: The Book of the Law of the Temple

Part Three
Pre-Monarchical Leadership
7 Joshua: Subduing the Land of Israel
8 Judges: The People Depart from Righteousness
9 Ruth: The Matriarch of the Kings of Israel
10 Samuel: The Prophet Establishes the Monarchy

Part Four
The United Monarchy and the First Temple
11 The Reign of Saul: First King of the Realm
12 The Reign of David: The Warrior/Poet
13 The Reign of Solomon: The Building of the Temple

Part Five
The Divided Monarchy and the Loss of the Temple
14 The Divided Kingdoms of Judah and Israel
15 The Loss of the Kingdom of Israel
16 The Loss of the Kingdom of Judah
17 Isaiah, Jeremiah, the Last Days of the Temple of Solomon, and the Exile

Part Six
The Second Temple
18 Ezekiel's Vision of the Temple
19 The Return from Exile and the Second Temple
20 The Second Temple in the Books of Maccabees
21 Herod's Temple

Part Seven
The Christian Revelation
22 The Temple in the Story of Jesus
23 The New Jerusalem

Part Eight
The Temple in the Esoteric Tradition
24 The Knights of the Temple
25 The Freemasons and the Temple

Afterword Reflections on the Temple

Appendices

1 A Brief History of Jerusalem and the Promised Land
2 A Suggestive Chronology of the Temple and Jerusalem
3 The Temple Holidays
4 Maps of the Holy Land

Bibliography

Permissions

Index