Note: Supplemental materials are not guaranteed with Rental or Used book purchases.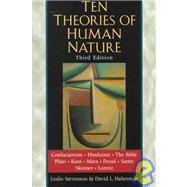 Summary
With over a quarter of a million copies sold since 1974, Seven Theories of Human Nature was a remarkably popular introduction to key points of Western thought. Now entitled Ten Theories of Human Nature , this completely revised and expanded third edition broadens the cultural and historical range by incorporating new chapters on Hinduism, Confucianism, and Kant. It also extends and deepens the discussion of the original seven theories, taking into account the most recent scholarship and addressing issues of feminism and relativism. A new final chapter reviews the prospects and limits of the scientific understanding of human nature and includes a survey of nine different types of psychology. This lucid text compresses into a small space the essence of such ancient traditions as Confucianism, Hinduism, and the Old and New Testaments as well as the theories of Plato, Immanuel Kant, Karl Marx, Sigmund Freud, Jean-Paul Sartre, B.F. Skinner, and Konrad Lorenz. The authors juxtapose the ideas of these and other thinkers in a way that helps students understand how humanity has struggled to comprehend its nature. To encourage readers to think critically for themselves, the book examines each theory on four points--the nature of the universe, the nature of humanity, the ills of humanity, and the proposed cure for these ills. Ideal for introductory courses in philosophy, religious studies, human nature, and intellectual history, Ten Theories of Human Nature will engage and motivate students and other readers to consider who we are, what motivates us, and how we can understand and improve the world.
Table of Contents
Preface
Introduction
Rival Theories - and Critical Assessments of Them
Three Ancient Religious Traditions
Confucianism: The Way of the Sages
Upanishadic Hinduism: Quest for Ultimate Knowledge
The Bible (Old and New Testaments): Humanity in Relation to God
Five Philosohical Thinkers
Plato: The Rule of Reason
Kant: Reason and Freedom, History, and Grace
Marx: The Economic Basis of Human Nature
Freud: The Unconscious Basis of Human Nature
Sartre: Atheistic Existentialism
Two Samples Of Scientific Theorizing
Behaviorist Psychology: Skinner on Conditioning
Evolutionary Psychology: Lorenz on Aggression
Conclusion
Towards a Unified Understanding: Nine Types of Psychology
Table of Contents provided by Publisher. All Rights Reserved.