Note: Supplemental materials are not guaranteed with Rental or Used book purchases.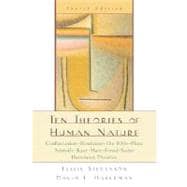 Summary
Over three previous editions, Ten Theories of Human Nature has been a remarkably popular introduction to some of the most influential developments in Western and Eastern thought. This thoroughly revised fourth edition features substantial new chapters on Aristotle and on evolutionary theories of human nature; the latter centers on Edward O. Wilson but also outlines the ideas of Emile Durkheim, B. F. Skinner, Nikolaas Tinbergen, Konrad Lorenz, Noam Chomsky, and recent evolutionary psychology. This edition also includes a rewritten introduction that invites readers (even if inclined toward fundamentalism or cultural relativism) to careful, critical thought about human nature; a useful new section that summarizes the history of ideas from the Stoics to the Enlightenment; and a new conclusion that suggests a way to synthesize the various theories.
Author Biography
David L. Haberman is Professor and Chair of Religious Studies at Indiana University at Bloomington.
Table of Contents
Preface
ix
Introduction: Rival Theories and Critical Assessments
1
(9)
Chapter 1 Confucianism: The Way of the Sages
10
(37)
27
(20)
Chapter 2 Upanishadic Hinduism: Quest for Ultimate Knowledge
47
(1)
Chapter 3 The Bible: Humanity in Relation to God
47
(22)
Chapter 4 Plato: The Rule of Reason
69
(18)
Chapter 5 Aristotle: The Ideal of Human Fulfillment
87
(32)
105
(14)
Chapter 6 Kant: Reasons and Causes, History and Religion
119
(19)
Chapter 7 Marx: The Economic Basis of Human Societies
138
(18)
Chapter 8 Freud: The Unconscious Basis of Mind
156
(20)
Chapter 9 Sartre: Radical Freedom
176
(20)
Chapter 10 Darwinian Theories of Human Nature
196
(40)
Conclusion: Toward a Synthesis of the Theories?
236
(11)
Index
247