Note: Supplemental materials are not guaranteed with Rental or Used book purchases.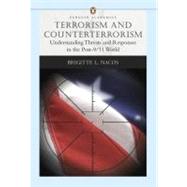 Terrorism and Counterterrorism : Understanding Threats and Responses in the Post-9/11 World
ISBN13:
9780321164148
by
Nacos, Brigitte L
Related Products
Summary
This new first edition offers an accessible introduction to terrorism that includes coverage of both new terror in the post-Cold War world as well as historical acts of terror. The author has been selective in her choice of topics, choosing to go into richer detail on fewer issues while nonetheless including coverage of topics that have been ignored by the competition, such as "Terrorist Propaganda and the Media" and "Terror and Hate in Cyberspace." In addition, the author adds the American context of terror to the standard international context offered by most texts.
Table of Contents
Preface and Acknowledgments
ix
CHAPTER 1 INTRODUCTION: THE TERRORIST THREAT
1
(14)

| | |
| --- | --- |
| | Terrorism Trends over the Last Three Decades |

6
(9)
PART ONE TERRORISM
15
(148)

| | |
| --- | --- |
| | CHAPTER 2 THE PERENNIAL DEBATE: WHAT IS TERRORISM? |

16
(20)

| | |
| --- | --- |
| | The Meaning of "Terrorism" over Time |

19
(2)

| | |
| --- | --- |
| | The Definitional Potpourri |

21
(7)

| | |
| --- | --- |
| | Is Terrorism Ever Justified? |

28
(2)

| | |
| --- | --- |
| | State Terror(ism) and State-Sponsored Terrorism |

30
(2)

| | |
| --- | --- |
| | The Meaning of Terrorism in This Volume |

32
(4)

| | |
| --- | --- |
| | CHAPTER 3 TERRORISM IN THE GLOBAL CONTEXT |

36
(23)

| | |
| --- | --- |
| | The Roots of Modern Terrorism |

38
(2)

| | |
| --- | --- |
| | The Post-World War II Wave |

40
(2)

| | |
| --- | --- |
| | 1968: The Advent of Modern-day Terrorism |

42
(2)

| | |
| --- | --- |
| | IRA and ETA: Groups That Do Not Fit the Mold |

44
(1)

| | |
| --- | --- |
| | The Decline of Left-Wing Terrorism |

45
(1)

| | |
| --- | --- |
| | The Rise of Catastrophic Terrorism |

46
(13)

| | |
| --- | --- |
| | CHAPTER 4 TERRORISM IN THE AMERICAN CONTEXT |

59
(26)
59
(9)
68
(6)

| | |
| --- | --- |
| | Single-Issue or Special Interest Terrorism |

74
(6)

| | |
| --- | --- |
| | After Left-Wing and Right-Wing Waves: What Next? |

80
(5)

| | |
| --- | --- |
| | CHAPTER 5 THE MAKING OF TERRORISTS: CAUSES, CONDITIONS, INFLUENCES |

85
(22)

| | |
| --- | --- |
| | Terrorism as a Result of Rational Choice |

90
(1)

| | |
| --- | --- |
| | Terrorism as a Result of Personal Traits |

91
(1)

| | |
| --- | --- |
| | Terrorism as a Result of Social Interaction |

92
(1)

| | |
| --- | --- |
| | Gender Differences in Terrorism: A Myth Rather than Reality |

93
(6)

| | |
| --- | --- |
| | The Lack of the Universal Terrorist Profile |

99
(1)

| | |
| --- | --- |
| | The Stages Leading to Terrorism |

100
(2)

| | |
| --- | --- |
| | The Roots of Terrorism: No Simple Answers |

102
(5)

| | |
| --- | --- |
| | CHAPTER 6 FROM STATE SPONSORS TO INVOLUNTARY HOSTS |

107
(13)

| | |
| --- | --- |
| | Iran: The Premier Model of State-Sponsored Terrorism |

109
(2)

| | |
| --- | --- |
| | Other State Sponsors of Terrorism |

111
(3)
114
(2)

| | |
| --- | --- |
| | When Governments Reconsider Their Support for Terrorism |

116
(1)

| | |
| --- | --- |
| | Failed and Failing States, and "Brown Areas" |

116
(1)

| | |
| --- | --- |
| | Involuntary Host Countries |

117
(3)

| | |
| --- | --- |
| | CHAPTER 7 COMMON THREAD: GOALS, TARGETS, TACTICS |

120
(27)

| | |
| --- | --- |
| | Do Terrorists Achieve Their Goals? |

121
(2)
123
(2)

| | |
| --- | --- |
| | Terrorist Methods: From Primitive Bombs of WMD |

125
(16)

| | |
| --- | --- |
| | Most Likely CBRN Weapons in the Hands of Terrorists |

141
(6)

| | |
| --- | --- |
| | CHAPTER 8 ORGANIZATIONAL STRUCTURES AND THE FINANCING OF TERROR |

147
(16)

| | |
| --- | --- |
| | When Terrorist Organizations Lose Their Leaders |

156
(1)

| | |
| --- | --- |
| | The Decline or Abandonment of Terrorism |

156
(1)
157
(6)
PART TWO ANTI- AND COUNTER-TERRORISM
163
(42)

| | |
| --- | --- |
| | CHAPTER 9 BALANCING SECURITY, LIBERTY, AND HUMAN RIGHTS |

164
(14)

| | |
| --- | --- |
| | The Legal Status of Enemy Combatants |

170
(3)

| | |
| --- | --- |
| | Torture: The Public Debate |

173
(2)
175
(3)

| | |
| --- | --- |
| | CHAPTER 10 MILITARY AND NONMILITARY RESPONSES |

178
(13)
179
(6)
185
(6)

| | |
| --- | --- |
| | CHAPTER 11 PREVENTION AND PREPAREDNESS |

191
(14)

| | |
| --- | --- |
| | It's the Intelligence, Stupid |

193
(4)

| | |
| --- | --- |
| | International Cooperation |

197
(1)

| | |
| --- | --- |
| | Reorganization of Homeland Security in the United States |

198
(3)

| | |
| --- | --- |
| | Reorganization of the Intelligence Community |

201
(4)
PART THREE THE MEDIA AND THE PUBLIC
205
(91)

| | |
| --- | --- |
| | CHAPTER 12 TERRORIST PROPAGANDA AND THE MEDIA |

206
(20)

| | |
| --- | --- |
| | Publicity: The Universal Terrorist Goal |

209
(3)

| | |
| --- | --- |
| | An Alternative View: Contemporary Terrorists Do Not Need Publicity |

212
(1)

| | |
| --- | --- |
| | Terrorism and the Triangle of Communication |

213
(1)
214
(6)

| | |
| --- | --- |
| | Bedfellows in a Marriage of Convenience |

220
(2)

| | |
| --- | --- |
| | Terrorism and the Global Media |

222
(1)
222
(4)

| | |
| --- | --- |
| | CHAPTER 13 TERROR AND HATE IN CYBERSPACE |

226
(18)

| | |
| --- | --- |
| | Terrorists and the Newest Communications Technologies |

230
(1)

| | |
| --- | --- |
| | Propaganda and Hero Worship |

230
(7)

| | |
| --- | --- |
| | The Internet as a Tool to Plan Terrorist Operations |

237
(1)

| | |
| --- | --- |
| | Devastating Cyberterrorism |

238
(1)

| | |
| --- | --- |
| | The Web and the Retrieval of Valuable Information |

239
(5)

| | |
| --- | --- |
| | CHAPTER 14 ANTI- AND COUNTER-TERRORISM IN THE NEWS |

244
(15)

| | |
| --- | --- |
| | A Model for Public Deliberation |

248
(2)

| | |
| --- | --- |
| | The Media and Military Responses to Terrorism |

250
(9)

| | |
| --- | --- |
| | CHAPTER 15 TERRORISM AND THE PUBLIC |

259
(25)

| | |
| --- | --- |
| | Public Assessments in Terrorist Threats and the Fear Factor |

261
(3)

| | |
| --- | --- |
| | Opinion Change as a Result of Terrorism |

264
(1)

| | |
| --- | --- |
| | Public Attitudes on International Terrorists and Sponsor States |

265
(2)

| | |
| --- | --- |
| | Public Approval of Presidents in the Face of Terrorist Crises |

267
(3)

| | |
| --- | --- |
| | When Presidents "Go Public" |

270
(1)

| | |
| --- | --- |
| | Anti- and Counter-terrorist Policies |

271
(3)

| | |
| --- | --- |
| | Assessing Homeland Security and Preparedness |

274
(2)

| | |
| --- | --- |
| | The Public Trusts Republicans More to Fight Terrorism Effectively |

276
(1)

| | |
| --- | --- |
| | Security versus Civil Liberties |

277
(1)

| | |
| --- | --- |
| | Terrorism and the Rational Public |

277
(1)

| | |
| --- | --- |
| | The Moral Force of the Victims of Terrorism |

278
(6)

| | |
| --- | --- |
| | CHAPTER 16 CONCLUSION: LIVING WITH TERRORIST THREATS |

284
(12)

| | |
| --- | --- |
| | The 9/11 Commission and Reform Proposal |

289
(7)
APPENDIX
296
(14)

| | |
| --- | --- |
| | Major Terrorist Incidents since the Early 1970's |

296
(14)

| | |
| --- | --- |
| | I. Incidents That Deliberately Targeted Americans and/or American Interests |

296
(10)

| | |
| --- | --- |
| | II. Incidents That Involved U.S. Victims |

306
(1)

| | |
| --- | --- |
| | III. Incidents That Did Not Involve Americans |

307
(3)
Bibliography
310
(6)
Index
316