Note: Supplemental materials are not guaranteed with Rental or Used book purchases.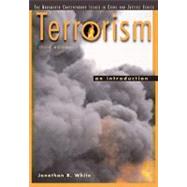 Questions About This Book?
What version or edition is this?
This is the 3rd edition with a publication date of 8/3/2001.
What is included with this book?
The New copy of this book will include any supplemental materials advertised. Please check the title of the book to determine if it should include any CDs, lab manuals, study guides, etc.
Summary
Recognized as the most objective, best-selling terrorism text in the market, TERRORISM: AN INTRODUCTION strives to discuss the most sophisticated theories by the best terrorist analysts in the world, while still focusing on the domestic and international threat of terrorism and the basic security issues surrounding terrorism today. The student-oriented writing style is complemented by rich pedagogy, and there is an adequate amount of research and theoretical discussion to make this an ideal text for both the undergraduate and graduate level courses.
Table of Contents
I THE CRIMINOLOGY OF TERRORISM
1
(62)

| | |
| --- | --- |
| | Mutating Forms of Terrorism |

3
(15)
4
(3)

| | |
| --- | --- |
| | Some Common Contexts of Terrorism |

5
(2)
7
(1)
7
(3)
10
(1)

| | |
| --- | --- |
| | Toward a Tactical Typology of Terrorism |

11
(5)
16
(1)

| | |
| --- | --- |
| | Guide to the Key Concepts |

16
(1)
17
(1)
17
(1)

| | |
| --- | --- |
| | Individual and Group Behavior |

18
(13)

| | |
| --- | --- |
| | Terrorists and Ordinary Criminals |

19
(3)

| | |
| --- | --- |
| | Group Reinforcement and the Justification of Terrorism |

22
(2)

| | |
| --- | --- |
| | The ``Doctrine of Necessity'' Justification |

24
(1)

| | |
| --- | --- |
| | Terrorist Profiles--A Practical View |

25
(1)

| | |
| --- | --- |
| | Terrorist Profiles--An Unpromising View |

26
(1)

| | |
| --- | --- |
| | Terrorist Profiles--A Promising View |

27
(2)
28
(1)

| | |
| --- | --- |
| | Frustration/Narcissism-Aggression |

28
(1)
28
(1)
28
(1)

| | |
| --- | --- |
| | Cost-Benefit Calculations |

28
(1)
29
(1)
30
(1)
30
(1)
30
(1)

| | |
| --- | --- |
| | Changing Group Structures and the Metamorphosis of Terrorism |

31
(15)
32
(1)

| | |
| --- | --- |
| | Size and the Length of Campaigns |

32
(1)
33
(2)

| | |
| --- | --- |
| | Basic Organizational Structures of Terrorist Groups |

35
(2)

| | |
| --- | --- |
| | Management Processes and Problems |

37
(3)

| | |
| --- | --- |
| | Adams's Analysis of the Financing of Terrorism |

40
(2)

| | |
| --- | --- |
| | Leaderless Resistance, Lone Wolves, and Berserkers |

42
(2)
44
(1)
45
(1)
45
(1)
46
(17)

| | |
| --- | --- |
| | The Logic of Religion and Terrorism |

47
(2)

| | |
| --- | --- |
| | Huntington's Clash of Civilizations |

49
(2)

| | |
| --- | --- |
| | Hoffman's Analysis of Religious Terrorism |

51
(2)
53
(1)

| | |
| --- | --- |
| | The Process of Demonization |

54
(2)

| | |
| --- | --- |
| | A Brief Overview of Contemporary Religious Conflicts |

56
(4)
56
(1)
57
(1)
58
(1)
59
(1)
60
(1)
61
(1)
61
(2)
II ESSENTIAL BACKGROUND
63
(70)

| | |
| --- | --- |
| | The Origins of Modern Terrorism |

65
(13)

| | |
| --- | --- |
| | Enlightenment, Revolution, and Terrorism |

66
(1)

| | |
| --- | --- |
| | Class Revolution and Changing Meanings |

67
(2)

| | |
| --- | --- |
| | Terrorism and the Role of the Anarchists |

69
(2)

| | |
| --- | --- |
| | Terrorism and the Russian Revolution |

71
(3)
74
(2)
76
(1)
76
(1)
77
(1)

| | |
| --- | --- |
| | The Origins of the Irish Troubles |

78
(14)

| | |
| --- | --- |
| | The Origins and Development of the Anglo-Irish Conflict |

79
(3)

| | |
| --- | --- |
| | The Early History of the Irish Republican Army |

82
(2)

| | |
| --- | --- |
| | The 1916 Easter Rebellion |

84
(1)

| | |
| --- | --- |
| | The Influence of Russian Revolution: De Valera, Collins, and the Tan War |

85
(1)

| | |
| --- | --- |
| | Trends in the IRA: 1930-1985 |

86
(3)
89
(1)
90
(1)
91
(1)
91
(1)

| | |
| --- | --- |
| | The Origins of Middle Eastern Terrorism |

92
(20)

| | |
| --- | --- |
| | An Introduction to the Region |

93
(2)

| | |
| --- | --- |
| | A Synopsis of Some Major Problems |

95
(2)

| | |
| --- | --- |
| | Three Sources of Middle Eastern Terrorism |

97
(1)

| | |
| --- | --- |
| | Zionism in Palestine 1914-1936 |

97
(3)

| | |
| --- | --- |
| | The Birth of Modern Israel |

100
(1)
100
(4)

| | |
| --- | --- |
| | Shia Islam and Revolutionary Iran |

104
(6)
110
(1)
111
(1)
111
(1)

| | |
| --- | --- |
| | Latin American Influences on Terrorism |

112
(21)

| | |
| --- | --- |
| | The Theory of Urban Terrorism |

113
(4)

| | |
| --- | --- |
| | Terrorism and Guerrilla War |

117
(2)

| | |
| --- | --- |
| | Urban Terrorism in Practice |

119
(5)

| | |
| --- | --- |
| | The Influence of the Tupamaros |

124
(1)
125
(1)
126
(3)

| | |
| --- | --- |
| | Organizational Characteristics |

129
(2)
131
(1)
131
(1)
131
(2)
III MODERN TERRORISM
133
(104)

| | |
| --- | --- |
| | International Terrorism and the Question of Palestine |

135
(17)

| | |
| --- | --- |
| | The Growth of the PLO and International Terrorism |

136
(2)
138
(2)

| | |
| --- | --- |
| | Black September: PLO Terrorism Spreads to Europe |

140
(1)

| | |
| --- | --- |
| | The PLO and the Changing Face of Middle Eastern Terrorism |

141
(1)
142
(2)

| | |
| --- | --- |
| | The PLO in Exile and Return |

144
(1)

| | |
| --- | --- |
| | Abu Nidal: Origins, Structure, and Operations |

145
(5)
150
(1)
151
(1)
151
(1)

| | |
| --- | --- |
| | Religion and Middle Eastern Terrorism |

152
(19)

| | |
| --- | --- |
| | Two Views of Islam and Terrorism |

153
(1)

| | |
| --- | --- |
| | The Iranian Revolution and Hizbollah's Metamorphosis |

154
(2)
156
(3)
159
(3)

| | |
| --- | --- |
| | The Rise of Osama bin Ladin |

162
(2)

| | |
| --- | --- |
| | Declaring War on the United States |

164
(2)
166
(1)

| | |
| --- | --- |
| | Other Groups Combining Religion and Violence |

167
(1)

| | |
| --- | --- |
| | Jewish Fundamentalism and Violence |

168
(2)
170
(1)
170
(1)
170
(1)

| | |
| --- | --- |
| | International Terrorism: The Rise and Fall of the Left and Right |

171
(15)

| | |
| --- | --- |
| | Left-Wing Terrorism in Europe |

172
(3)
175
(3)

| | |
| --- | --- |
| | The Demise of Other West European Terrorist Movements |

178
(2)
180
(2)
182
(2)
184
(1)
185
(1)
185
(1)

| | |
| --- | --- |
| | Nationalistic and Ethnic Terrorism |

186
(18)

| | |
| --- | --- |
| | Byman's Logic of Ethnic Terrorism |

187
(1)
188
(3)
191
(2)

| | |
| --- | --- |
| | Ireland and the Mutating IRA |

193
(1)

| | |
| --- | --- |
| | Outlawing Terrorism and Internment |

193
(4)

| | |
| --- | --- |
| | The Evolution of Security Force Tactics in Northern Ireland |

195
(2)

| | |
| --- | --- |
| | A Criminological Analysis of Irish Terrorism |

197
(2)

| | |
| --- | --- |
| | The Liberation Tigers of Tamil Eelam |

199
(3)
202
(1)
202
(1)
203
(1)

| | |
| --- | --- |
| | Terrorism in the United States |

204
(16)

| | |
| --- | --- |
| | Domestic Terrorism: Early Works of Cooper, Bell, and Gurr |

205
(2)
206
(1)
206
(1)
207
(1)

| | |
| --- | --- |
| | Problems of Conceptualizing Domestic Terrorism |

207
(3)

| | |
| --- | --- |
| | Smith's Analysis of Terrorism in the United States |

210
(4)

| | |
| --- | --- |
| | Emerson: Jihad in the United States |

214
(3)

| | |
| --- | --- |
| | Abortion Clinic Bombings and Terrorism |

217
(2)
219
(1)
219
(1)
219
(1)

| | |
| --- | --- |
| | Violent Extremism in the United States |

220
(17)

| | |
| --- | --- |
| | A Brief History of Right-Wing Extremism in the United States |

221
(2)

| | |
| --- | --- |
| | Modern Right-Wing Resurgence |

223
(6)

| | |
| --- | --- |
| | William Pierce's Blueprint for Revolution |

229
(1)

| | |
| --- | --- |
| | Criminal Behavior Among Right-Wing Extremists |

230
(2)

| | |
| --- | --- |
| | Ecoterrorism and Animal Rights |

232
(2)
234
(2)
236
(1)
236
(1)
236
(1)
IV ISSUES IN MODERN TERRORISM
237
(47)

| | |
| --- | --- |
| | Technological Terrorism and Weapons of Mass Destruction |

239
(17)
240
(2)
242
(2)

| | |
| --- | --- |
| | U.S. Vulnerability to Technological Terrorism |

244
(3)

| | |
| --- | --- |
| | Security Problems in the Energy Industry |

247
(1)

| | |
| --- | --- |
| | The Threat of Nuclear Terrorism |

248
(3)

| | |
| --- | --- |
| | Biological and Chemical Terrorism |

251
(2)
253
(2)
255
(1)
255
(1)
255
(1)
256
(11)

| | |
| --- | --- |
| | Security Forces Versus Reporters |

257
(2)

| | |
| --- | --- |
| | The Contagion Effect of Media Coverage |

259
(1)

| | |
| --- | --- |
| | Terrorism as a Form of Communication |

260
(2)

| | |
| --- | --- |
| | Censorship and Freedom of the Press |

262
(3)
265
(1)
266
(1)
266
(1)

| | |
| --- | --- |
| | Policy, Liberty, Security, and the Future |

267
(17)

| | |
| --- | --- |
| | Toward a Counterterrorist Policy |

268
(3)

| | |
| --- | --- |
| | Stansfield Turner's Search for Solid Ground |

271
(2)

| | |
| --- | --- |
| | Weapons of Mass Destruction: Predicting the Future |

273
(1)

| | |
| --- | --- |
| | Outlawing Terrorism: The Threat to Civil Liberties |

274
(3)

| | |
| --- | --- |
| | The Use of Military Force Against Terrorism |

277
(2)

| | |
| --- | --- |
| | Secrecy and Shared Information |

279
(1)

| | |
| --- | --- |
| | Stinson's Analysis of Security |

280
(2)
282
(1)
283
(1)
283
(1)
Appendix: An Introductory Dictionary of Extremism
284
(9)
Selected Bibliography
293
(22)
Index
315