Note: Supplemental materials are not guaranteed with Rental or Used book purchases.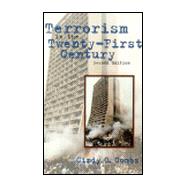 Terrorism in the Twenty-First Century
ISBN13:
9780130208873
by
Combs, Cindy C.
Summary
For undergraduate-level courses in Political Violence, Terrorism, and Criminal Justice. Unbiased in perspective, this text 1) examines the known facets of contemporary terrorismexplaining what terrorism is, who carries it out, how terrorist acts are committed, 2) analyzes the laws and special forces which nations within the international community have created to meet this challenge, and 3) predicts forthcoming patterns of terrorism in the new century. Post Cold War in focus and written specifically for undergraduate students, it helps them evaluate the dimensions of the problems presented by contemporary terrorism, and challenges them to develop solutions.
Table of Contents
Preface
ix
(2)
Acknowledgments
xi
Introduction
1
(2)

| | |
| --- | --- |
| | 1 An Idea Whose Time Has Come? |

3
(15)

| | |
| --- | --- |
| | Modern Definitions of an Old Concept |

5
(2)

| | |
| --- | --- |
| | Crucial Components of Terrorism |

7
(5)

| | |
| --- | --- |
| | Typologies of Terrorism: Useful Tools |

12
(2)
14
(1)
15
(1)
16
(2)

| | |
| --- | --- |
| | 2 Not a Modern Phenomenon |

18
(14)

| | |
| --- | --- |
| | Tyrannicide: "To Go Too Fast" |

19
(2)

| | |
| --- | --- |
| | State Terrorism: France's Reign of Terror |

21
(1)

| | |
| --- | --- |
| | Guerrilla Warfare: Selective Violence |

22
(2)

| | |
| --- | --- |
| | Cyclical Nature of Terror |

24
(3)

| | |
| --- | --- |
| | Contemporary Events, Historical Roots |

27
(2)
29
(3)

| | |
| --- | --- |
| | 3 Ideology and Terrorism: Rights from Wrongs? |

32
(16)

| | |
| --- | --- |
| | The Rationalization of Violence |

33
(2)

| | |
| --- | --- |
| | Rebellion and the Right of Self-Determination |

35
(4)

| | |
| --- | --- |
| | Terrorist Beliefs and Images |

39
(2)

| | |
| --- | --- |
| | Causes of the Left and Right |

41
(3)
44
(1)
45
(3)

| | |
| --- | --- |
| | 4 Criminals or Crusaders? |

48
(18)
48
(3)

| | |
| --- | --- |
| | Can We Generalize about a "Typical" Terrorist? |

51
(6)

| | |
| --- | --- |
| | Terrorism Is Different Today |

57
(2)

| | |
| --- | --- |
| | Trends in Terrorist Recruitment and Membership |

59
(4)
63
(1)
64
(2)
66
(21)

| | |
| --- | --- |
| | Internal Terrorism: The Beast That Lurks Within |

66
(5)

| | |
| --- | --- |
| | How Real Is State Terrorism? |

71
(2)

| | |
| --- | --- |
| | Terrorism as an Instrument of Foreign Policy |

73
(1)

| | |
| --- | --- |
| | Waging War by Proxy: Surrogate Terrorism |

74
(2)

| | |
| --- | --- |
| | Reluctant Bedfellows: The Arms Bazaar |

76
(1)

| | |
| --- | --- |
| | Silent Partners: Syria, Iran, Libya, and Sudan Wage Subtle War |

77
(6)
83
(1)
84
(3)
87
(18)
87
(2)

| | |
| --- | --- |
| | Shared Strategic Planning |

89
(1)

| | |
| --- | --- |
| | Terrorism Is Big Business |

90
(1)

| | |
| --- | --- |
| | Case Study 1: Libyan Protector |

91
(2)

| | |
| --- | --- |
| | Case Study 2: Iranian Fedayeen |

93
(2)

| | |
| --- | --- |
| | NORAID: The U.S. Terror Connection |

95
(1)

| | |
| --- | --- |
| | Training and Equipping the Terrorists |

96
(2)

| | |
| --- | --- |
| | The Internationalization of Terrorism: An RAF Case Study |

98
(1)
99
(1)
100
(2)
102
(3)
105
(22)
106
(2)

| | |
| --- | --- |
| | Training Topics: What Do They Learn at Camp? |

108
(3)

| | |
| --- | --- |
| | Case Study: OPEC Kidnapping in Vienna |

111
(1)

| | |
| --- | --- |
| | Potential for Destruction: The Terrorist's Arsenal |

112
(2)

| | |
| --- | --- |
| | "Science Fiction" Weapons |

114
(5)
119
(6)
125
(2)

| | |
| --- | --- |
| | 8 The Media: A Weapon for Both Sides? |

127
(22)

| | |
| --- | --- |
| | Legal Issues of the Right of Access |

129
(2)

| | |
| --- | --- |
| | Censorship: The Ugly Word |

131
(4)

| | |
| --- | --- |
| | Complicity: A Very Serious Charge |

135
(4)

| | |
| --- | --- |
| | Terrorist Goals Regarding Media |

139
(2)

| | |
| --- | --- |
| | Government Goals with Respect to Media |

141
(2)

| | |
| --- | --- |
| | Media Goals in Terrorist Events |

143
(1)
144
(2)
146
(3)

| | |
| --- | --- |
| | 9 Legal Perspectives on Terrorism |

149
(18)
152
(4)
156
(3)

| | |
| --- | --- |
| | Protection of Diplomatic Personnel and Heads of State |

159
(1)

| | |
| --- | --- |
| | Summary: Protection of the Innocent against Specific Crimes |

160
(2)

| | |
| --- | --- |
| | Terrorism: A Political Crime? |

162
(1)
163
(4)

| | |
| --- | --- |
| | 10 Counterterrorism: The Use of Special Forces |

167
(13)
168
(1)

| | |
| --- | --- |
| | Strike Forces: A First Line of Defense? |

169
(8)
177
(1)
178
(2)

| | |
| --- | --- |
| | 11 Terrorism, Intelligence, and the Law |

180
(18)

| | |
| --- | --- |
| | Legal Initiatives to Counter Terrorism |

180
(1)

| | |
| --- | --- |
| | Canada's Legal War with the FLQ |

181
(1)

| | |
| --- | --- |
| | The "Temporary" British Problem in Northern Ireland |

182
(2)

| | |
| --- | --- |
| | Germany's "Moderate" Legislation |

184
(1)
185
(2)

| | |
| --- | --- |
| | Investigation: The Intelligence Initiative |

187
(3)

| | |
| --- | --- |
| | Case Studies: Government Use of Intelligence/Investigation |

190
(4)

| | |
| --- | --- |
| | Intelligence Gathering and Counterintelligence by Terrorists |

194
(1)
195
(1)
195
(3)

| | |
| --- | --- |
| | 12 Security Measures: A Frail Defense |

198
(16)
199
(2)

| | |
| --- | --- |
| | Case Study: Airport Security in the United States |

201
(2)
203
(2)

| | |
| --- | --- |
| | Case Study: Protecting Public Transportation |

205
(2)
207
(1)

| | |
| --- | --- |
| | Case Study: Who Arms Iran? |

207
(2)

| | |
| --- | --- |
| | Threat Assessment: How Do You Know When You Are at Risk? |

209
(1)
210
(1)
211
(3)
214
(18)
214
(2)
216
(1)

| | |
| --- | --- |
| | Case Study: Right-Wing Terrorism in the United States |

217
(2)

| | |
| --- | --- |
| | A Generational Difference |

219
(1)

| | |
| --- | --- |
| | The Use of "Unthinkable" Weapons |

220
(1)
221
(8)
229
(1)
230
(2)
Index
232