Note: Supplemental materials are not guaranteed with Rental or Used book purchases.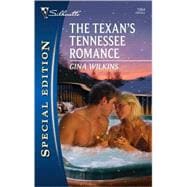 The Texan's Tennessee Romance
ISBN13:
9780373654369
by
Gina Wilkins
Summary
After being falsely accused of breaking her sacred lawyer-client vow, Natalie Lofton's main priority was clearing her name and getting her life back. That didn't include taking in an irresistible mutt. Or falling for the sexy handyman who'd come to fix a leaky pipe in her secluded Tennessee cabin.But Casey Walker wasn't your ordinary fixer-upper. The native Texan had his own reasons for retreating to the remote Smoky Mountain resort. There he found a fellow attorney with a soft spot for strays. But what about the tender feelings Natalie was awakening inhim?
Excerpts
He was quite possibly one of the worst maintenance men Natalie Lofton had ever seen. Pretty, but incompetent. Watching as he fumbled with a leaky pipe under her kitchen sink, she wondered where on earth her aunt and uncle had found this twenty-something guy, who had introduced himself only as Casey. She couldn't imagine what had made them think he was qualified to be a handyman for the vacation cabins they owned in the Smoky Mountains around Gatlinburg, Tennessee."Is there anything I can do to help you?" she asked the third time she heard an ominous clang followed by a muttered curse.Her voice from the doorway must have startled him. She saw his nice backside jerk, heard what sounded like a painful thump from beneath the sink and then yet another colorful expletive, bitten off midway.He emerged ruefully rubbing a spot on the top of his head, and she couldn' t help noticing again that he was certainly good-looking. His appearance, she decided, defied simple, one-word adjectives. His hair was just a shade more brown than blond, and his almost-crystalline-bright eyes looked blue one moment, green the next. His jawline was sharply carved, but flashing dimples softened his cheeks. She suspected his personality was just as multifaceted."What did you say?" he asked.She moved closer, bending over to see what he'd been doing under there. How much time did it take to replace a leaky trap, anyway? "I asked if there's anything I can do to help.""Thanks, but I've got it. It won't be much longer.""Uh-huh." She hoped she didn't sound as skeptical as she felt.His polite smile fading, he ducked back under the sink, flipping over to lie on his back this time. She couldn't help noticing that he looked just as good from waist down as he did above. Long legs, flat stomach, nice..."Could you hand me that wrench, please? The big one?"She picked up the biggest wrench she saw in his box and leaned over to hand it to him. "This one?""Yeah, thanks."She watched as he fitted it to the pipe. "Um, don't you think you should--""What?" he asked loudly, unable to hear from beneath the sink. Even as he spoke, he gave the wrench a big twist. She saw the wrench slip, smashing through the thin copper water pipe next to him.Cold water sprayed in a geyser from the broken pipe, hitting her squarely in the face. Gasping, she heard Casey sputter as he lay at the bottom of a veritable waterfall. While she stumbled backward, he scrambled frantically clanging and muttering until he reduced the gushing to a dribble by turning off the water valve."--shut off the water supply?" she finished her question in a grumble."I am so sorry," he said, awkwardly climbing from beneath the sink. He was even wetter than Natalie, if that was possible. His light brown hair dripped around his face, and his blue polo shirt was plastered to his well-defined chest.Which reminded her...Glancing downward, she noted that her thin, yellow cotton shirt had molded itself to her, going almost transparent when wet. She grabbed hold of the front, pulling the fabric away from her body. "I'll go find some towels."He raised his gaze quickly to her face. "Yeah, okay. I'm really sorry."She nodded and darted out of the kitchen, heading straight for the cabin's only bedroom. She wasn't bringing towels to him until she had changed her shirt.Catching a glimpse of herself in the antique oval mirror over the rustic dresser, she groaned. Water trickled from the ends of her chin-length, honey-blond, angled bob. The bare minimum of makeup she'd applied that morning was water-splotched. And her now-transparent shirt made it very clear that she'd donned a comfy--and very thin--nude-toned bra that morning.She changed quickly into a dry, slightly thicker bra and a dark blue, scoop-neck T-shirt. Deciding her jeans weren't damp enough to change, she ran a brush through her wet hair. After dusting a little powder