Note: Supplemental materials are not guaranteed with Rental or Used book purchases.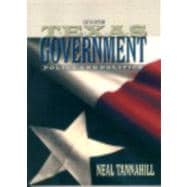 Texas Government : Policy and Politics
ISBN13:
9780321044976
by
Tannahill, Neal
ADDISON WESLEY LONGMAN INC
Summary
Provides an accessible up-to-date introduction to Texas politics with an emphasis on policy that helps students see the impact state government has on their lives. Softcover. DLC: Texas--Politics and government--1951-.
Table of Contents
Preface
x
Introduction The Policymaking Process
1
(420)
1
(1)

| | |
| --- | --- |
| | The Stages of the Policymaking Process |

2
(7)

| | |
| --- | --- |
| | Texas Online: Voices from Death Row |

3
(4)

| | |
| --- | --- |
| | Learning Exercise: Applying the Policymaking Model to a Current Policy Issue |

7
(2)

| | |
| --- | --- |
| | The Dynamics of the Policy Process |

9
(2)

| | |
| --- | --- |
| | Why It Is Important to Study Texas Government |

11
(1)

| | |
| --- | --- |
| | Organization of This Textbook |

12
(1)
13
(1)
13
(1)
13
(2)

| | |
| --- | --- |
| | The People, Economy, and Political Culture of Texas |

15
(20)
15
(2)
17
(6)

| | |
| --- | --- |
| | Texas Online: Forces of Change |

21
(2)
23
(6)

| | |
| --- | --- |
| | Why Is the Information in This Chapter Important to Know? |

28
(1)
29
(3)

| | |
| --- | --- |
| | Learning Exercise: Political Culture |

30
(2)

| | |
| --- | --- |
| | Conclusion: The Socioeconomic Context of Policymaking |

32
(1)
33
(1)
33
(1)
33
(2)
35
(24)
35
(2)
37
(2)

| | |
| --- | --- |
| | The Background of the Texas Constitution |

39
(2)

| | |
| --- | --- |
| | The Constitutional Convention of 1875 |

41
(3)

| | |
| --- | --- |
| | Overview of the Texas Constitution |

44
(2)

| | |
| --- | --- |
| | Texas Online: The Texas Constitution Online |

44
(2)
46
(8)

| | |
| --- | --- |
| | Learning Exercise: Predicting Amendment Success |

49
(5)

| | |
| --- | --- |
| | Why Is the Information in This Chapter Important to Know? |

54
(1)

| | |
| --- | --- |
| | Civil Liberties and the Texas Constitution |

54
(2)

| | |
| --- | --- |
| | Conclusion: The Constitutional Context of Policymaking in Texas |

56
(1)
56
(1)
57
(1)
57
(2)

| | |
| --- | --- |
| | The Federal Context of Texas Policymaking |

59
(23)
59
(1)

| | |
| --- | --- |
| | The Role of the States in the Federal System |

60
(1)

| | |
| --- | --- |
| | States, the Courts, and the Constitution |

61
(3)
64
(3)
67
(6)

| | |
| --- | --- |
| | Texas Online: Rating Your U.S. Representative |

70
(3)
73
(4)

| | |
| --- | --- |
| | Why Is the Information in This Chapter Important to Know? |

73
(3)

| | |
| --- | --- |
| | Learning Exercise: Texas in the Federal System |

76
(1)

| | |
| --- | --- |
| | The States as Policy Innovators |

77
(1)

| | |
| --- | --- |
| | Conclusion: The Federal Context of Policymaking in Texas |

78
(1)
79
(1)
80
(1)
80
(2)
82
(24)
82
(2)

| | |
| --- | --- |
| | Texas Online: Initiative and Referendum Webpage |

84
(1)

| | |
| --- | --- |
| | Voting Rights in Texas and Minority Participation |

84
(9)

| | |
| --- | --- |
| | Why Is the Information in This Chapter Important to Know? |

93
(1)

| | |
| --- | --- |
| | Participation in Texas Politics |

93
(10)

| | |
| --- | --- |
| | Learning Exercise: Election Precincts |

96
(7)

| | |
| --- | --- |
| | Conclusion: Participation and Policymaking |

103
(1)
104
(1)
104
(1)
104
(2)
106
(23)
106
(2)

| | |
| --- | --- |
| | Texas Online: Debating Tort Reform |

108
(1)

| | |
| --- | --- |
| | The Growing Interest-Group Universe |

108
(1)

| | |
| --- | --- |
| | Why Some Groups Are Stronger than Others |

109
(1)

| | |
| --- | --- |
| | Why Is the Information in this Chapter Important to Know? |

110
(1)
110
(9)

| | |
| --- | --- |
| | Interest-Group Strategies |

119
(5)

| | |
| --- | --- |
| | Learning Exercise: Group Political Action |

124
(1)

| | |
| --- | --- |
| | Conclusion: Interest Groups and Policymaking |

124
(2)
126
(1)
127
(1)
127
(2)
129
(36)
129
(2)
131
(1)
131
(6)

| | |
| --- | --- |
| | Texas Online: Political Parties in Texas |

137
(1)
137
(1)

| | |
| --- | --- |
| | History of the Texas Party System |

137
(7)
144
(3)
147
(7)

| | |
| --- | --- |
| | Why Is the Information in This Chapter Important to Know? |

148
(6)

| | |
| --- | --- |
| | Learning Exercise: Congressional Districts |

154
(1)
154
(4)

| | |
| --- | --- |
| | The Impact of Partisan Change |

158
(1)

| | |
| --- | --- |
| | The Future of Party Politics in Texas |

159
(1)

| | |
| --- | --- |
| | Conclusion: Political Parties and Policymaking |

160
(2)
162
(1)
163
(1)
163
(2)
165
(35)
165
(1)
166
(2)
168
(6)

| | |
| --- | --- |
| | Why Is the Information in This Chapter Important to Know? |

169
(5)

| | |
| --- | --- |
| | Election Districts and Redistricting |

174
(7)

| | |
| --- | --- |
| | Texas Online: Don't Miss the Next Election---Register to Vote! |

175
(5)

| | |
| --- | --- |
| | Learning Exercise: Do It Yourself Gerrymandering |

180
(1)
181
(12)
193
(3)

| | |
| --- | --- |
| | Conclusion: Elections and Policymaking |

196
(1)
196
(1)
197
(1)
198
(2)
200
(33)
200
(1)
201
(4)
205
(5)
210
(6)

| | |
| --- | --- |
| | Why Is the Information in this Chapter Important to Know? |

212
(4)
216
(6)

| | |
| --- | --- |
| | Learning Exercise: Know Your Legislators |

218
(4)
222
(7)

| | |
| --- | --- |
| | Texas Online: Identifying Your Legislators |

227
(2)

| | |
| --- | --- |
| | Conclusion: The Legislature and the Policymaking Process |

229
(1)
230
(1)
231
(1)
231
(2)
233
(34)
233
(2)
235
(12)

| | |
| --- | --- |
| | Texas Online: The Governor's Homepage |

238
(9)

| | |
| --- | --- |
| | The Executive Bureaucracy |

247
(10)

| | |
| --- | --- |
| | Why Is the Information in this Chapter Important to Know? |

248
(3)

| | |
| --- | --- |
| | Learning Exercise: Profile of a State Agency |

251
(6)

| | |
| --- | --- |
| | Politics and Administration |

257
(6)

| | |
| --- | --- |
| | Conclusion: The Executive Branch and the Policymaking Process |

263
(1)
264
(1)
265
(1)
265
(2)
267
(29)
267
(1)
268
(2)

| | |
| --- | --- |
| | Why Is the Information in This Chapter Important to Know? |

270
(1)

| | |
| --- | --- |
| | Courts and the Federal System |

270
(2)
272
(1)
273
(9)

| | |
| --- | --- |
| | Learning Exercise: Small Claims Court in Action |

276
(5)

| | |
| --- | --- |
| | Texas Online: Texas Courts |

281
(1)
282
(9)

| | |
| --- | --- |
| | Conclusion: The Judicial Branch and the Policymaking Process |

291
(3)
294
(1)
294
(1)
295
(1)
296
(31)
296
(1)

| | |
| --- | --- |
| | The Legal Status of Texas Cities |

297
(3)

| | |
| --- | --- |
| | Why Is the Information in This Chapter Important to Know? |

298
(2)
300
(6)
306
(2)

| | |
| --- | --- |
| | Public Policies in Texas Cities |

308
(14)

| | |
| --- | --- |
| | Texas Online: Texas Cities |

318
(3)

| | |
| --- | --- |
| | Learning Exercise: Local Issues |

321
(1)
322
(2)

| | |
| --- | --- |
| | Conclusion: City Government and Policymaking |

324
(1)
324
(1)
325
(1)
325
(2)

| | |
| --- | --- |
| | Counties, School Districts, and Special Districts |

327
(32)
327
(1)
328
(12)

| | |
| --- | --- |
| | Texas Online: Counties Online |

336
(4)
340
(11)

| | |
| --- | --- |
| | Why Is the Information in This Chapter Important to Know? |

347
(4)
351
(4)

| | |
| --- | --- |
| | Learning Exercise: Using Online Resources to Compare Texas Communities |

353
(2)

| | |
| --- | --- |
| | Conclusion: Local Government and Public Policy |

355
(2)
357
(1)
357
(1)
357
(2)
359
(32)
359
(2)
361
(13)

| | |
| --- | --- |
| | Texas Online: Tax Information Online |

363
(6)

| | |
| --- | --- |
| | Learning Exercise: The Incidence of Taxation |

369
(5)
374
(2)
376
(5)
381
(4)

| | |
| --- | --- |
| | Conclusion: The Determinants of Budgetary Policy |

385
(2)

| | |
| --- | --- |
| | Why Is the Information in This Chapter Important to Know? |

385
(2)
387
(1)
388
(1)
388
(3)
391
(30)
391
(1)
392
(4)

| | |
| --- | --- |
| | Criminal Prosecution Process |

396
(7)

| | |
| --- | --- |
| | Texas Online: Criminal Justice Policy Papers |

396
(7)
403
(4)

| | |
| --- | --- |
| | Why Is the Information in This Chapter Important to Know? |

404
(1)

| | |
| --- | --- |
| | Learning Exercise: Research Designs and the Death Penalty |

405
(2)
407
(3)
410
(1)
411
(5)

| | |
| --- | --- |
| | Conclusion: Policy Options |

416
(1)
417
(1)
418
(1)
418
(3)
Glossary
421
(9)
Credits
430
(1)
Index
431