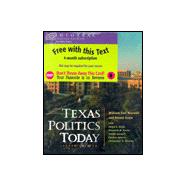 Questions About This Book?
What version or edition is this?
This is the 10th edition with a publication date of 7/18/2001.
What is included with this book?
The New copy of this book will include any supplemental materials advertised. Please check the title of the book to determine if it should include any CDs, lab manuals, study guides, etc.
Summary
TEXAS POLITICS TODAY continues to be a best-selling overview of Texas Politics because it offers students a wide range of viewpoints, drawing on the diverse political and social perspectives of its contributing authors to give students rich, nuanced insight into the political system and decision-making processes of the Lone Star State. Current issues and candid analysis of government increase student awareness of the real effects of state policy on their lives, and encourage them to get politically involved.
Table of Contents
Preface
xii

| | |
| --- | --- |
| | Texas Culture, People, and History |

1
(34)
2
(7)
2
(1)
2
(2)
4
(1)
5
(1)
6
(1)
6
(1)
7
(1)
7
(1)
8
(1)
9
(12)
9
(1)

| | |
| --- | --- |
| | Early Statehood and Secession: 1846-1864 |

9
(1)

| | |
| --- | --- |
| | Post-Civil War Texas: 1865-1885 |

10
(1)

| | |
| --- | --- |
| | Progress and Reform: 1886-1913 |

11
(1)
11
(2)

| | |
| --- | --- |
| | World War I, the Twenties, and the Return of Farmer Jim: 1919-1928 |

13
(1)

| | |
| --- | --- |
| | The Great Depression: 1929-1939 |

14
(1)

| | |
| --- | --- |
| | ``Pass the Biscuits, Pappy'': 1938-1945 |

15
(1)

| | |
| --- | --- |
| | Post-World War II: 1946-1949 |

16
(1)
16
(1)
17
(1)
18
(1)
18
(1)
19
(1)
20
(1)
21
(1)
22
(1)
23
(1)
23
(1)
23
(1)
24
(2)

| | |
| --- | --- |
| | Essay: Where's May's Cafe? The McDonaldization of Texas Political Culture |

26
(2)
28
(7)
28
(7)

| | |
| --- | --- |
| | The Texas Constitution in Perspective |

35
(26)

| | |
| --- | --- |
| | The National Constitution and the States: Federalism |

36
(2)
36
(2)
38
(1)
38
(14)

| | |
| --- | --- |
| | The Texas Constitution in History |

39
(2)

| | |
| --- | --- |
| | The Texas Constitution Today |

41
(1)

| | |
| --- | --- |
| | Bill of Rights and Fundamental Liberty |

42
(1)
43
(1)
44
(1)
45
(1)
46
(1)
47
(1)
48
(1)

| | |
| --- | --- |
| | Amending and Revising the Texas Constitution |

48
(2)

| | |
| --- | --- |
| | Texas Constitution Compared |

50
(2)
52
(1)
53
(1)
53
(1)
54
(1)
54
(1)

| | |
| --- | --- |
| | Essay: Governor E. J. Davis and His Legacy for Texas |

55
(3)

| | |
| --- | --- |
| | Essay: A Square Peg in a Round Hole: The Regime of Governor Edmund J. Davis Reconsidered |

58
(3)
61
(36)
62
(9)

| | |
| --- | --- |
| | The Participation Paradox |

62
(1)
63
(1)
63
(2)

| | |
| --- | --- |
| | Voter Turnout in the U.S. and Texas |

65
(2)

| | |
| --- | --- |
| | Reasons for Low Voter Turnout in Texas |

67
(4)
71
(14)
71
(5)
76
(1)
77
(1)

| | |
| --- | --- |
| | The Conduct and Administration of Elections |

78
(7)

| | |
| --- | --- |
| | Election Campaigns in Texas |

85
(6)
85
(1)

| | |
| --- | --- |
| | The General Election Campaign |

86
(2)

| | |
| --- | --- |
| | Money in Political Campaigns |

88
(3)
91
(1)
92
(1)
92
(1)
92
(1)
93
(1)

| | |
| --- | --- |
| | Essay: The Life of the Party: The Elusive Notion of State Party Membership in Texas and the Nation |

94
(3)
97
(22)

| | |
| --- | --- |
| | Functions of Political Parties |

98
(1)

| | |
| --- | --- |
| | Characteristics of American Political Parties |

99
(2)
99
(1)
99
(1)
100
(1)

| | |
| --- | --- |
| | Development of the Texas Party System |

101
(6)

| | |
| --- | --- |
| | The One-Party Tradition in Texas |

101
(1)

| | |
| --- | --- |
| | Ideological Basis of Factionalism: Conservatives and Liberals |

102
(1)

| | |
| --- | --- |
| | Conservative and Liberal Factions in the Democratic Party |

103
(1)

| | |
| --- | --- |
| | Rise of The Republican Party |

104
(2)

| | |
| --- | --- |
| | Conservative and Moderate Factions within the Republican Party |

106
(1)

| | |
| --- | --- |
| | Organizational Basis of Party Machinery in Texas |

107
(4)

| | |
| --- | --- |
| | Temporary-Party Organization |

108
(2)

| | |
| --- | --- |
| | Permanent-Party Organization |

110
(1)

| | |
| --- | --- |
| | Competitive Parties in Texas: A New Era |

111
(2)

| | |
| --- | --- |
| | Emergence of Two-Partyism |

112
(1)
113
(1)
114
(1)
114
(1)
115
(1)
115
(1)

| | |
| --- | --- |
| | Essay: Republican Party's Dominance in Texas and the Hispanic Vote |

116
(3)
119
(24)
121
(1)
121
(1)

| | |
| --- | --- |
| | Direct Means of Influencing Government |

122
(1)

| | |
| --- | --- |
| | Lobbying the Legislative and Executive Branches |

122
(1)
122
(1)

| | |
| --- | --- |
| | Advising and Serving the State |

123
(1)
123
(1)

| | |
| --- | --- |
| | Indirect Means of Influencing Government |

123
(1)
123
(1)
123
(1)
124
(1)

| | |
| --- | --- |
| | Why People Join Interest Groups |

124
(1)
125
(1)
125
(1)
125
(1)
125
(1)

| | |
| --- | --- |
| | Factors That Affect Interest Group Power |

125
(5)

| | |
| --- | --- |
| | Culture of NonParticipation |

125
(1)
126
(1)

| | |
| --- | --- |
| | Decentralization of Executive Branch Power |

127
(1)
127
(1)
127
(1)
128
(1)

| | |
| --- | --- |
| | Interest Groups as Checks on Interest Groups |

129
(1)
129
(1)

| | |
| --- | --- |
| | Conclusions About Balance in the Political System |

130
(1)

| | |
| --- | --- |
| | The Regulation of Lobbying |

131
(2)

| | |
| --- | --- |
| | Who Must Register and Report Lobbying Costs? |

131
(1)

| | |
| --- | --- |
| | What Does a Lobbyist Report? |

132
(1)

| | |
| --- | --- |
| | Access To The Reports of Lobbyists |

133
(1)
133
(2)
133
(1)

| | |
| --- | --- |
| | Before Administrative Agencies |

134
(1)
135
(1)

| | |
| --- | --- |
| | Which Interests Are Powerful? |

135
(2)

| | |
| --- | --- |
| | Conclusions and Observations |

137
(1)
138
(1)
138
(1)
138
(1)
139
(1)

| | |
| --- | --- |
| | Essay: Texas Department of Transportation, Its Clientele Group and the Legislature: A Glimpse into Texas State Government |

140
(3)

| | |
| --- | --- |
| | The Legislature: Organization and Structure |

143
(20)
144
(2)

| | |
| --- | --- |
| | Qualifications for Membership |

146
(4)
146
(1)
147
(3)

| | |
| --- | --- |
| | Organization of Texas Legislature |

150
(4)
150
(2)
152
(1)
153
(1)

| | |
| --- | --- |
| | Amateurism in Texas Legislature |

154
(3)
155
(1)
155
(1)
156
(1)
157
(1)
158
(1)
158
(1)
158
(1)
159
(1)

| | |
| --- | --- |
| | Essay: Unelected Staff and the Texas Legislature |

160
(3)
163
(24)

| | |
| --- | --- |
| | Powers of the Presiding Officers |

164
(14)

| | |
| --- | --- |
| | Procedural Tools of Leadership |

165
(11)

| | |
| --- | --- |
| | Institutional Tools of Leadership |

176
(2)

| | |
| --- | --- |
| | Restraints on Powers of Presiding Officers |

178
(2)
178
(1)
178
(1)

| | |
| --- | --- |
| | The Lobby and Bureaucracy |

178
(1)
179
(1)
179
(1)

| | |
| --- | --- |
| | Political or Economic Ambition |

180
(1)
180
(1)
180
(1)
181
(1)
181
(1)
182
(1)
182
(1)

| | |
| --- | --- |
| | Essay: Bipartisanship in the Texas Legislature, a George W. Bush Phenomenon? A study of party membership and standing committee chair appointments |

183
(4)
187
(20)

| | |
| --- | --- |
| | Qualifications, Tenure, and Staff |

189
(3)
189
(1)
189
(1)

| | |
| --- | --- |
| | Tenure, Removal and Succession |

190
(1)
191
(1)
192
(1)
192
(9)

| | |
| --- | --- |
| | Legislative Tools of Persuasion |

193
(3)

| | |
| --- | --- |
| | Executive Tools of Persuasion |

196
(4)
200
(1)
201
(1)
202
(1)
202
(1)
202
(1)
203
(1)

| | |
| --- | --- |
| | Essay: Costs of Texas Gubernatorial Elections: Who Gives and Why? |

204
(3)
207
(30)

| | |
| --- | --- |
| | Characteristics Of Bureaucracy |

208
(5)
208
(2)
210
(1)
211
(2)
213
(1)

| | |
| --- | --- |
| | The Bureaucracy And Public Policy |

213
(9)
213
(1)

| | |
| --- | --- |
| | The Legislature, the Lieutenant Governor, and the Speaker |

214
(1)
214
(1)
215
(2)
217
(1)
217
(1)
217
(1)

| | |
| --- | --- |
| | Administration of the Law |

217
(1)
218
(4)
222
(8)
222
(4)
226
(1)
226
(4)
230
(1)
230
(1)
230
(1)
231
(1)
232
(1)

| | |
| --- | --- |
| | Essay: Agencies and Influence: A Special Case in the Texas State Board of Education |

233
(4)
237
(26)
239
(1)

| | |
| --- | --- |
| | Original and Appellate Jurisdiction |

240
(1)
240
(11)
240
(3)
243
(1)
244
(1)
245
(1)
246
(1)

| | |
| --- | --- |
| | Court of Criminal Appeals |

247
(3)
250
(1)
251
(2)
251
(1)
252
(1)
253
(1)

| | |
| --- | --- |
| | The Politics of Judicial Selection in Texas |

254
(3)
257
(1)
258
(1)
258
(1)
258
(1)
259
(1)
260
(3)
263
(34)
265
(3)
265
(1)
266
(2)
268
(5)
268
(2)
270
(1)
271
(2)
273
(5)
273
(1)
273
(1)
274
(1)
275
(1)
275
(1)
276
(1)
276
(1)
276
(2)
278
(6)

| | |
| --- | --- |
| | Pretrial Court Activities |

278
(2)
280
(1)
280
(1)
281
(1)
281
(2)
283
(1)

| | |
| --- | --- |
| | The Special Case of Juvenile Courts |

284
(1)

| | |
| --- | --- |
| | Rehabilitation and Punishment |

284
(4)

| | |
| --- | --- |
| | Texas Department of Criminal Justice |

285
(2)
287
(1)
287
(1)
287
(1)
288
(1)
289
(1)
289
(1)
290
(1)
290
(1)

| | |
| --- | --- |
| | Essay: In Search of a Solution to America's Drug Problem: Will History Repeat Itself? |

291
(6)
297
(20)
298
(11)
299
(3)
302
(2)
304
(3)
307
(2)
309
(2)
311
(1)
312
(1)
312
(1)
312
(1)
312
(2)

| | |
| --- | --- |
| | Essay: Reforming The Texas Tax System |

314
(3)
317
(24)
319
(8)

| | |
| --- | --- |
| | Elementary and Secondary Schools |

319
(2)

| | |
| --- | --- |
| | The Politics of Public Education |

321
(4)
325
(2)

| | |
| --- | --- |
| | Health and Human Services |

327
(5)
328
(1)
329
(1)
329
(1)
330
(1)

| | |
| --- | --- |
| | The Politics of ``Welfare'' |

330
(2)
332
(2)
332
(2)

| | |
| --- | --- |
| | The Politics of Transportation |

334
(1)
334
(1)
335
(1)
335
(1)
335
(1)
336
(1)

| | |
| --- | --- |
| | Essay: The Hopwood Decision |

337
(4)
341
(29)
343
(11)
344
(2)

| | |
| --- | --- |
| | Municipal-Election Systems |

346
(2)

| | |
| --- | --- |
| | Revenue Sources and Limitations |

348
(2)
350
(4)
354
(5)
354
(1)

| | |
| --- | --- |
| | Structure and Organization of Counties |

355
(2)
357
(2)

| | |
| --- | --- |
| | Special Districts: The Hidden Governments |

359
(1)
360
(1)

| | |
| --- | --- |
| | Councils of Governments (COGs) |

360
(2)
362
(1)
362
(1)
363
(1)
363
(1)
364
(1)
364
(1)

| | |
| --- | --- |
| | Essay: The Urban Crisis and the ETJ-The Savior of Texas Cities |

365
(2)

| | |
| --- | --- |
| | Essay: Government and Politics in Texas Suburbia |

367
(3)
Glossary
370
(9)
Index
379