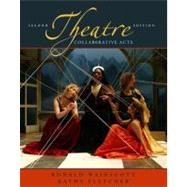 Questions About This Book?
What version or edition is this?
This is the 2nd edition with a publication date of 1/1/2007.
What is included with this book?
The Used copy of this book is not guaranteed to include any supplemental materials. Typically, only the book itself is included.
Related Products
Summary
"Theatre: Collaborative Acts" stimulates creative thinking and discussions of artistic, social, and ethical questions through its interwoven themes of theatre as culture, collaboration, spatial art, and a fusion of the past and present. This text emphasizes the diversity of purpose and effect of theatre and the collaborative nature of the theatrical process. "Exploring Collaboration" boxes include profiles of successful artistic teams and feature a variety of approaches to the artistic process; "Exploring Historical and Cultural Perspectives" boxes offer a window on specific theatrical events; "Artists of the Theatre" boxes feature colorful and influential theatrical figures of the twentieth and twenty-first centuries. Theatre history, race and gender diversity in theatre, play interpretation, play production, theatre collaboration, analyzing theatre, and the director, actor, playwright, designer. People interested in theatre as a profession or as entertainment.
Table of Contents
Preface
xxiii

| | |
| --- | --- |
| | ACT ONE Theatre and Its Audience |

1
(155)

| | |
| --- | --- |
| | Cultural Collaboration Theatre and Society |

2
(22)

| | |
| --- | --- |
| | Theatre as Entertainment and Art |

4
(13)

| | |
| --- | --- |
| | Exploring Historical and Cultural Perspectives: The Lure of Safe Conduct and Invisible Rabbits |

5
(2)

| | |
| --- | --- |
| | The Social Functions of Theatre |

7
(1)
7
(1)

| | |
| --- | --- |
| | Theatre and Socialization |

8
(1)
9
(1)
9
(2)
11
(1)

| | |
| --- | --- |
| | Exploring Historical and Cultural Perspectives: Antiwar Plays |

12
(1)
13
(1)

| | |
| --- | --- |
| | Exploring Collaboration: Interact Center for the Visual and Performing Arts |

14
(1)

| | |
| --- | --- |
| | Theatre and Cultural Exploration |

15
(2)

| | |
| --- | --- |
| | Social Control of Theatre |

17
(4)

| | |
| --- | --- |
| | Theatre and the Threat to Morality |

17
(1)
18
(1)
19
(1)

| | |
| --- | --- |
| | Exploring Collaboration: Citizen Play Juries |

20
(1)

| | |
| --- | --- |
| | Cultural Context and Personal Experience |

21
(1)
22
(1)
22
(1)
23
(1)

| | |
| --- | --- |
| | Experiencing Theatre Collaboration of Actor, Audience, and Space |

24
(30)
27
(7)

| | |
| --- | --- |
| | Empathy and Aesthetic Distance |

27
(4)

| | |
| --- | --- |
| | Exploring Collaboration: Spatial Collaboration: Commune and Pinocchio |

31
(1)

| | |
| --- | --- |
| | Overall Effect on the Audience |

32
(1)

| | |
| --- | --- |
| | Exploring Historical and Cultural Perspectives: Brecht versus Wagner |

33
(1)
34
(3)

| | |
| --- | --- |
| | Exploring Historical and Cultural Perspectives: Hypokrites to Actor |

35
(1)

| | |
| --- | --- |
| | Exploring Historical and Cultural Perspectives: Makeup as Mask: Kathakali |

36
(1)
37
(2)

| | |
| --- | --- |
| | The Production Collaborators |

37
(1)
37
(1)

| | |
| --- | --- |
| | The Rewards of Collaboration |

38
(1)
39
(12)
39
(3)

| | |
| --- | --- |
| | Exploring Historical and Cultural Perspectives: Drottningholm Court Theatre |

42
(1)
43
(1)
44
(1)

| | |
| --- | --- |
| | Exploring Historical and Cultural Perspectives: Stratford Festival Theatre |

45
(1)
46
(1)
46
(2)

| | |
| --- | --- |
| | Exploring Historical and Cultural Perspectives: The Performing Garage |

48
(1)
49
(1)
49
(1)
50
(1)

| | |
| --- | --- |
| | Theatre and Transformation |

51
(1)
52
(1)
53
(1)
53
(1)

| | |
| --- | --- |
| | Analyzing Theatre Thinking and Writing about Live Performance |

54
(26)

| | |
| --- | --- |
| | Theatre, Film, and Television |

56
(2)
56
(1)

| | |
| --- | --- |
| | The Nature of Live Performance |

57
(1)
58
(1)

| | |
| --- | --- |
| | Thinking about Actor Performance |

59
(3)
60
(1)
60
(1)
61
(1)

| | |
| --- | --- |
| | Thinking about Space and Design |

62
(6)

| | |
| --- | --- |
| | Seeing in Three Dimensions |

62
(1)
63
(3)
66
(1)

| | |
| --- | --- |
| | Exploring Historical and Cultural Perspectives: The Effect of Audience Space on Angels in America |

67
(1)
68
(2)
70
(3)

| | |
| --- | --- |
| | Considering Context and Artistic Intent |

70
(1)
71
(1)

| | |
| --- | --- |
| | ``I Don't Know Why I Like It... I Just Do'' |

72
(1)
72
(1)
73
(3)

| | |
| --- | --- |
| | The Critic and the Audience |

73
(1)

| | |
| --- | --- |
| | Exploring Collaboration: Effective Performance Criticism |

74
(1)

| | |
| --- | --- |
| | The Critic and the Artists |

75
(1)

| | |
| --- | --- |
| | The Critic and the Historical Recor |

75
(1)

| | |
| --- | --- |
| | A Second Look at Production |

76
(1)
76
(3)

| | |
| --- | --- |
| | Exploring Historical and Cultural Perspectives: Theatre or Theater? It Is More Than a Building |

78
(1)
79
(1)
79
(1)
79
(1)
79
(1)

| | |
| --- | --- |
| | Understanding the Play A Theatrical Blueprint |

80
(28)
82
(13)
82
(6)

| | |
| --- | --- |
| | Variations on Linear, Causal Structure |

88
(1)

| | |
| --- | --- |
| | Exploring Historical and Cultural Perspectives: Elmer Rice's On Trial |

89
(1)
90
(1)

| | |
| --- | --- |
| | Structure by Idea, Character, and Image |

91
(1)
92
(1)
93
(1)

| | |
| --- | --- |
| | Structure in the Twenty-First Century |

94
(1)
95
(4)
95
(1)

| | |
| --- | --- |
| | Levels of Characterization |

96
(3)

| | |
| --- | --- |
| | Understanding Character Relationships |

99
(1)
99
(2)

| | |
| --- | --- |
| | Use of Imagery to Create Thought |

100
(1)

| | |
| --- | --- |
| | Contribution of Plot to Thought |

101
(1)
101
(1)
101
(4)

| | |
| --- | --- |
| | Contribution to Character |

102
(1)

| | |
| --- | --- |
| | Exploring Collaboration: Improvised Text |

103
(1)

| | |
| --- | --- |
| | Establishing Mood and Environment |

104
(1)
105
(1)
106
(1)
107
(1)
107
(1)
107
(1)

| | |
| --- | --- |
| | Interpreting the Play Understanding Genre, Reading, and Writing |

108
(22)
110
(12)
110
(3)
113
(5)
118
(1)
119
(2)

| | |
| --- | --- |
| | Departures from Traditional Genre |

121
(1)
122
(5)
122
(2)

| | |
| --- | --- |
| | Understanding Cultural and Historical Differences |

124
(1)

| | |
| --- | --- |
| | Exploring Historical and Cultural Perspectives: ``Exit, Pursued by a Bear'': Those Problematic Stage Directions |

125
(1)

| | |
| --- | --- |
| | Exploring Collaboration: East and West: Death of a Salesman in China |

126
(1)
127
(1)
127
(2)

| | |
| --- | --- |
| | Exploring Historical and Cultural Perspectives: Juliet Was a Guy in Drag? Changing Theatrical Conventions |

128
(1)
129
(1)
129
(1)
129
(1)

| | |
| --- | --- |
| | Producing the Play Connecting Theatre and Audience |

130
(26)

| | |
| --- | --- |
| | Theatrical Choice in North America |

132
(6)
133
(2)

| | |
| --- | --- |
| | Exploring Collaboration: New Audience Initiatives: The Cleveland Play House |

135
(1)
135
131
(7)
138
(3)

| | |
| --- | --- |
| | Producing in Commercial Theatre |

138
(1)

| | |
| --- | --- |
| | Producing in Nonprofit Theatre |

139
(1)

| | |
| --- | --- |
| | Artists of the Theatre: Harold Prince |

140
(1)

| | |
| --- | --- |
| | Producing in Amateur Theatre |

140
(1)
141
(6)

| | |
| --- | --- |
| | Exploring Historical and Cultural Perspectives: The Federal Theatre Project |

142
(1)
143
(1)

| | |
| --- | --- |
| | Effect on Types of Plays Produced |

144
(1)

| | |
| --- | --- |
| | Exploring Collaboration: The New 42nd Street |

145
(1)
145
(1)
146
(1)

| | |
| --- | --- |
| | Theatre and the Community |

146
(1)
147
(1)
147
(1)
147
(9)

| | |
| --- | --- |
| | Photo Gallery: Theatre of Diversity |

148
(8)

| | |
| --- | --- |
| | ACTTWO Collaboration in Art and Practice |

156
(114)

| | |
| --- | --- |
| | The Director Vision and Leadership |

158
(30)

| | |
| --- | --- |
| | Has Someone Always Been in Charge? |

160
(3)

| | |
| --- | --- |
| | Actor-Playwrights and Company Leaders |

160
(1)
161
(1)
161
(1)

| | |
| --- | --- |
| | The Emergence of the Modern Director |

162
(1)
163
(2)
165
(4)

| | |
| --- | --- |
| | Artists of the Theatre: Peter Brook |

168
(1)

| | |
| --- | --- |
| | Communicating and Managing the Artistic Vision |

169
(2)

| | |
| --- | --- |
| | Collaborating with the Playwright |

171
(4)

| | |
| --- | --- |
| | Exploring Historical and Cultural Perspectives: Who Owns the Work? |

174
(1)

| | |
| --- | --- |
| | Directors and Absent Playwrights |

175
(1)

| | |
| --- | --- |
| | Collaborating with Designers |

176
(1)

| | |
| --- | --- |
| | Successful Collaborations |

176
(1)

| | |
| --- | --- |
| | Seeing in Three Dimensions |

177
(1)

| | |
| --- | --- |
| | Collaborating with Actors |

177
(4)
177
(1)

| | |
| --- | --- |
| | Exploring Collaboration: Metamorphoses |

178
(1)

| | |
| --- | --- |
| | Developing Character and Ensemble |

179
(1)

| | |
| --- | --- |
| | Artists of the Theatre: George C. Wolfe |

180
(1)

| | |
| --- | --- |
| | Collaborating with Stage Management |

181
(1)
182
(2)

| | |
| --- | --- |
| | Read-Through and Analysis |

182
(1)
182
(2)
184
(1)

| | |
| --- | --- |
| | Technical and Dress Rehearsals |

184
(1)
184
(1)
185
(1)
186
(1)
186
(1)
187
(1)

| | |
| --- | --- |
| | The Actor From Mask to Contemporary Performance |

188
(22)
190
(6)
191
(1)
192
(1)
193
(1)

| | |
| --- | --- |
| | The Tradition of Cross-Dressing |

193
(1)

| | |
| --- | --- |
| | Artists of the Theatre: Bernadette Peters |

194
(1)

| | |
| --- | --- |
| | Exploring Historical and Cultural Perspectives: Women as Ancient Mimes |

195
(1)

| | |
| --- | --- |
| | Exploring Historical and Cultural Perspectives: Contemporary Cross-Dressing |

196
(1)

| | |
| --- | --- |
| | Acting Styles and Methods |

196
(7)
197
(1)

| | |
| --- | --- |
| | Contemporary Realistic Performance |

198
(1)

| | |
| --- | --- |
| | Artists of the Theatre: James Earl Jones |

199
(2)

| | |
| --- | --- |
| | Contemporary Presentational Performance |

201
(2)
203
(6)
203
(1)
204
(2)

| | |
| --- | --- |
| | Exploring Collaboration: Actors as Collaborators |

206
(1)
206
(2)
208
(1)
209
(1)
209
(1)
209
(1)

| | |
| --- | --- |
| | The Playwright Imagination and Expression |

210
(18)

| | |
| --- | --- |
| | The Changing Position of the Playwright |

213
(4)

| | |
| --- | --- |
| | Playwriting as Civic Contribution |

213
(1)
213
(1)

| | |
| --- | --- |
| | Artists of the Theatre: Suzan-Lori Parks |

214
(1)

| | |
| --- | --- |
| | Social Position of the Playwright |

215
(1)
216
(1)

| | |
| --- | --- |
| | The Playwright and Production |

217
(6)

| | |
| --- | --- |
| | Writing with Actors in Mind |

217
(1)

| | |
| --- | --- |
| | Writing with a Theatre in the Head |

218
(1)

| | |
| --- | --- |
| | Collaborating with Actors, Directors, and Dramaturgy |

219
(1)
219
(1)

| | |
| --- | --- |
| | Exploring Collaboration: The Sondheim/Lapine Collaboration |

220
(1)
221
(1)

| | |
| --- | --- |
| | Artists of the Theatre: Michael Frayn |

222
(1)

| | |
| --- | --- |
| | When the Playwright Is an Actor or Director |

223
(1)
223
(4)

| | |
| --- | --- |
| | Nontraditional Play Development |

224
(1)

| | |
| --- | --- |
| | Exploring Historical and Cultural Perspectives: The Humana Festival of New American Plays, Actors Theatre of Louisville |

225
(1)
225
(1)

| | |
| --- | --- |
| | Exploring Collaboration: The Rent Controversy |

226
(1)
227
(1)
227
(1)
227
(1)
227
(1)

| | |
| --- | --- |
| | The Designer Materializing Conception and the World of the Play |

228
(42)

| | |
| --- | --- |
| | The Development of the Designer |

230
(6)

| | |
| --- | --- |
| | Exploring Historical and Cultural Perspectives: Development of the Revolve |

235
(1)
236
(6)

| | |
| --- | --- |
| | Representational and Presentational |

236
(2)

| | |
| --- | --- |
| | Historical versus Imaginary |

238
(1)
238
(1)

| | |
| --- | --- |
| | Artists of the Theatre: Ming Cho Lee |

239
(1)
240
(1)

| | |
| --- | --- |
| | Seeing beyond the Playwright and Director |

241
(1)

| | |
| --- | --- |
| | The Scenic Designer's Work |

242
(4)

| | |
| --- | --- |
| | What Does the Play Demand? |

242
(1)

| | |
| --- | --- |
| | Communicating with the Production Team |

242
(2)

| | |
| --- | --- |
| | Exploring Collaboration: Robert Edmond Jones with Arthur Hopkins |

244
(1)

| | |
| --- | --- |
| | Executing the Scenic Design |

245
(1)

| | |
| --- | --- |
| | The Lighting Designer's Work |

246
(7)

| | |
| --- | --- |
| | Changing Space with Lighting |

247
(1)

| | |
| --- | --- |
| | Creating Movement and Mood with Lighting |

247
(1)

| | |
| --- | --- |
| | Artists of the Theatre: Jules Fisher and Peggy Eisenhauer |

248
(2)

| | |
| --- | --- |
| | The Lighting Designer's Tools |

250
(1)

| | |
| --- | --- |
| | Communicating and Executing the Lighting Design |

251
(2)

| | |
| --- | --- |
| | The Costume Designer's Work |

253
(5)
254
(1)

| | |
| --- | --- |
| | Communicating and Executing the Costume Design |

254
(3)

| | |
| --- | --- |
| | Artists of the Theatre: William Ivey Long |

257
(1)
257
(1)

| | |
| --- | --- |
| | The Sound Designer's Work |

258
(1)

| | |
| --- | --- |
| | Integrating All the Designs |

259
(2)
261
(1)
261
(1)
261
(9)

| | |
| --- | --- |
| | Photo Gallery: Interpreting Space and Design |

262
(8)

| | |
| --- | --- |
| | ACTTHREE Collaboration in History |

270
(87)

| | |
| --- | --- |
| | Foundations Classical Theatrical Forms |

272
(22)
274
(6)

| | |
| --- | --- |
| | Exploring Historical and Cultural Perspectives: Rediscovering Menander |

278
(2)
280
(2)
282
(4)

| | |
| --- | --- |
| | Exploring Collaboration: The Community, the Church, and the Feast of Corpus Christi |

285
(1)
286
(1)
287
(2)
289
(4)

| | |
| --- | --- |
| | Exploring Historical and Cultural Perspectives: Kabuki Cross-Dressing: The Onnagata |

291
(2)
293
(1)
293
(1)
293
(1)

| | |
| --- | --- |
| | Reinterpretations Europe Rediscovers the Western Classics |

294
(20)
296
(4)

| | |
| --- | --- |
| | Exploring Historical and Cultural Perspectives: Renaissance Court Entertainment |

298
(2)
300
(4)

| | |
| --- | --- |
| | Exploring Historical and Cultural Perspectives: Rediscovery of the Rose and Globe Theatres |

303
(1)
304
(2)

| | |
| --- | --- |
| | Seventeenth-Century France |

306
(1)
307
(3)

| | |
| --- | --- |
| | Eighteenth-Century Europe and the Americas |

310
(2)

| | |
| --- | --- |
| | Exploring Collaboration: The Hallam Company in the American Colonies: A Family Affair |

312
(1)
312
(1)
313
(1)
313
(1)

| | |
| --- | --- |
| | Revolitions Romanticism to Postmodern Experiment |

314
(43)
316
(5)

| | |
| --- | --- |
| | Exploring Historical and Cultural Perspectives: The Audience Has Its Say: Theatre Riots and Demonstrations |

318
(3)

| | |
| --- | --- |
| | Nineteenth-Century Melodrama |

321
(2)

| | |
| --- | --- |
| | Exploring Historical and Cultural Perspectives: Nineteenth-Century Women Theatre Managers in Britain and the United States |

322
(1)

| | |
| --- | --- |
| | Nineteenth-Century Realism and Naturalism |

323
(2)

| | |
| --- | --- |
| | The Avant-Garde from the Late Nineteenth Century to the 1960s |

325
(5)

| | |
| --- | --- |
| | Exploring Collaboration: Founding an Alternative Theatre: The Provincetown Players |

330
(1)

| | |
| --- | --- |
| | Modern and Contemporary Popular Theatre |

330
(4)

| | |
| --- | --- |
| | The Recent Avant-Garde and Postmodern Experiment |

334
(2)
336
(1)
337
(1)
337
(20)
338
(19)
Glossary
357
(10)
Notes
367
(2)
Bibliography
369
(4)
Index
373