Note: Supplemental materials are not guaranteed with Rental or Used book purchases.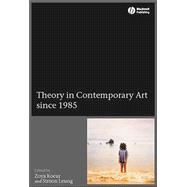 Summary
Theory in Contemporary Art since 1985 is a groundbreaking anthology that captures the essence and the edge of the contemporary art scene. Provides the first truly comprehensive and international anthology of theory in contemporary art of the last two decades. Brings together a broad selection of important contributions to the fields of contemporary art, theory, and culture from established and emergent art voices, including scholars, curators, critics, and artists from around the globe. Focuses on key theoretical and aesthetic issues in contemporary art, such as cultural/multicultural theory, identity politics, AIDS, post-colonialism, globalization, and spectatorship. Includes editorial material and 44 illustrations.
Author Biography
Zoya Kocur
is an independent scholar and adjunct faculty member of the Department of Art and Art Professions at New York University. She co-edited
Contemporary Art and Multicultural Education
(1996) and has published articles on art pedagogy and museum education.
Simon Leung is an artist and assistant professor in the Department of Studio Art at the University of California, Irvine. His work has been exhibited at the Venice Biennale (2003) and the Whitney Biennial (1993).
Table of Contents
Notes on Contributors
viii
Acknowledgments
xii
Text, Figure, and Plate Credits
xiii
How To Use This Book
xxi
Introduction
1
(4)

| | |
| --- | --- |
| | Part I Contemporary Art Practices and Models |

5
(112)
7
(4)

| | |
| --- | --- |
| | The Intellectual Field: A World Apart (1990) |

11
(8)

| | |
| --- | --- |
| | When Form Has Become Attitude -- And Beyond (1994) |

19
(13)

| | |
| --- | --- |
| | One Place After Another: Notes on Site Specificity (1997) |

32
(23)

| | |
| --- | --- |
| | The Curator's Moment (1998) |

55
(14)

| | |
| --- | --- |
| | How to Provide an Artistic Service: An Introduction (1994) |

69
(7)

| | |
| --- | --- |
| | Conversation Pieces: The Role of Dialogue in Socially-Engaged Art (2004) |

76
(13)

| | |
| --- | --- |
| | ``yBa'' as Critique: The Socio-Political Inferences of the Mediated Identity of Recent British Art (1997) |

89
(12)

| | |
| --- | --- |
| | Video Projection: The Space Between Screens (2004) |

101
(16)

| | |
| --- | --- |
| | Part II Culture/Identities/Political Fields |

117
(96)
119
(4)

| | |
| --- | --- |
| | The War on Culture (1990) |

123
(9)

| | |
| --- | --- |
| | Feminist Fundamentalism: Women Against Images (1993) |

132
(9)

| | |
| --- | --- |
| | AIDS: Cultural Analysis/Cultural Activism (1987) |

141
(9)

| | |
| --- | --- |
| | Architecture of the Evicted (1990) |

150
(16)

| | |
| --- | --- |
| | Gender is Burning: Questions of Appropriation and Subversion (1993) |

166
(16)

| | |
| --- | --- |
| | Cornered: A Video Installation Project (1992) |

182
(5)

| | |
| --- | --- |
| | The Mythology of Difference: Vulgar Identity Politics at the Whitney Biennial (1993) |

187
(17)
204
(9)

| | |
| --- | --- |
| | Part III Postcolonial Critiques |

213
(64)
215
(3)

| | |
| --- | --- |
| | The Marco Polo Syndrome: Some Problems around Art and Eurocentrism (1992) |

218
(8)

| | |
| --- | --- |
| | In the ``Heart of Darkness'' (1993) |

226
(7)

| | |
| --- | --- |
| | The Syncretic Turn: Cross-Cultural Practices in the Age of Multiculturalism (1996) |

233
(9)

| | |
| --- | --- |
| | Authenticity, Reflexivity, and Spectacle: or, the Rise of New Asia is not the End of the World (2004) |

242
(17)

| | |
| --- | --- |
| | All-Owning Spectatorship (1991) |

259
(18)

| | |
| --- | --- |
| | Part IV Rethinking Aesthetics |

277
(68)
279
(4)

| | |
| --- | --- |
| | A Note on Gerhard Richter's October 18, 1977 (1989) |

283
(9)

| | |
| --- | --- |
| | Notes on Surface: Toward a Genealogy of Flatness (2000) |

292
(17)

| | |
| --- | --- |
| | Ruins, Fragmentation, and the Chinese Modern/Postmodern (1998) |

309
(9)

| | |
| --- | --- |
| | Function and Field: Demarcating Conceptual Practices (2004) |

318
(13)
331
(14)

| | |
| --- | --- |
| | Part V Theories after Postmodernism |

345
(83)
347
(4)

| | |
| --- | --- |
| | Postmodernism and Periphery (1987) |

351
(9)

| | |
| --- | --- |
| | Looking for Trouble (1991) |

360
(12)

| | |
| --- | --- |
| | Repossessing Popular Culture (1993) |

372
(16)

| | |
| --- | --- |
| | The Lightness of Theory (1993) |

388
(7)

| | |
| --- | --- |
| | Informe without Conclusion (1996) |

395
(13)
408
(20)
Index
428