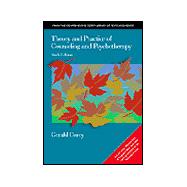 Theory and Practice of Counseling and Psychotherapy
by
Corey, Gerald
Questions About This Book?
What version or edition is this?
This is the 6th edition with a publication date of 3/10/2000.
What is included with this book?
The New copy of this book will include any supplemental materials advertised. Please check the title of the book to determine if it should include any CDs, lab manuals, study guides, etc.
The Used copy of this book is not guaranteed to include any supplemental materials. Typically, only the book itself is included.
Summary
This revision of Gerald Corey's best-selling text covers 10 contemporary theories (psychoanalytic, Adlerian, existential, person-centered, Gestalt, reality, behavior, cognitive-behavior, family systems, and, NEW to this edition, feminist) and demonstrates how each theory can be applied to a single case (Stan). Corey's Sixth Edition covers the major concepts of counseling theories, shows students how to apply those theories in practice, and helps them learn to integrate the theories into an individualized counseling style. Incorporating the thinking, feeling, and behaving dimensions of human experience, Corey offers an easy-to-understand text that helps students compare and contrast the therapeutic models. This book is the center of a suite of products that include a revised student manual, a revised casebook, a new companion text, and an all-new student video and workbook.
Author Biography
Gerald Corey is a professor of human services and counseling at California State University at Fullerton and a licensed psychologist. He recieved his doctorate in counseling from the University of Southern California. He is a Diplomate in Counseling Psychology, American Board of Professional Psychology; a National Certified Counselor; a Fellow of the American Psychological Association (Counseling Psychology); and a Fellow of the Association for Specialists in Group Work.
Table of Contents
Preface
xiii
1 Basic Issues in Counseling Practice
1
(64)

| | |
| --- | --- |
| | Introduction and Overview |

2
(12)
3
(1)
3
(3)

| | |
| --- | --- |
| | Suggestions for Using the Book |

6
(1)

| | |
| --- | --- |
| | Overview of the Theory Chapters |

7
(3)

| | |
| --- | --- |
| | Introduction to the Case of Stan |

10
(4)

| | |
| --- | --- |
| | The Counselor: Person and Professional |

14
(28)
15
(1)

| | |
| --- | --- |
| | The Counselor as a Therapeutic Person |

15
(2)

| | |
| --- | --- |
| | Personal Counseling for the Counselor |

17
(2)

| | |
| --- | --- |
| | The Counselor's Values and the Therapeutic Process |

19
(6)

| | |
| --- | --- |
| | Becoming an Effective Multicultural Counselor |

25
(4)

| | |
| --- | --- |
| | Issues Faced by Beginning Therapists |

29
(9)

| | |
| --- | --- |
| | Staying Alive as a Person and as a Professional |

38
(2)
40
(2)

| | |
| --- | --- |
| | Ethical Issues in Counseling Practice |

42
(23)
43
(1)

| | |
| --- | --- |
| | Putting the Client's Needs Before Your Own |

44
(1)
45
(2)

| | |
| --- | --- |
| | The Right of Informed Consent |

47
(1)

| | |
| --- | --- |
| | Dimensions of Confidentiality |

48
(2)

| | |
| --- | --- |
| | Ethical Issues in a Multicultural Perspective |

50
(2)

| | |
| --- | --- |
| | Ethical Issues in the Assessment Process |

52
(3)

| | |
| --- | --- |
| | Dual Relationships in Counseling Practice |

55
(2)

| | |
| --- | --- |
| | Guidelines for Ethical Practice: A Review |

57
(2)
59
(1)

| | |
| --- | --- |
| | Recommended Supplementary Readings for Part 1 |

60
(2)

| | |
| --- | --- |
| | References and Suggested Readings for Part 1 |

62
(3)
2 Theories and Techniques of Counseling
65
(390)
66
(40)
68
(1)
68
(19)
87
(4)

| | |
| --- | --- |
| | Application: Therapeutic Techniques and Procedures |

91
(6)

| | |
| --- | --- |
| | Psychoanalytic Therapy Applied to the Case of Stan |

95
(2)
97
(6)

| | |
| --- | --- |
| | Psychoanalytic Therapy From a Multicultural Perspective |

102
(1)
103
(1)

| | |
| --- | --- |
| | Recommended Supplementary Readings |

103
(1)

| | |
| --- | --- |
| | References and Suggested Readings |

104
(2)
106
(34)
108
(1)
108
(5)
113
(4)

| | |
| --- | --- |
| | Application: Therapeutic Techniques and Procedures |

117
(13)

| | |
| --- | --- |
| | Adlerian Therapy Applied to the Case of Stan |

128
(2)
130
(5)

| | |
| --- | --- |
| | Adlerian Therapy From a Multicultural Perspective |

132
(3)
135
(2)

| | |
| --- | --- |
| | Recommended Supplementary Readings |

137
(1)

| | |
| --- | --- |
| | References and Suggested Readings |

137
(3)
140
(28)
143
(2)
145
(8)
153
(4)

| | |
| --- | --- |
| | Application: Therapeutic Techniques and Procedures |

157
(2)

| | |
| --- | --- |
| | Existental Therapy Applied to the Case of Stan |

158
(1)
159
(6)

| | |
| --- | --- |
| | Existental Therapy From a Multicultural Perspective |

163
(2)
165
(1)

| | |
| --- | --- |
| | Recommended Supplementary Readings |

165
(1)

| | |
| --- | --- |
| | References and Suggested Readings |

166
(2)
168
(24)
170
(2)
172
(2)
174
(5)

| | |
| --- | --- |
| | Application: Therapeutic Techniques and Procedures |

179
(4)

| | |
| --- | --- |
| | Person-Centered Therapy Applied to the Case of Stan |

181
(2)
183
(6)

| | |
| --- | --- |
| | Person-Centered Therapy From a Multicultural Perspective |

187
(2)
189
(1)

| | |
| --- | --- |
| | Recommended Supplementary Readings |

190
(1)

| | |
| --- | --- |
| | References and Suggested Readings |

190
(2)
192
(36)
195
(1)
195
(7)
202
(6)

| | |
| --- | --- |
| | Application: Therapeutic Techniques and Procedures |

208
(11)

| | |
| --- | --- |
| | Gestalt Therapy Applied to the Case of Stan |

217
(2)
219
(4)

| | |
| --- | --- |
| | Gestalt Therapy From a Multicultural Perspective |

222
(1)
223
(2)

| | |
| --- | --- |
| | Recommended Supplementary Readings |

225
(1)

| | |
| --- | --- |
| | References and Suggested Readings |

226
(2)
228
(26)
230
(1)
231
(4)
235
(2)

| | |
| --- | --- |
| | Application: Therapeutic Techniques and Procedures |

237
(9)

| | |
| --- | --- |
| | Reality Therapy Applied to the Case of Stan |

244
(2)
246
(5)

| | |
| --- | --- |
| | Reality Therapy From a Multicultural Perspective |

249
(2)
251
(1)

| | |
| --- | --- |
| | Recommended Supplementary Readings |

252
(1)

| | |
| --- | --- |
| | References and Suggested Readings |

252
(2)
254
(40)
256
(3)
259
(2)
261
(4)

| | |
| --- | --- |
| | Application: Therapeutic Techniques and Procedures |

265
(17)

| | |
| --- | --- |
| | Behavior Therapy Applied to the Case of Stan |

280
(2)
282
(6)

| | |
| --- | --- |
| | Behavior Therapy From a Multicultural Perspective |

286
(2)
288
(1)

| | |
| --- | --- |
| | Recommended Supplementary Readings |

289
(1)

| | |
| --- | --- |
| | References and Suggested Readings |

290
(4)

| | |
| --- | --- |
| | Cognitive Behavior Therapy |

294
(46)
297
(2)
299
(2)
301
(3)

| | |
| --- | --- |
| | Application: Therapeutic Techniques and Procedures |

304
(5)

| | |
| --- | --- |
| | Aaron Beck's Cognitive Therapy |

309
(9)

| | |
| --- | --- |
| | Donald Meichenbaum's Cognitive Behavior Modification |

318
(8)

| | |
| --- | --- |
| | Cognitive Behavior Therapy Applied to the Case of Stan |

323
(3)
326
(7)

| | |
| --- | --- |
| | Cognitive Behavior Therapy From a Multicultural Perspective |

331
(2)
333
(1)

| | |
| --- | --- |
| | Recommended Supplementary Readings |

334
(1)

| | |
| --- | --- |
| | References and Suggested Readings |

335
(5)
340
(42)
343
(4)
347
(6)
353
(6)

| | |
| --- | --- |
| | Application: Therapeutic Techniques and Procedures |

359
(9)

| | |
| --- | --- |
| | Feminist Therapy Applied to the Case of Stan |

364
(4)
368
(7)

| | |
| --- | --- |
| | Feminist Therapy From a Multicultural Perspective |

373
(2)
375
(2)

| | |
| --- | --- |
| | Recommended Supplementary Readings |

377
(1)

| | |
| --- | --- |
| | References and Suggested Readings |

378
(4)
382
(73)
387
(4)
391
(8)

| | |
| --- | --- |
| | Multigenerational Family Therapy |

399
(5)

| | |
| --- | --- |
| | Human Validation Process Model |

404
(8)

| | |
| --- | --- |
| | Experiential Family Therapy |

412
(4)

| | |
| --- | --- |
| | Structural Family Therapy |

416
(6)
422
(5)

| | |
| --- | --- |
| | Social Constructionism and Family Therapy |

427
(11)

| | |
| --- | --- |
| | Integration of Family Therapy Models |

438
(5)

| | |
| --- | --- |
| | Family Therapy Applied to the Case of Stan |

439
(4)
443
(5)

| | |
| --- | --- |
| | Family Systems Therapy From a Multicultural Perspective |

446
(2)
448
(1)

| | |
| --- | --- |
| | Recommended Supplementary Readings |

449
(1)

| | |
| --- | --- |
| | References and Suggested Readings |

449
(6)
3 Integration and Application
455
(66)

| | |
| --- | --- |
| | An Integrative Perspective |

456
(37)
457
(1)

| | |
| --- | --- |
| | The Trend Toward Psychotherapy Integration |

457
(11)

| | |
| --- | --- |
| | Issues Related to the Therapeutic Process |

468
(6)

| | |
| --- | --- |
| | The Place of Techniques and Evaluation in Counseling |

474
(13)
487
(1)

| | |
| --- | --- |
| | Recommended Supplementary Readings |

488
(1)

| | |
| --- | --- |
| | References and Suggested Readings |

489
(4)

| | |
| --- | --- |
| | Case Illustration: An Integration Approach in Working With Stan |

493
(28)
494
(25)

| | |
| --- | --- |
| | Working With Stan: Integration of Therapies |

498
(21)
519
(2)
Author Index
521
(4)
Subject Index
525