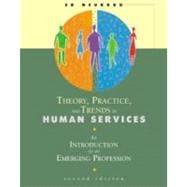 Theory, Practice, and Trends in Human Services : An Introduction to an Emerging Profession
by
NEUKRUG
Questions About This Book?
What version or edition is this?
This is the 2nd edition with a publication date of 8/6/1999.
What is included with this book?
The New copy of this book will include any supplemental materials advertised. Please check the title of the book to determine if it should include any CDs, lab manuals, study guides, etc.
Related Products
Summary
This easy-to-understand, comprehensive overview of human services distinguishes itself from other texts through its experiential emphasis, unique use of personal vignettes, presentation of systems theory, and focus on the development of the helper. Other important topics such as history of the field, typical interventions, and multicultural awareness are also covered.
Table of Contents
| | |
| --- | --- |
| | Defining The Human Service Professional |

1
(30)

| | |
| --- | --- |
| | Identifying the Human Service Professional |

3
(3)

| | |
| --- | --- |
| | Other Mental Health Professionals |

6
(1)

| | |
| --- | --- |
| | Professional Associations in the Human Services and Related Fields |

7
(3)

| | |
| --- | --- |
| | Charcteristics of the Effective Human Service Worker |

10
(5)

| | |
| --- | --- |
| | Personality Development of the Effective Helper |

15
(4)

| | |
| --- | --- |
| | Acquiring the Characteristics of the Effective Helper: A Values Clarification Approach |

19
(3)

| | |
| --- | --- |
| | Ethical, Professional, and Legal Issues: Knowing Who We Are and Our Relationship to other Professional Groups |

22
(1)

| | |
| --- | --- |
| | The Developmentally Mature Human Service Professional: Willing to Meet the Challenge |

22
(1)
22
(1)
23
(8)

| | |
| --- | --- |
| | The Human Service Profession: History and Standards |

31
(30)
32
(12)

| | |
| --- | --- |
| | The Human Service Professional Today: A Generalist: |

44
(1)

| | |
| --- | --- |
| | Standards in the Profession |

44
(8)

| | |
| --- | --- |
| | Ethical and Professional Issues: Competence and Qualification as a Professional |

52
(1)

| | |
| --- | --- |
| | The Developmentally Mature Human Service Worker: Professionally Committed, Ethically Assured |

53
(1)
53
(1)
54
(7)

| | |
| --- | --- |
| | Theoretical Approaches To Human Service Work |

61
(31)

| | |
| --- | --- |
| | Counseling or Psychotherapy |

62
(1)

| | |
| --- | --- |
| | Individual versus Systems Approach to Clients |

63
(1)
64
(2)

| | |
| --- | --- |
| | Major Theoretical Orientations |

66
(11)

| | |
| --- | --- |
| | Cross-Theoretical Approaches |

77
(4)

| | |
| --- | --- |
| | Ethical and Professional Issues |

81
(2)

| | |
| --- | --- |
| | The Developmentally Mature Human Service Professional: Committed to a Counseling Approach and Willing to Change |

83
(1)
84
(1)
85
(7)

| | |
| --- | --- |
| | The Helping Interview: Skills, Process, and Case Management |

92
(33)

| | |
| --- | --- |
| | Creating the Helping Environment |

94
(1)
95
(12)

| | |
| --- | --- |
| | Problem Solving and the Structure of the Interview |

107
(2)
109
(3)

| | |
| --- | --- |
| | Ethical and Professional Issues |

112
(2)

| | |
| --- | --- |
| | The Developmentally Mature Human Service Professional: Looking for Feedbaack from Others |

114
(1)
115
(1)
115
(10)

| | |
| --- | --- |
| | The Development of the Person |

125
(30)
126
(1)
127
(6)
133
(6)

| | |
| --- | --- |
| | Life Span Development Theories |

139
(5)

| | |
| --- | --- |
| | Counseling across the Life Span |

144
(1)

| | |
| --- | --- |
| | Comparison of Developmental Models |

144
(1)

| | |
| --- | --- |
| | Normal and Abnormal Development: |

144
(3)

| | |
| --- | --- |
| | Ethical and Professional Issues: Abnormal Behavior and Mental Illness---Myth or Fact? |

147
(1)

| | |
| --- | --- |
| | The Developmentally Mature Human Service Professional: Constantly Changing, Constantly Examining |

148
(1)
149
(1)
150
(5)

| | |
| --- | --- |
| | Systems: What are They, and How Do We Work With Them? |

155
(31)
157
(2)
159
(4)
163
(8)
171
(3)

| | |
| --- | --- |
| | Ethical and Professional Issues |

174
(3)

| | |
| --- | --- |
| | The Developmentally Mature Human Service Worker: Using a Systems Approach in Understanding the Complexity of Interrelationships |

177
(1)
177
(2)
179
(7)

| | |
| --- | --- |
| | The Human Service Professional In A Pluralistic Society |

186
(31)

| | |
| --- | --- |
| | Cultural Diversity in the United States and throughout the World |

188
(2)

| | |
| --- | --- |
| | The Changing Face of America |

190
(1)

| | |
| --- | --- |
| | Defining Multicultural Counseling |

191
(1)
192
(5)

| | |
| --- | --- |
| | Political Correctness, or Oh My God, What Do I Call Him or Her? |

197
(1)

| | |
| --- | --- |
| | The Need for Multicultural Awareness |

198
(6)

| | |
| --- | --- |
| | The Helping Relationship and Cultural Diversity |

204
(5)

| | |
| --- | --- |
| | Ethical and Professional Issues: The Culturally Diverse Client's Right to Dignity, Respect, and Understanding |

209
(1)

| | |
| --- | --- |
| | The Developmentally Mature Human Service Professional Open to the Continual Development of a Multicultural Perspective |

210
(1)
210
(1)
211
(6)

| | |
| --- | --- |
| | Research Program Evaluation, And Testing |

217
(32)
219
(10)
229
(3)
232
(8)

| | |
| --- | --- |
| | Ethical and Professional Issues |

240
(2)

| | |
| --- | --- |
| | The Developmentally Mature Human Service Professional: Understanding the Changing Face of Research, Program Evaluation, and Testing |

242
(1)
242
(2)
244
(5)

| | |
| --- | --- |
| | The Human Service Professional and The World Of Work |

249
(25)
251
(1)

| | |
| --- | --- |
| | The Importance of Career Development |

252
(1)
253
(1)

| | |
| --- | --- |
| | Models of Career Development |

254
(6)

| | |
| --- | --- |
| | The Use of Informational Systems in Career Development |

260
(4)

| | |
| --- | --- |
| | Helping Clients Choose a Career |

264
(1)

| | |
| --- | --- |
| | Ethical and Professional Issues: Optimizing Career Options---Being All that You Can Be |

265
(1)

| | |
| --- | --- |
| | The Developmentally Mature Human Service Professional: Viewing Career Choice as a Life Span Process |

266
(1)
266
(1)
267
(7)

| | |
| --- | --- |
| | A Look To The Future: Trends In The Function And Roles Of The Human Service Professional |

274
(71)

| | |
| --- | --- |
| | Recent Trends in Working with Clients: Increased Focus on Special Populations |

276
(12)

| | |
| --- | --- |
| | The Use of Technology in Human Service Work |

288
(1)
289
(1)
290
(1)

| | |
| --- | --- |
| | A Developmental Emphasis in the Human Services |

291
(1)

| | |
| --- | --- |
| | Increased Emphasis on Consumerism and Advocacy |

291
(1)

| | |
| --- | --- |
| | Increased Focus on Multicultural Issues |

292
(1)

| | |
| --- | --- |
| | Increased Emphasis on Standards in the Profession |

293
(2)

| | |
| --- | --- |
| | Your Future in the Human Services |

295
(7)

| | |
| --- | --- |
| | Stress, Cynicism, and Burnout in the Human Services |

302
(1)

| | |
| --- | --- |
| | Ethical and Professional Issues: Continuing Education |

303
(1)

| | |
| --- | --- |
| | The Developmentally Mature Human Service Worker: Anxious about Change, Desirous of Change, Hopeful about the Future |

304
(1)
304
(1)
305
(8)
APPENDIXES

| | |
| --- | --- |
| | Appendix A: Ethical Standards of Human Service Professionals |

313
(6)

| | |
| --- | --- |
| | Appendix B: Council For Standards in Human Service Education: Summary Information Sheet |

319
(2)

| | |
| --- | --- |
| | Appendix C: Council for Standards in Human Service Education: National Standards for Human Service Worker Education and Training Programs |

321
(3)

| | |
| --- | --- |
| | Appendix D: A Brief History of Cultural and Ethnic Diversity in the United States |

324
(10)

| | |
| --- | --- |
| | Appendix E: Proposed Cross-Cultural Competencies and Objectives (AMCD) |

334
(3)

| | |
| --- | --- |
| | Appendix F: Understanding Your Holland Code |

337
(3)

| | |
| --- | --- |
| | Appendix G: Internet Addresses |

340
(5)
Glossary
345
(23)
References
368
(22)
Index
390