Note: Supplemental materials are not guaranteed with Rental or Used book purchases.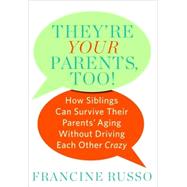 Summary
Your parents are growing older and are getting forgetful, starting to slow down, or worse. Suddenly you find yourself at the cusp of one of the most important transitions in your life-and the life of your family. Your parents need you and your siblings to step up and take care of them, a little or a lot. To make the right things happen, you will all need to work together. And yet your siblings may have very different ideas from yours of whatrs"s best for Mom and Dad. They may be completely uninterested in helping, leaving you with all the responsibility. Or they may take charge and not allow you to help, or criticize whatever help you do give. Will you and your siblings be able to reach an understanding and work together, or will the challenges you face tear you apart? Most of us enter this period of our lives unprepared for the difficult decisions and delicate negotiations that lie ahead. This is the first book that provides guidance on the transition from the "old" family to the "new" one, especially for adult siblings. Here yours"ll find practical advice on a wide range of topics including bull; Who will make major medical decisions, manage finances, and enforce end-of-life choices if your parents cannot? And how will this be decided and carried out? bull; How will you negotiate caregiving issues and deal with unequal contributions or power struggles? bull; How can inheritance and the division of property, assets, and personal effects be handled to minimize hurt feelings and resentment? bull; How will you cope with the natural reemergence of unresolved childhood rivalries, hurts, and needs? bull; How can caring for your parents be an enriching experience rather than a thankless chore? bull; Most important, how can you ensure the best care for your parents while lessening conflict, guilt, anger, and angst? Written by a veteran journalist who chronicles life and how baby boomers live it,Theyrs"re Your Parents, Too!offers all the information, insight, and advice yours"ll need to make productive choices as you and your siblings begin to assume your parentsrs" place as the decision-making generation of your family. Filled with expert guidance from gerontologists, family therapists, elder-care attorneys, financial planners, and health workers; resonant real-life stories; and helpful family negotiation techniques, this is an indispensable book for anyone whose parents are aging.
Author Biography
Francine Russo is a widely recognized journalist who covered the boomer beat for Time magazine for nearly a decade and authored the "Ask Francine" column. She has also written for The Atlantic, The New York Times Magazine, Redbook, Family Circle, Ladies Home Journal, Self, Glamour, and The Village Voice. A mother of two and stepmother of three, she has a Ph.D. in English and lives in Manhattan.
Table of Contents
Introduction: My Uneasy Journey into the Twilight
p. ix
Confronting a New Family Passage
The Last Transition of Our First Family
p. 3
Acknowledging Our Parents' Aging
p. 19
Return to the House of Childhood: Adapting Old Roles and Relationships, Confronting Old Conflicts
Who's Taking Care of Mom? Adapting Roles and Relationships to Take On Parent Care
p. 47
Dad Still Loves You More: Revived Rivalries, Chances For Resolution
p. 81
"We weren't your Norman Rockwell Family": Holding the Ideal up to Reality
p. 108
Who Put You in Charge? Adjusting to New Decision Makers
p. 133
Slipping Away: Making Peace with Change and Loss
Here Yet Not Here: The Dynamics of Dementia
p. 155
Gathering at the Deathbed: Decisions, Acceptance, Forgiveness, Loss
p. 184
Reinventing the Family For Our Generation: Sharing Stories, Passing On Legacies
Mourning and moving on: alone and together
p. 211
Inheritance: what our parents have left us, what we carry away
p. 233
The sibling generation: sustaining the family connection into the future
p. 257
Acknowledgments
p. 267
Notes
p. 269
Index
p. 279
Table of Contents provided by Ingram. All Rights Reserved.
Excerpts
Chapter One


THE LAST TRANSITION OF OUR FIRST FAMILY

DOTTIE, FIFTY-SEVEN, A LIBRARIAN and local historian, and Arlene, fifty-five, a financial planner, brought their cars around to the rutted front drive of the old Kansas farmhouse to move their mother to the assisted living home. Mrs. Keller, an impressively tall ninety- one-year-old woman, hobbled out on her cane, her face stony. Her daughters each took a deep breath. This moment was the climax of a year of contentious family meetings and a decade of seismic shifts in their family since their father's death.
Once their mother was widowed, their brother Donny, fifty-two, had taken the lead because he was there; he'd continued their dad's pet- supply business and helped out their mom with chores. The four sisters, at various distances and busy with families and careers, saw their mother more regularly than before. At first these were the only differences, but then the pace of change accelerated: Mom's fender bender in the grocery parking lot, several falls she took in the decrepit house, an oven mitt on fire in the oven. The five siblings gathered for a series of family meetings in Donny's living room to figure out what to do. Usually having all five together was a cause for joy, but not this time. Several thought Mom should move out for her own safety. Opinions differed. Tears were shed. Yet through it all they worked hard to reach a consensus. Dottie was the last to agree to the move, three months after her siblings. "I got sucked into it," she admitted, "taking Mom's side, that she should die in that house. I couldn't see how she'd changed. She was the mother of my past, my comfort. I couldn't let that go."
Once the decision was made, the siblings worked together: finding the right place and then persuading Mom, applying firmness and the gentle persuasion of a family prayer meeting. On their own schedules, each spent hours packing up. During that time the siblings felt close, as they would again in the future. But when the critical moment arrived, each was swept up in tumultuous feelings.
Dottie, a sweet-tempered woman with unruly curls, was chafing because her younger sister, was taking charge. She was floored when Arlene, crisp and efficient, declared, "Mom will go in the car with me. You follow."
"I just shut down," Dottie said, "and my sister rolled over me and my feelings by sheer force of personality."
For Dottie, it was hard not being with her mother for this momentous ride. For Arlene, sitting at the wheel and seeing her mother's stricken expression was awful. "Mom," she asked before she pulled out, "would you like to say a prayer?" Her mother nodded.
"Lord," the older woman prayed, "please give me the courage to accept where I am going to live." Arlene started the car and drove silently, swept with admiration for her mother and grief for what they were losing. As soon as they got there, she channeled her emotions into a whirl of activity, setting up her mother's new home in the assisted living center.
When Dottie arrived, Arlene was in a frenzy of hanging pictures. Dottie stood there gaping. She'd taken photos of the farmhouse walls to help place the pictures in a familiar way. Now she froze, unable to help. Then, one after the other, their sisters showed up and shouted that Mom said she wanted a different picture up.
"But Mom just told me she didn't want that one now," Arlene repeated with increasing desperation.
Finally Arlene just walked out. "I couldn't take it anymore," she said. "I was working so hard to make it good for my mother, and they criticized everything I did. The feelings just got to me. This was the end of a huge part of my life, my mom moving o
---

Excerpted from They're Your Parents, Too!: How Siblings Can Survive Their Parents' Aging Without Driving Each Other Crazy by Francine Russo
All rights reserved by the original copyright owners. Excerpts are provided for display purposes only and may not be reproduced, reprinted or distributed without the written permission of the publisher.