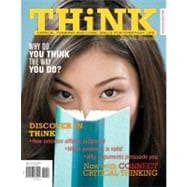 THiNK
by
Boss, Judith
McGraw-Hill Humanities/Social Sciences/Languages
List Price: $146.81
In Stock Usually Ships in 24 Hours.
This is a hard-to-find title. We are making every effort to obtain this item, but do not guarantee stock.


More New and Used
from Private Sellers
Questions About This Book?
Why should I rent this book?
Renting is easy, fast, and cheap! Renting from eCampus.com can save you hundreds of dollars compared to the cost of new or used books each semester. At the end of the semester, simply ship the book back to us with a free UPS shipping label! No need to worry about selling it back.
How do rental returns work?
Returning books is as easy as possible. As your rental due date approaches, we will email you several courtesy reminders. When you are ready to return, you can print a free UPS shipping label from our website at any time. Then, just return the book to your UPS driver or any staffed UPS location. You can even use the same box we shipped it in!
What version or edition is this?
This is the 2nd edition with a publication date of 1/7/2011.
What is included with this book?
The New copy of this book will include any supplemental materials advertised. Please check the title of the book to determine if it should include any CDs, lab manuals, study guides, etc.
The Used copy of this book is not guaranteed to inclue any supplemental materials. Typically, only the book itself is included.
The Rental copy of this book is not guaranteed to include any supplemental materials. You may receive a brand new copy, but typically, only the book itself.
Summary
"Real Thinking for Real Life with Real Success" For your classes in Critical Thinking, McGraw-Hill introduces the new edition of THiNK, from the acclaimed M Series. Critical Thinking begins by listening and we began THiNKby listening to and observing students and instructors. McGraw-Hill conducted extensive research to gain insight into students' studying and buying behavior, as well as instructor challenges. Students told us they wanted more portable texts with innovative visual appeal and content that is designed according to the way they learn. Instructors told us they wanted a way to engage their students without compromising on high quality content. THiNKis critical thinking come to life. This innovative text provides instructors with scholarly yet succinct content on critical thinking and logical argumentation in a format that captivates students. With current examples, exercises, and applications, and powerful pedagogy that links concepts within and between chapters, THiNKdirects students to make connections between skill development and application to their college studies, careers, and personal lives. Imagine a class where students are actively and personally engaged in thinking critically while also discovering how to apply those thinking skills in everyday life. Now imagine those same students confidently participating in class, working efficiently through the exercises outside class, and performing better in the course. With Connect Critical Thinking, students can achieve this success. Connect Critical Thinkingis a first: a learning program with pedagogical tools that are anchored in research on critical thinking. More current, more portable, more captivating, a rigorous and innovative research foundation, plus Connect Critical Thinkingadds up to: more learning. When you meet students where they are, you can take them where you want them to be.
Table of Contents
TABLE OF CONTENTS
Chapter 1: Why are Critical Thinking and Logic Skills ImportantWhat is Critical Thinking?Critical Thinking in Everyday LifeCognitive Development in College Students Characteristics of a Good Critical ThinkerAnalytical SkillsEffective CommunicationResearch and Inquiry SkillsFlexibility and Tolerance for AmbiguityOpen-minded SkepticismCreative Problem-solvingAttentive, Mindful, and CuriousCollaborative LearningCritical Thinking and Self-DevelopmentLiving the Self-Examined LifeDeveloping a Rational Life PlanFacing ChallengesThe Importance of Self-EsteemCritical Thinking in a DemocracyBarriers to Critical ThinkingThe Three-tier Model of ThinkingResistanceTypes of ResistanceNarrow-mindednessRationalization and DoublethinkCognitive and Social DissonanceStress as a BarrierCritical Thinking Issue: Perspectives on Affirmative Action in College AdmissionsNancy Cantor, Affirmative Action and Higher Education George W. Bush, Remarks by the President on the Michigan Affirmative Action CaseChapter 2: Reason and Emotion in Critical Thinking What is Reason?Traditional Views of ReasonGender, Race, Age, and Reason Dreams and Problem-SolvingThe Role of Emotion in Critical ThinkingCultural Attitudes Toward EmotionEmotional Intelligence and the Positive Effects of Emotion Negative Effects of EmotionIntegrating Emotion and ReasonArtificial Intelligence, Reason, and EmotionThe Field of Artificial IntelligenceCan Computers Think?Can Computers Feel Emotion?Faith and ReasonFideism: Faith Transcends ReasonRationalism: Religious Beliefs and Reason Critical Rationalism: Faith and Reason are CompatibleReligion, Spirituality and Real-Life DecisionsCritical Thinking Issue: Perspectives on the Spirituality and Evolution of Artificial Intelligence Ray Kurzweil, Artificial Intelligence and EvolutionNoreen Herzfeld, In Our Image: Artificial Intelligence and the Human Spirit Chapter 3: Language and Communication What is Language?Functions of LanguageNonverbal LanguageDefinitionsDenotative and Connotative MeaningsStipulative DefinitionsLexical DefinitionsPrecising DefinitionsPersuasive DefinitionsEvaluating DefinitionsFive Criteria Verbal Disputes Based on Ambiguous DefinitionsCommunication StylesIndividual Styles of CommunicationCommunication Style, Gender and RaceCultural Differences in Communication StylesThe Use of Language to ManipulateEmotive LanguageRhetorical DevicesDeception and LyingCritical Thinking Issue: Perspectives on Free Speech Zones on College CampusesWest Virginia University, Policy on Free Speech ActivitiesGreg Lukianoff, Letter to President Hardesty, WVU, Freedom for IndividualRights in EducationRobert J. Scott, Reasonable Limits Are GoodChapter 4: Knowledge, Evidence and Errors in Thinking Human Knowledge and Its LimitationsRationalism and EmpiricismKant and the Structure of the MindEvaluating EvidenceDirect Experience and False MemoriesThe Unreliability of Hearsay and Anecdotal EvidenceExperts and CredibilityEvaluating Evidence for a ClaimResearch ResourcesCognitive and Perceptual Errors in ThinkingPerceptual ErrorsMisperception of Random DataMemorable Events ErrorProbability ErrorSelf-serving BiasesSelf-fulfilling PropheciesSocial Errors and Biases"One of Us/One of Them" ErrorSociety ExpectationsGroup Pressure and ConformityDiffusion of ResponsibilityCritical Thinking Issue: Perspectives on the Existence of Unidentified Flying Objects (UFOs)Edward U. Condon, Scientific Study of Unidentified Flying ObjectsJ. Allen Hynek, The UFO Experience: A Scientific InquiryRoyston Paynter, Physical Evidence and UFOs Chapter 5: Informal Fallacies What is a Fallacy?Fallacies of AmbiguityEquivocationAmphibolyFallacy of AccentFallacy of DivisionFallacies of RelevancePersonal Attack (Ad Hominem Fallacy)Appeal to Force (Scare Tactics)Appeal to PityPopular AppealAppeal to IgnoranceHasty GeneralizationStraw ManRed HerringFallacies Involving Unwarranted AssumptionsBegging the QuestionInappropriate Appeal to AuthorityLoaded QuestionFalse DilemmaQuestionable CauseSlippery SlopeNaturalistic FallacyStrategies for Avoiding FallaciesCritical Thinking Issues: Perspectives on Going to War in IraqPresident George W. Bush, Remarks on the Iraqi ThreatDave Koehler, Fallacies and War: Misleading a Nervous America to the Wrong ConclusionChapter 6: Recognizing, Analyzing, and Constructing Arguments What is an Issue?Identifying an IssueAsking the Right QuestionsArgumentation versus RhetoricDistinguishing Between Rhetoric and ArgumentationAvoiding RhetoricRecognizing an ArgumentPropositionsPremises and ConclusionsNonarguments: Explanations and Conditional StatementsBreaking Down and Diagramming ArgumentsBreaking Down an Argument into Propositions Identifying Premise(s) and Conclusion in Complex ArgumentsDiagramming an ArgumentEvaluating ArgumentsClarity: Is the Argument Clear and Unambiguous? Credibility: Are The Premises Supported by Evidence?Relevance: Are The Premises Relevant to the Conclusion?Completeness: Are There Any Unstated Premises and Conclusions?Soundness: Are the Premises True and Do They Support the Conclusion?Constructing an ArgumentSteps for Constructing an ArgumentTesting and Revising Your ArgumentWriting a College Essay Based on Logical ArgumentationUsing Arguments in Making Real-Life DecisionsCritical Thinking Issue: Perspectives on Same Sex MarriageMichael Nava and Robert Dawidoff, The Case for Gay MarriagesRobert Sokolowski, The Threat of Same-Sex Marriage Chapter 7: Inductive Arguments What is an Inductive Argument?The Use of Inductive Reasoning in Everyday LifeGeneralizationUsing Polls, Surveys, and Sampling to Make GeneralizationsApplying Generalizations to Particular CasesEvaluating Inductive Arguments Using GeneralizationAnalogiesUses of AnalogiesArguments Based on AnalogiesAnalogies as Tools for Refuting ArgumentsEvaluating Inductive Arguments Based on AnalogiesCausal ArgumentsCausal RelationshipsCorrelationsEstablishing Causal RelationshipsCausal Arguments in Public Policy and Everyday Decision MakingEvaluating Causal ArgumentsCritical Thinking Issue: Perspectives on Legalizing MarijuanaKaren P. Tandy, Marijuana: The Myths Are Killing Us Paul Armentano, Cannabis, Mental Health and Context: The Case for RegulationWayne Hall, MD, The Cannabis Policy Debate: Finding a Way Forward Chapter 8: Deductive Arguments What is a Deductive Argument?Deductive Reasoning and SyllogismsValid and Invalid ArgumentsSound and Unsound ArgumentsTypes of Deductive ArgumentsArguments by EliminationArguments Based on MathematicsArguments from DefinitionHypothetical SyllogismsModus PonensModus TollensChain ArgumentsEvaluating Hypothetical Syllogisms for Validity Evaluating Hypothetical Syllogisms for SoundnessCategorical SyllogismsStandard Form Categorical SyllogismsQuantity and QualityDiagramming Propositions with Venn DiagramsUsing Venn Diagrams to Evaluate Categorical SyllogismsTranslating Ordinary Arguments into Standard FormRewriting Everyday Propositions in Standard-FormIdentifying the Three Terms in the ArgumentPutting the Argument in Standard FormCritical Thinking Issue: Perspectives on the Death PenaltyGregg v. Georgia: Excerpts from the Majority Opinion of Justice Potter Stewart Ernest van den Haag, The Ultimate Punishment: A Defense of Capital Punishment European Union, Memorandum on the Death Penalty Chapter 9: Critical Thinking in Ethics and Moral Decision-Making What is Moral Reasoning?Moral Values and HappinessConscience and Moral SentimentThe Development of Moral ReasoningLawrence Kohlberg's Stage Theory of Moral DevelopmentCarol Gilligan on Moral Reasoning WomenThe Development of Moral Reasoning in College StudentsMoral Theories: Morality is Relative Ethical SubjectivismCultural RelativismMoral Theories: Morality is Universal Utilitarianism (Consequence-Based Ethics)Deontology (Duty-Based Ethics)Rights-Based ethicsVirtue EthicsMoral ArgumentsRecognizing Moral ArgumentsConstructing Moral Arguments Evaluating Moral ArgumentsResolving Moral DilemmasCritical Thinking Issue: Perspectives on AbortionRoe v. Wade: Excerpts from the Majority Opinion, Justice Blackmun Judith Jarvis Thomson, A Defense of AbortionSerrin M. Foster, Refuse to Choose: Women Deserve Better than AbortionChapter 10: Critical Thinking in Marketing and Advertising Marketing in a Consumer CultureMarketing ResearchAvoiding Confirmation Bias and Other Errors in ThinkingMarketing StrategiesThe SWOT ModelConsumer Awareness of Marketing StrategiesAdvertising and the MediaThe Role of Advertising in the MediaProduct PlacementTelevision Advertising and ChildrenEvaluating AdvertisementsCommon Fallacies in Advertisements