Note: Supplemental materials are not guaranteed with Rental or Used book purchases.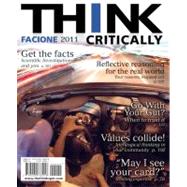 Questions About This Book?
Why should I rent this book?
Renting is easy, fast, and cheap! Renting from eCampus.com can save you hundreds of dollars compared to the cost of new or used books each semester. At the end of the semester, simply ship the book back to us with a free UPS shipping label! No need to worry about selling it back.
How do rental returns work?
Returning books is as easy as possible. As your rental due date approaches, we will email you several courtesy reminders. When you are ready to return, you can print a free UPS shipping label from our website at any time. Then, just return the book to your UPS driver or any staffed UPS location. You can even use the same box we shipped it in!
What version or edition is this?
This is the 1st edition with a publication date of 1/3/2010.
What is included with this book?
The Used copy of this book is not guaranteed to include any supplemental materials. Typically, only the book itself is included.
The Rental copy of this book is not guaranteed to include any supplemental materials. You may receive a brand new copy, but typically, only the book itself.
Related Products
Customer Reviews
Cheap books
February 14, 2011
by





Very good book for critical thinking and how you want to interpret things. This is also the cheapest price I have found for this book.

Flag Review
---
Think Critically

:
stars based on
1
user reviews.
Summary
THINK Critically is acutting-edge self-reflective guidefor improving critical thinking skills through careful analysis, reasoned inference and thoughtful evaluation of contemporary culture and ideas. Taking cues from everyday life --education, business, health sciences, social work, law, government policy issues and current events-- THINK Criticallybridges the principles of critical thinking with real-world application. With ahighly-visual design,accessible narrative, and interactive approach, THINK Critically strengthens studentsrs" skills and motivation to make reasoned judgments. This text introduces critical thinking by showcasing what vital and central positive habits of mindare,revisitingandbuilding upon those skillsthroughout the text. Jam-packedwithengaging examplesandmasterful exercises, THINK Critically explains how to clarify ideas, analyze arguments, and evaluate inductive, deductive, comparative, ideological and empirical reasoning.
Author Biography
In This Section:
I. Author Bio
II. Author Letter
I. Author Bio
Peter Facione, PhD, wants to help everyone build up their critical thinking skills, for their own sakes, and for the sake of our freedom and democracy. Facione draws on decades of experience as a teacher, consultant, business entrepreneur, university dean, grandfather, husband, and avid "old school" pickup basketball player. Now he is taking his message about the importance of critical thinking directly to students. For improving reasoning skills for use in one's personal, professional, and civic life, there may never before have been a more practical, enjoyable, important, comprehensive, and engaging text than this.
"I've paid very close attention to the way people make decisions since I was 13 years old," says Facione. "Some people were good at solving problems and making decisions; others were not. I have always felt driven to figure out how to tell which were which." He says that this led him as an undergraduate and later as a professor to study psychology, philosophy, logic, statistics, and information systems as he searched for how our beliefs, values, thinking skills, and habits of mind connect with the decisions we make, particularly in contexts of risk and uncertainty.
"As a teacher and as a college administrator, I focused on problem-solving and decision-making strategies so that I could be a more effective teacher and a more capable leader. I found it was always valuable when working with groups or individuals to be mindful of how they applied their cognitive skills and habits of mind to solve a problem, make a decision, or troubleshoot a situation. Careful analysis and open-minded truth seeking always worked better than any other way of approaching problems."
A native Midwesterner, Facione earned his PhD in philosophy from Michigan State University and his BA in philosophy from Sacred Heart College in Detroit. He says, "Critical thinking has helped me be a better parent, citizen, manager, teacher, writer, and friend. It even helps a little when playing point guard!"
In academia, Facione served as provost of Loyola University—Chicago, dean of the College of Arts and Sciences at Santa Clara University, and dean of the School of Human Development and Community Service at California State University—Fullerton. "As a dean and provost, I could easily see that critical thinking was alive and well in every professional field and academic discipline."
"I've focused my research on the teaching and measurement of critical thinking since my earliest years as a faculty member in the 1960s and 1970s. But before you can measure something that crosses into every aspect of life, you have to be sure that you understand what it is. So in the 1980s, I first had to see whether there was a consensus among experts about the term critical thinking. After two years of research, a solid consensus emerged. That plus all the stats and behavioral science research I had studied and taught for years enabled me and my research team, during the 1990s, to design and validate tools to assess critical thinking skills and habits of mind. In the first decade of this century, our team has explored the connections between critical thinking and human decision making in its broadest sense."
In fact, Facione spearheaded the international study to define critical thinking, sponsored by the American Philosophical Association. His research formed the basis for numerous government policy studies about critical thinking in the workplace, including research sponsored by the U.S. Department of Education. Today, his tools for assessing reasoning are used around the world in educational, business, legal, military, and health sciences.
Today, Peter operates his own business, Measured Reasons. He is a speaker, writer, workshop presenter, and consultant for organizations large and small. His work focuses on strategic planning and leadership decision making, in addition to teaching and assessing critical thinking. With his wife, who is also his closest research colleague and coauthor of many books and assessment tools, he now lives in sunny Los Angeles, which suits him just fine. He welcomes questions from students and instructors–you can reach him at pfacione@measuredreasons.com.
II. Author Letter
Dear Colleague,
Please forgive this intrusion, but I wanted to offer you some personal thoughts about why this book Think Critically , is for me, rather special.
Think Critically incorporates lessons learned over a 40+ year career devoted to teaching, measuring, researching and advocating for greater attention to critical thinking. As you may know, in addition to my own work with college students, I've authored critical thinking tests, written widely used essays about critical thinking, and presented hundreds of workshops and presentations to community college, four-year college, and university faculty on teaching for and about critical thinking. Why all this effort and attention devoted to critical thinking? Because in my view there may be no more valuable thing that one can gain through a college education than learning to solve problems effectively and to make well informed and well reasoned decisions. And for this we need strong critical thinking skills and positive critical thinking habits of mind.
When Pearson Education invited me to write Think Critically, it was a joy, an honor, and, I soon realized, an awesome responsibility. The book had to be accessible to students from a very wide variety of educational and social backgrounds, and, at the same time it had pass muster with faculty from many different disciplines. The book had to be practical and enjoyable, and yet based on solid conceptual foundations and proven pedagogical principles. The book had to address the topics that faculty from the widest possible spectrum of academic divisions would expect to find and do so in a way that was intellectually in harmony with the other courses those faculty might teach. And, above all, the book had to work! If using Think Critically did not lead to measurable gains in students' critical thinking, then the effort would have been for naught.
At this point the reviews are in from faculty around the country. The demands were met. The book works. Students do improve in their critical thinking skills and, equally importantly, in their critical thinking habits of mind. Instructors from a host of different academic departments enjoy teaching with Think Critically. There are extra exercises, sample test questions, and many other learning support materials for students at the free online URL www.TheThinkSpot.com that have been contributed by several faculty from around the country. The Instructor's Manual, written by Dr. Carol Gittens, offers teaching tips for every part of the book, creative alternative exercise ideas for every class session, and it includes a special section for faculty who may never before have offered a critical thinking course.
How lucky we are, who teach for thinking, to have such an important part to play in our students' education! There can perhaps be no more valuable gift to our students than that we guide their development of stronger critical thinking skills and deeper positive critical thinking habits of mind. Truth-seeking, open-mindedness, judiciousness, intellectual integrity and inquisitiveness are habits for life, not just for their brief sojourns in college. The core critical thinking skills are the tools these habits impel them to use in order to make well-reasoned, reflective judgments whenever and wherever deciding what to believe or what to do. How could I hope for more than that our mutual efforts, yours as their professor and mentor, mine as the author of the text book, should bring about such wonderful and valuable learning?
Please know that even if you decide to use some other textbook, we still share this common purpose - we teach for critical thinking. And if, as I hope, you select Think Critically, then please also know that I am only an email away (pfacione@measuredreasons.com). I would love to hear your comments about how the book is working for your students, suggestions you or they might have for improvements, or simply reactions to any of the over one hundred sets of exercises it contains.
Seriously, write me any time about critical thinking - questions, concerns, whatever. This work we do is important.
Pete Facione
Measured Reasons
Table of Contents
Chapter 1: Purposeful, Reflective Judgment
Risk and Uncertainty Abound
Critical Thinking and a Free Society
The One and the Many
What Do We Mean by "Critical Thinking"?
Expert Consensus Conceptualization
"Critical Thinking" Does Not Mean "Negative Thinking"
How to Get the Most Out of This Book
Evaluating Critical Thinking
The Students' Assignment
The Students' Statements
The Holistic Critical Thinking Scoring Rubric
Chapter 2: The "Able" in "Willing and Able" to Think Critically
Core Critical Thinking Skills
Interpreting and Analyzing the Consensus Statement
The Jury Is Deliberating
Critical Thinking Skills Fire In Many Combinations
Strengthening Our Core Critical Thinking Skills
The Art of the Good Question
Skills and Subskills Defined
Inductive and Deductive Reasoning
Nurses' Health Study - Decades of Data
Inductive Reasoning
Cosmos vs. Chaos
Deductive Reasoning
Chapter 3: The "Willing" in "Willing and Able" to Think Critically
A Group Engaged in Crisis-Level Critical Thinking
The Spirit of a Strong Critical Thinker
Positive and Negative Habits of Mind
Preliminary Self-Assessment
Research on the Disposition toward Critical Thinking
Seven Positive Critical Thinking Habits of Mind
Negative Habits of Mind
Is a Good Critical Thinker Automatically a Good Person?
Building Positive Habits of Mind
Reconnecting Skills and Dispositions
Chapter 4: Clarifying Ideas
Interpretation, Context, and Purpose
How Precise Is Precise Enough?
Language and Thought
Vagueness: "Does the Term Include This Case or Not?"
Problematic Vagueness
Ambiguity: "Does the Term Mean This, or Does It Mean That?"
Problematic Ambiguity
Resolving Problematic Vagueness and Ambiguity
Contextualizing
Clarifying Original Intent
Negotiating the Meaning
Using Qualifications, Exceptions, or Exclusions
Stipulating the Meaning
Your Language Communities
National and Global Language Communities
Language Communities Formed of People with Like Interests
Academic Disciplines as Language Communities
Critical Thinking and College Introductory Courses
Chapter 5: Using Maps to Analyze Arguments and Decisions
Analyzing and Mapping Arguments
"Argument = (Reason + Claim)"
Two Reasons, Two Arguments
Two Confusions to Avoid
"Reason" and "Premise"
Distinguishing Reasons from Conclusion
Mapping Claims and Reasons
Mapping a Line of Reasoning
Mapping Implicit Ideas
Interpreting Unspoken Reasons and Claims in Context
Interpreting the Use of Irony, Humor, Sarcasm, and More
Giving Reasons and Making Arguments in Real Life
The El Train Argument from Twelve Angry Men
Huckabee and Stewart Discuss "The Pro-Life Issue — Abortion"
Analyzing and Mapping Decisions
"We Should Cancel the Spring Trip" #1
"We Should Cancel the Spring Trip" #2
Chapter 6: Evaluating Claims
Assessing the Source — Whom Should I Trust?
Claims Without Reasons
Cognitive Development and Healthy Skepticism
Authority and Expertise
Learned and Experienced
On-Topic, Up-to-Date, and Capable of Explaining
Unbiased and Truthful
Free of Conflicts of Interest, and Acting in the Client's Interest
Unconstrained, Informed, and Mentally Stable
Assessing the Substance — What Should I Believe?
Donkey Dung Detector
Marketing, Spin, Disinformation, and Propaganda
Slanted Language and Loaded Expressions
Independent Verification
Can the Claim Be Confirmed?
Can the Claim Be Disconfirmed?
Independent Investigation and the Q-Ray Bracelet Case
Suspending Judgment
Chapter 7: Evaluating Arguments
Giving Reasons and Making Arguments
Truthfulness
Logical Strength
Relevance
Non-Circularity
The Four Tests for Evaluating Arguments
Test #1: Truthfulness of the Premises
Test #2: Logical Strength
Test #3: Relevance
Test #4: Non-Circularity
Contexts for Argument Making and Evaluative Terms
Common Reasoning Errors
Fallacies of Relevance
Appeals to Ignorance
Appeals to the Mob
Appeals to Emotion
Ad Hominem Attacks
Straw Man Fallacy
Playing with Words
Misuse of Authority
Chapter 8: Evaluating Deductive and Inductive Reasoning
Deductive Validity and Language
Reasoning Deductively about Declarative Statements
Denying the Consequent
Affirming the Antecedent
Disjunctive Syllogism
Reasoning Deductively about Classes of Objects
Applying a Generalization
Applying an Exception
The Power of "Only"
Reasoning Deductively about Relationships
Transitivity, Reflexivity, and Identity
Fallacies Masquerading as Valid Deductive Arguments
Affirming the Consequent
Denying the Antecedent
False Classification
Fallacies of Composition and Division
False Reference
Inductions and the Evidence at Hand
Evaluating Generalizations
Was the correct group sampled?
Were the data obtained in an effective way?
Were enough cases considered?
Was the sample representatively structured?
Coincidences, Correlations, and Causes
Coincidences
Correlations
Causes
Fallacies Masquerading as Strong Inductive Arguments
Erroneous Generalization
Playing with Numbers
False Dilemma
The Gambler's Fallacy
False Cause
Slippery Slope
Chapter 9: Snap Judgments — Heuristic Thinking
Human Decision-Making Systems
The "Two-Systems" Approach to Human Decision Making
Reactive (System-1) Thinking
Reflective (System-2) Thinking
The Value of Each System
Heuristics: Their Benefits and Risks
Individual Cognitive Heuristics
1. Satisficing and 2. Temporizing
3. Affect: "Go with your Gut"
4. Simulation
5. Availability
6. Representation
7. Association
8. Stereotyping
9. "Us vs. Them"
10. Power Differential
11. Anchoring with Adjustment
12. Illusion of Control
13. Optimistic Bias and 14. Hindsight Bias
15. Elimination by Aspect: "One Strike and You're Out"
16. Loss and Risk Aversion
17. "All-or-Nothing"
Heuristics in Action
Chapter 10: Deciding What to Do and Doing It
Dominance Structuring: A Fortress of Conviction
"I Would Definitely Go to the Doctor"
Explaining and Defending Ourselves
A Poorly Crafted Assignment
Moving from Decision to Action
Phase 1: Pre-editing
Phase 2: Identifying One Promising Option
Phase 3: Testing the Promising Option
Phase 4: Fortifying the To-Be-Chosen Option
Benefits and Risks of Dominance Structuring
O.J. Simpson's Vigorous Defense
Self-Regulation Critical Thinking Skill Strategies
Critical Thinking Precautions when Pre-editing
Be Sure About "the Problem"
Specify the Decision-Critical Attributes
Be Clear about Why an Option Is In or Out
Critical Thinking Precautions When Identifying the Promising Option
Scrutinize Options with Disciplined Impartiality
Listen to Both Sides First
Critical Thinking Precautions when Testing the Promising Option
Use All the Essential Criteria
Treat Equals as Equals
Diligently Engage in Truth-Seeking and Remain Impartial
Critical Thinking Precautions when Fortifying the To-Be-Chosen Option
Be Honest with Yourself
Critical Thinking Strategies for Better Decision Making
Task Independent Teams with the Same Problem
Decide When It's Time to Decide
Analyze Indicators and Make Mid-Course Corrections
Create a Culture of Respect for Critical Thinking
Chapter 11: Comparative Reasoning — "This is Like That" Thinking
Comparative, Ideological, and Empirical Inferences
"This is Like That" — Recognizing Comparative Reasoning
Evaluating Comparative Inferences
Do the Four Tests of Acceptability Apply?
Five Criteria for Evaluating Comparative Reasoning
Familiarity
Simplicity
Comprehensiveness
Productivity
Testability
Shaping our View of the Universe for Two Thousand Years
The Many Uses of Comparative Inferences
Chapter 12: Ideological Reasoning — "Top Down" Thinking
"Top Down" Thinking — Recognizing Ideological Reasoning
Examples of Ideological Reasoning
Three Features of Ideological Reasoning
Ideological Reasoning Is Deductive in Character
Ideological Premises Are Axiomatic
The Argument Maker Takes the Ideological Absolutes on Faith
Evaluating Ideological Reasoning
Are the Ideological Premises True?
Logical Strength and Ideological Belief Systems
Relevancy, Non-Circularity and Ideological Reasoning
Uses, Benefits and Risks of Ideological Reasoning
Chapter 13: Empirical Reasoning — "Bottom — Up" Thinking
Recognizing Empirical Reasoning
Characteristics of Empirical Reasoning
Empirical Reasoning Is Inductive
Empirical Reasoning Is Self-Corrective
Empirical Reasoning Is Open to Independent Verification
Hypotheses, Conditions and Measurable Manifestations
Conducting an Investigation Scientifically
Perhaps the First Recorded Empirical Investigation
Steps in the Process an Extended Example
Evaluating Empirical Reasoning
Benefits and Risks Associated with Empirical Reasoning