Note: Supplemental materials are not guaranteed with Rental or Used book purchases.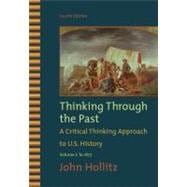 Thinking Through the Past, Volume I
ISBN13:
9780495799917
by
Hollitz, John

Complimentary 7-Day eTextbook Access
When you rent or buy this book, you will receive complimentary 7-day online access to the eTextbook version from your PC, Mac, tablet, or smartphone. Feature not included on Marketplace Items.
Questions About This Book?
What version or edition is this?
This is the 4th edition with a publication date of 6/8/2009.
What is included with this book?
The New copy of this book will include any supplemental materials advertised. Please check the title of the book to determine if it should include any CDs, lab manuals, study guides, etc.
The Used copy of this book is not guaranteed to include any supplemental materials. Typically, only the book itself is included.
The eBook copy of this book is not guaranteed to include any supplemental materials. Typically only the book itself is included.
Related Products
Customer Reviews
"Dry
July 8, 2014
by





but that is history","Philosophy and the history surrounding it is interesting to a lot of people, and while the theories are particuarly interesting, the stories aren't always."

Flag Review
---
Thinking Through the Past, Volume I

:
stars based on
1
user reviews.
Summary
This reader for the US history survey course gives students the opportunity to apply critical thinking skills to the examination of historical sources, providing pedagogy and background information to help students draw substantive conclusions. The careful organization and the context provided in each chapter makes the material accessible for students, and this helps instructors to engage their students in analysis and discussion.
Table of Contents
The Truth About Textbooks: Indians and the Settlement of America
Sources: History of the American People (1927)
The American Pageant (1966)
A People & A Nation (2008)
The Primary Materials of History: Childhood in Puritan New England
Sources: Elizabeth Eggington (1664)
Henry Gibbs (1670)
Letter of Samuel Mather (Age 12) to His Father (ca. 1638)
Massachusetts Court Records
Lawrence Hammond, Diary Entry for April 23, 1688
Cotton Mather on Young Children (1690)
An Arrow against Profane and Promiscuous Dancing (1690)
Samuel Sewall on the Trials of His Fifteen-Year-Old Daughter (1696)
The Well-Ordered Family (1719)
The Duty of Children toward Their Parents (1727)
A Puritan Primer warns Against Frivolous Behavior (?)
The Roger Mowry House (ca. 1653)
The Eleazer Arnold House (ca. 1864)
Evaluating Primary Sources: Was Pennsylvania "The Best Poor Man's Country"?
Sources: An Historical and Geographical Account of Pennsylvania (1698)
Plantations in Pennsylvania (1743)
Journey to Pennsylvania (1756)
Advertisement for a Runaway (1759)
American Husbandry (1775)
William Penn on House Construction in Pennsylvania (1684)
Cabin, Berks County
Charles Norris's Mansion, Chestnut Street
Early Settlements in Pennsylvania (1696)
Wealth Distribution in Philadelphia, 1693-1774
Acquisition of Land by Former Indentured Servants, 1686-1720
Evaluating One Historian's Argument: The "Hidden Side" of the American Revolution
Secondary Source: The Unknown Revolution (2005)
Primary Sources: An Account of a Stamp Act Riot (1765)
A Mob Punishes Merchants (1766)
A Gentleman Comments on the Mob (1774)
Mecklenburg County Resolves (1775)
The Alternative Williamsburg (1775)
"A Dialogue between Orator Puff and Peter Easy" (1776)
Antislavery Petition of Massachusetts Free Blacks (1777)
Blacks Protest Taxation (1780)
Chief Thayendangea Pledges His Loyalty (1776)
Correspondence between Abigail and John Adams (1776)
"On the Equality of the Sexes" (1790)
Motivation in History: The Founding Fathers and the Constitution
Secondary Source: Unruly Americans and the Origins of the Constitution (2007)
Primary Sources: "Honesty is the Best Policy" (1786)
George Washington Reacts to Shay's Rebellion (1786)
The Founding Fathers Debate the Establishment of Congress (1787)
An Anti-Federalist Mocks the "Aristocratic" Party (1786)
A Founder Defends the Constitution's Restraints (1787)
Federalist #10 (1788)
Federalist #15 (1788)
Ideas in History: Race in Jefferson's Republic
Secondary Source: Within the "Bowels" of the Republic
Primary Sources: Thomas Jefferson on the Indians and Blacks (1784)
Thomas Jefferson on the Indians' Future (1803)
A Jeffersonian Treaty with the Delaware Indians (1804)
Indian Land Cessions (1800-1812)
A Denunciation of White Tyranny (1811)
Thomas Jefferson on Black Colonization (1801)
A Petition to the Virginia Legislature (1810)
A Letter from a Man of Colour (1817)
A Black Response to Colonization (1817)
The Problem of Historical Causation: The Second Great Awakening
Secondary Source: The Second Great Awakening and the Transformation of American Christianity (1989)
Primary Sources: "The Last Will and Testament of the Springfield Presbytery" (1804)
"On Predestination" (1809)
A Defense of Camp Meetings (1814)
Book of Mormon (1830)
A Methodist "Circuit-Rider" Discusses Education and the Ministry (1856)
Negro Methodists Holding a Meeting in Philadelphia (ca. 1812)
A Former Slave Discusses the Appeal of Methodism (1856)
Frances Trollope's Account of a Camp Meeting
Harriet Martineau on the Condition of American Women (1837)
Rebeccah Lee on the Appeal of Christianity
Philadelphia Journeymen Protest Their Conditions
Occupations of Methodist Converts in Philadelphia
Alexis de Tocqueville on the Condition of Americans
Grand Theory and History: Democracy and the Frontier
Secondary Source: The Significance of the Frontier in American History Primary Sources: Sketch of Trappers (1837)
N. J. Wyeth's Instructions for Robert Evans at the Fort Hall Trading Post (1834)
Scene of the San Gabriel Mission (1832)
Autobiography (1833)
On Settling in Missouri (1839)
View of the Valley of the Mississippi (1832)
Daguerreotype of The Stump Orator (1847)
Brigham Young on Land Distribution (1848)
Life in the Gold Fields (1849)
A San Francisco Saloon (1855)
An English-Chinese Phrase Book (1875)
The Pioneer Cowpen (1849)
We Went to Kansas (1862)
History as Biography: Historians and Old Hickory
Secondary Source: Andrew Jackson (2005)
Primary Sources: Jackson on His Experiences During the Revolution (n.d.)
Andrew Jackson to Charles Henry Dickinson (1806)
Andrew Jackson to Rachel Jackson (1813)
Andrew Jackson to William Blount (1812)
Old Hickory (1819)
Andrew Jackson (1820)
Andrew Jackson to John Coffee (1832)
Andrew Jackson to Joel Poinsett (1832)
Andrew Jackson's Nullification Proclamation (1832)
History "From the Bottom Up": Historians and Slavery
Secondary Source: Community, Culture, and Conflict on an Antebellum Plantation (1980)
Primary Sources: Leaves from a Slave's Journal of Life (1842)
Harry McMillan, Interviewed by the American Freedmen's Inquiry Commission (1863)
Charity Bowery (1847-1848)
Uncle Ben (1910)
Sarah Fitzpatrick (1938)
A Slave's Letter to His Former Master (1844)
Lynchburg Negro Dance, an Artist's View of Slavery (1853)
A Slave Spiritual (ca. 1863)
Brer Rabbit Outsmarts Brer Fox
A Slave Child's Doll (ca. 1850)
A Plantation Plan (ca. 1857)
Ideology and Society: The Bounds of Womanhood in the North and South
Secondary Sources: The Bonds of Womanhood (1997)
Domestic Ideology in the South (1998)
Primary Sources: Woman in America (1841)
Treatise on Domestic Economy (1841)
Lowell Offering (1845)
The Evils of Factory Life (1845)
The Times That Try Men's Souls (1837)
A'n't I a Woman (1851)
"Virtue, Love, & Temperance" (1851)
The Ideal Southern Woman (1835)
"Woman's Progress" (1853)
"Memoir on Slavery" (1853)
Journal of Mary Moragn? (1842)
Mary Boykin Chesnut on Slavery and Sex (1861)
Grand Theory, Great Battles, and Historical Causes: Why Secession Failed
Secondary Sources: Blue over Gray: Sources of Success and Failure in the Civil War (1875)
Why the North Won (1988)
Primary Sources: The Impending Crisis (1857)
The Cotton Kingdom (1861)
An Account of the Battle of Gettysburg (1863)
General Ulysses S. Grant to Edwin M. Stanton (1865)
Affidavit of a Tennessee Freedman (1865)
Reverend Garrison Frazier on the Aspirations of His Fellow Blacks (1865)
Southern Women Feeling the Effects of Rebellion and Creating Bread Riots (1863)
Excerpt from Diary of Margaret Junkin Preston (1862)
"Kate," A Letter to a Friend (1862)
Account of a Slaveholding Family During Sherman's March (1864)
The Importance of Historical Interpretation: The Meaning of Reconstruction
Secondary Sources: Seeds of Failure in Radical Race Policy (1966)
Forever Free (2006)
Primary Sources: Colored Rule in a Reconstructed (?) State (1874)
The Ignorant Vote--Honors Are Easy (1876)
Black Response to a South Carolina White Taxpayers' Convention Appeal to Congress (1874)
Statement of Colored People's Convention in Charleston, South Carolina (1865)
A Republican Newspaper's Description of a Local Political Meeting (1867)
Testimony of Abram Colby (1872)
Lewis McGee to the Governor of Mississippi (1875)
Testimony of Emanuel Fortune (1872)
Testimony of Henry M. Turner (1872)
Table of Contents provided by Publisher. All Rights Reserved.