Note: Supplemental materials are not guaranteed with Rental or Used book purchases.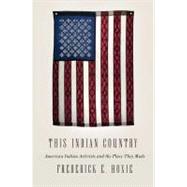 This Indian Country : American Indian Activists and the Place They Made
ISBN13:
9781594203657
by
Hoxie, Frederick E.
Summary
A history of Indian political activism told through the inspiring stories of the men and women who defined and defended American Indian political identity In the newest volume of the award-winning Penguin History of American Life series, Frederick E. Hoxie forms a bold counternarrative to the typical understanding of Native American history. This is not a tale of bloody and doomed battles with settlers and the U.S. Army, which casts Native Americans as mere victims of U.S. expansionism. Instead, This Indian Countrydescribes how, for more than two hundred years, Native American political activists have petitioned courts and campaigned for public opinion, seeking redress and change from the American government. Hoxie focuses each of his chapters on people who advanced this struggle in important ways. These figures-some famous, many unknown- hoped to bridge the distance between indigenous cultures and the republican democracy of the United States through legal and political debates. Many of these figures wielded no political power in their own time, but the cumulative product of their efforts has profoundly shaped the modern political landscape. They defined a new language of "Indian rights" and created a vision of American Indian identity. In the process, they entered into a dialogue with other activist movements, from African American civil rights movements to women's rights and other progressive organizations. Hoxie weaves a compelling narrative that connects the individual to the tribe, the tribe to the nation, and the nation to broader historical processes. He asks readers to think deeply about how a country based on the republican values of liberty and equality managed to adapt to the complex cultural and political demands of people who refused to be ignored. As we grapple with contemporary challenges to national institutions, from inside and outside our borders, and as we reflect on the array of shifting national and cultural identities across the globe, This Indian Countryprovides a context and a language for understanding our present dilemmas.
Author Biography
Frederick E. Hoxie is the Swanlund Professor of History and a professor of law at the University of Illinois, where he specializes in Native American history. He is the author of several books, most recently Talking Back to Civilization. He served as the general editor of The American Indians, a twenty-three-volume series that has sold more than two million copies, and as the series editor (with Neal Salisbury) for Cambridge Studies in American Indian History. Professor Hoxie is a founding trustee of the Smithsonian Institution's National Museum of the American Indian and a former president of the American Society for Ethnohistory. He received his undergraduate degree from Amherst College and his Ph.D. from Brandeis University.