Note: Supplemental materials are not guaranteed with Rental or Used book purchases.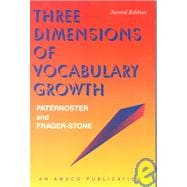 Three Dimensions of Vocabulary Growth
ISBN13:
9781567650402
by
Paternoste
Questions About This Book?
What version or edition is this?
This is the 2nd edition with a publication date of 6/1/1998.
What is included with this book?
The New copy of this book will include any supplemental materials advertised. Please check the title of the book to determine if it should include any CDs, lab manuals, study guides, etc.
Summary
Teaches students how to learn from words, not just about them. Explains word origins and teaches word formation.
Table of Contents
Dimension One
Part One The Romance of Words

| | |
| --- | --- |
| | holocaust / chagrin / vacillate / catharsis / ennui / caveat / caprice / palliate / assuage / axiom |

3
(6)

| | |
| --- | --- |
| | foible / fortnight / ecdysiast / grotesque / fickle / fulminate / dotage / expurgate / specious / ostracize |

9
(6)

| | |
| --- | --- |
| | turgid / calumniate / chimera / nirvana / avuncular / alpha and omega / nebulous / bane / imprecation / frenetic |

15
(7)

| | |
| --- | --- |
| | cenotaph / unctuous / vicissitude / titillate / moribund / badinage / sesquipedalian / extirpate / apotheosis / swastika |

22
(7)

| | |
| --- | --- |
| | apocalypse / inimical / vagary / austere / parochial / demagogue / truckle / torpor / licentious / charisma |

29
(6)

| | |
| --- | --- |
| | vestige / peremptory / audacious / monolithic / obelisk / akimbo / cursory / eponym / penchant / asinine |

35
(6)

| | |
| --- | --- |
| | penury / explicate / obfuscate / excoriate / impugn / cozen / emulate / obtuse / adamant / virulent |

41
(7)

| | |
| --- | --- |
| | exurbs / exult / euphemism / flatulent / facade / euphoria / expatiate / heinous / exigency / exculpate |

48
(8)

| | |
| --- | --- |
| | anachronism / poltergeist / histrionic / bellwether / banal / exude / catholic / pontiff / brogue / idiosyncracy |

56
(7)

| | |
| --- | --- |
| | aegis / coruscate / quintessence / nepotism / rue / ephemeral / sub rosa / recondite / pogrom / poignant |

63
(6)

| | |
| --- | --- |
| | carouse / pastiche / acrimony / bifurcate / spurious / asperity / sycophant / clairvoyant / carnal / anthology |

69
(7)

| | |
| --- | --- |
| | harass / mordant / debilitate / manifest / decadent / vicarious / trepidation / melee / implacable / nexus |

76
(9)

| | |
| --- | --- |
| | contumacy / convivial / indomitable / millennium / emasculate / digress / kaleidoscope / jargon / humor / aberrant |

85
(6)

| | |
| --- | --- |
| | animosity / antemeridian / ecumenical / travail / pernicious / nostrum / epitaph / feckless / splenetic / pusillanimous |

91
(7)

| | |
| --- | --- |
| | venial / officious / droll / altruism / machination / tsunami / attrition / vitiate / cenotaph / inveterate |

98
(6)

| | |
| --- | --- |
| | gambit / caldron / tyro / dissipate / deprecate / attenuate / accolade / supplicate / maelstrom / myriad |

104
(11)
Dimension One
Part Two Words from Proper Nouns

| | |
| --- | --- |
| | Janus-faced / milquetoast / jabberwock / Shangri-la / Lothario / braggadocio / lethargy / bacchanalia / pyrrhic victory / chauvinism |

115
(7)

| | |
| --- | --- |
| | Babbitt / malaprop / pandemonium / spoonerism / philistine / sadistic / Panglossian / martinet / cross or pass the Rubicon / Machiavellian |

122
(7)

| | |
| --- | --- |
| | benedict / nemesis / serendipity / charlatan / quisling / nirvana / Hobson's choice / Armageddon / gerrymander / macabre |

129
(6)

| | |
| --- | --- |
| | mnemonics / billingsgate / cupidity / guillotine / pander / tenebrous / plutocracy / gorgon / limbo / procrustean |

135
(7)

| | |
| --- | --- |
| | marathon / stygian / tawdry / calliope / apochrypha / Byzantine / mesmerize / Halloween / vandal / bowdlerize |

142
(9)

| | |
| --- | --- |
| | protean / Cassandra / maudlin / Parthian shot / argonaut / Utopia / tantalize / Pharisee / quixotic / roentgen |

151
(7)

| | |
| --- | --- |
| | myrmidon / peripatetic / narcissism / tarantella / panacea / stentorian / Sisyphean / Sword of Damocles / bedlam / Pandora's box |

158
(7)

| | |
| --- | --- |
| | philippic / draconian / rodomontade / epicure / Pollyanna / caesarian section / sybarite / shylock / somniloquy / Lilliputian |

165
(7)

| | |
| --- | --- |
| | hades / jacquard / odyssey / gargantuan / stoicism / herculean / Kafkaesque / halcyon / mercurial / Junoesque |

172
(7)

| | |
| --- | --- |
| | Achilles' heel / titan / galvanize / flora and fauna / euthanasia / boycott / laconic / colossus / solecism / babble |

179
(14)
Dimension Two
Part One Word Families

| | |
| --- | --- |
| | autos: autobiography / autograft / autogamy / automat / autonomic / autopsy / autonomous / automaton |

193
(5)

| | |
| --- | --- |
| | a, an: anodyne / anesthesia / anarchy / achromatic / agnostic / atheism / anonymous / atrophy / anomaly |

198
(5)

| | |
| --- | --- |
| | patheia: apathy / pathology / osteopath / hydropathy / psychopath / pathos / antipathy / empathy / telepathy |

203
(5)

| | |
| --- | --- |
| | genos: autogenous / genesis / genocide / congenital / eugenics / heterogeneous / homogeneous / pathogen / primogeniture / indigenous / psychogenic / genealogy / hallucinogen |

208
(6)

| | |
| --- | --- |
| | anthropos, andros: anthropocentric / android / misanthropist / philanthropist / anthropomorphic / philander / polyandry / anthropoid / anthropology |

214
(7)

| | |
| --- | --- |
| | archon, kratos: hierarchy / autocracy / aristocracy / monarchy / patriarchy / theocracy / democracy / gynocracy / plutocracy / oligarchy |

221
(5)

| | |
| --- | --- |
| | psyche: psychedelic / psychiatry / psychic / psychokinesis / psychodrama / psychosomatic / psychogenic / psychosis |

226
(4)

| | |
| --- | --- |
| | pan: panegyric / panacea / panchromatic / pandemic / panorama / pantheism / pantology / panophobia / panoply / pantheon |

230
(5)

| | |
| --- | --- |
| | philos: audiophile / phylogynist / hemophiliac / thermophile / bibliophile / philately / philodendron |

235
(4)

| | |
| --- | --- |
| | loqui: loquacious / circumlocution / somniloquent / ventriloquist / soliloquy / colloquy / elocution / eloquence / grandiloquent |

239
(4)

| | |
| --- | --- |
| | eu: euthenics / euphemism / eulogy / eurhythmic / eutrophic / eupepsia / euphoria / euphony |

243
(7)

| | |
| --- | --- |
| | phone: aphonic / hydrophone / megaphone / cacophony / xylophone / phonics / polyphony |

250
(4)

| | |
| --- | --- |
| | graphein: bibliography / orthography / cacography / calligraphy / graffiti / topography / cartography / seismograph / lexicographer / pornography / demography / epigraphy |

254
(5)

| | |
| --- | --- |
| | logos: chronology / paleontology / petrology / tautology / ornithology / cosmology / necrology / ichthyology / ethnology / etymology |

259
(4)

| | |
| --- | --- |
| | specere: perspicacious / perspicuous / specious / auspicious / aspect / introspection / prospectus / retrospect / specter / spectrum |

263
(10)
Dimension Two
Part Two Prefixes

| | |
| --- | --- |
| | anti, ante: antibiotic / antipathy / antidote / antiphony / antiseptic / antithesis / anti-Semite / anticlimax / antichrist / antebellum / antechamber / antecedent / antediluvian / antemeridian / antemortem / antependium / anterior / antedate |

273
(4)

| | |
| --- | --- |
| | circum: circumambulate / circumlocution / circumvent / circumspect / circumscribe / circumlunar / circumference / circumfluous / circumsolar / circa |

277
(3)

| | |
| --- | --- |
| | pre: preeminent / precocious / precursor / predilection / prenatal / preempt / preclude / prescient / prelude / premonition |

280
(3)

| | |
| --- | --- |
| | post: postbellum / postmeridian / posthumous / postnuptial / postscript / postmortem / postdiluvian / postlude / posthaste / posterior |

283
(3)

| | |
| --- | --- |
| | counter, contra: counterpart / counterproductive / countervail / counterclaim / counterculture / counterclockwise / counterweight / countermeasure / countersign / contraception / contradict / contradistinguish / contraindicate / contrariwise / contravene / contraclockwise / contraband / contralateral |

286
(4)

| | |
| --- | --- |
| | trans: transcend / transgress / transfuse / transient / transmute / translucent / transpose / transplant / transfix / transcribe |

290
(3)

| | |
| --- | --- |
| | retro, pro: retrogress / retroflex / retrospect / retroversion / retrocede / retrospective / retrograde / retroactive / retrorocket / retrofire / procrastinate / procreate / prophet / profusion / progenitor / prognosticate / prospectus / proscribe / proponent / propensity |

293
(4)

| | |
| --- | --- |
| | intra: intradermal / intrastate / intravenous / intrauterine / intrascholastic / intrapersonal / intravascular / intracranial / intramuscular / intramural |

297
(3)

| | |
| --- | --- |
| | extra, hyper: extravert / extramarital / extracurricular / extramural / extrasensory / extralegal / extragalactic / extraterrestrial / extrapolate / extraneous / hyperactive / hyperglycemia / hyperbaric / hyperextend / hyperbole / hypertrophy / hyperkinetic / hyperventilate / hypersensitive / hyperthermia |

300
(4)

| | |
| --- | --- |
| | bene, male: benefactor / benediction / benignant / benign / beneficial / benevolent / beneficient / beneficiary / malefactor / malevolent / malaise / malapropism / malice / malediction / maladroit / malfeasance / malignant / malign / malinger |

304
(7)
Dimension Two
Part Three Number and Amount Prefixes

| | |
| --- | --- |
| | uni / mono / du / bi / tri |

311
(3)

| | |
| --- | --- |
| | quar / quad / quint / sex / sept / octa |

314
(2)

| | |
| --- | --- |
| | novum / deca / deci / cent / mille / kilo |

316
(2)

| | |
| --- | --- |
| | multi / poly / omni / pan / semi |

318
(7)
Dimension Three
Part One Foreign Words and Phrases

| | |
| --- | --- |
| | dos a dos / de trop / mal de mer / accouchement / table d'hote / Zeitgeist / decolletage / vichyssoise / in loco parentis / vis a vis |

325
(4)

| | |
| --- | --- |
| | de rigueur / sine qua non / la dolce vita / hors d'oeuvres / Dominus vobiscum / joie de vivre / concierge / bourgeoisie / noblesse oblige / charge d'affaires / diva |

329
(4)

| | |
| --- | --- |
| | rapprochement / requiescat in pace / entre nous / carte blanche / anno Domini / cause celebre / non pareil / lettre de cachet / a priori / a posteriori |

333
(4)

| | |
| --- | --- |
| | avant-garde / billet doux / carpe diem / prix fixe / alfresco / ad nauseam / bon mot / au jus / bete noire / sub rosa |

337
(4)

| | |
| --- | --- |
| | bon vivant / bonsai / borscht / paparazzi / nota bene / inamorato / maven / objet d'art / declasse / caveat emptor |

341
(5)

| | |
| --- | --- |
| | dishabille / bona fide / outre / savoir faire / ersatz / raison d'etre / melange / mea culpa / fait accompli / faux pas |

346
(3)

| | |
| --- | --- |
| | imprimatur / nouvelle cuisine / quid pro quo / sotto voce / sobriquet / non sequitur / nosh / nolo contendere / metier / klutz |

349
(4)

| | |
| --- | --- |
| | nouveau riche / forte / deja vu / ex cathedra / tout de suite / tour de force / cul-de-sac / tout le monde / tabula rasa / haute cuisine |

353
(4)

| | |
| --- | --- |
| | beau monde / mot juste / double entendre / au gratin / habitue / angst / demitasse / cloture / cafe au lait / croupier |

357
(4)

| | |
| --- | --- |
| | cogito ergo sum / bodega / a la carte / nom de plume / detente / du jour / pro bono publico / femme fatale / enfant terrible / esprit de corps |

361
(10)
Dimension Three
Part Two Medical Specialties

| | |
| --- | --- |
| | oncologist / nephrologist / hematologist / urologist / podiatrist / chiropractor / endodontist / orthodontist / dermatologist / otorhinolaryngologist |

371
(4)

| | |
| --- | --- |
| | periodontist / cardiologist / endocrinologist / cryosurgeon / orthopedist / gynecologist / anesthesiologist / ophthalmologist / osteopath / geriatrician |

375
(4)

| | |
| --- | --- |
| | maxillofacial surgeon / prosthodontist / obstetrician / pediatrician / gastroenterologist / epidemiologist / neurosurgeon / radiologist / psychoanalyst / optometrist |

379
(5)

| | |
| --- | --- |
| | apnea / carcinogen / cirrhosis / embolism / metastisis / tachycardia / hyperglycemia / rhinoplasty / renal / -ectomy / -otomy |

384
(5)

| | |
| --- | --- |
| | rheumatic fever / melanoma / arthritis / pulmonary / mammogram / glaucoma / cataract / cardiovascular / anorexia / bulimia |

389
(5)

| | |
| --- | --- |
| | holistic medicine / anemia / liposuction / arthroscopic surgery / migraine / muscular dystrophy / phlebotomy / laryngitis / hepatitis / mastectomy |

394
(11)
Dimension Three
Part Three Special Terms and Words Forms

| | |
| --- | --- |
| | euphemisms: previously owned car / cadaver / demise / inebriated / full-figured / underachiever / senior citizen |

405
(4)

| | |
| --- | --- |
| | oxymorons: holy war / real potential / unbiased opinion / original copies / open secret / nondairy cream / qualified success |

409
(4)

| | |
| --- | --- |
| | acronyms: Madd / Unicef / Radar / Cobol / Aids / Salt / Hud / Awol / Nasa / Zip / Vista |

413
(5)

| | |
| --- | --- |
| | neologisms and portmanteau words: bells and whistles / nanosecond / cyborg / bus / Internet / virus / byte / bit / hung / LEM / lox / chortle / motel / chunnel / smog / comex / slithy / brunch / hobol |

418