Note: Supplemental materials are not guaranteed with Rental or Used book purchases.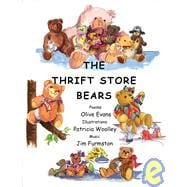 Summary
The Thrift Store Bears are individual teddy bears that have been disgarded and sent to thrift stores. Over a period of time the bears are bought (rescued) and brought home to a little redwood house not far from the sea and live together in a sunny room downstairs. Each bear has a special personality. Some have problems to overcome or are trying to overcome. All of the bears share the joy of friendship and having fun. On the accompanying CD each poem is naratted with music and sound effects specifically suited to the character and the situation in which the character finds itself. 'Tiny Bear' found himself being ignored and he is so small that he sometimes gets stepped on, leaned on and pushed. He undertakes a rigorous excercise program and solves his problems. 'Hunny Bear,' is pestered by bees who though she will give the bees honey fron her honey pot they would rather get it from the honey that she spills on her coat. 'Mike the Motor Cycle Bear' likes to take his bear friends on wild imaginary motorcycle rides. 'The Grump' is a mock grumpy bear who complains about everything but he can't be too bad because in his picture he has a little bear on his lap. Amanda 'The Dancing Bear' loves to dance and she dances "like a flame in the fire: with a sizzle, a twizzle a fiery fizzle." These are a few examples of the twenty seven poem/stories in 'The Thrift Store Bears." The Thrift Store Bears book is a winner of the NABE (National Association of Book Exhibitors) Pinnacle Book Achievement Award, children's category.
Author Biography
Olive Evans worked extensively with young children as a teacher, writer, professional story teller and director of 'storytime theater.' She graduated from Goldsmiths College/London University and California State University Dominguez Hills. She has had children's stories published in the UK and also used by BBC Radio as well as in the USA by Cricket Magazine. Her children's play,"Secrets of The Forest" was published by Players Press.