Note: Supplemental materials are not guaranteed with Rental or Used book purchases.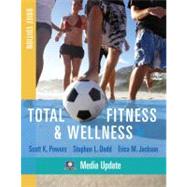 Summary
Thoroughly revised and updated to be relevant, approachable, and appealing,Total Fitness & Wellnessgives you a solid foundation in fitness and lifetime wellness, while teaching you how to make healthy behavioral changes and lifestyle choices. The new Media Update Edition combines the latest research and statistics in exercise science and includes new media for both students and instructors. This edition builds on the already expanded coverage of behavior change and provides the most comprehensive supplements package in the market to create a package instructors and students alike will enjoy using. For a focused presentation on fitness, the Brief Edition consists of Chapters 1-10 and 16 from the big book so you receive the basics on fitness, nutrition, cardiovascular disease and stress management. TheMedia Updatefeatures an extensively revised Companion Website with over 80 new exercise videos, ABC News videos, RSS feeds, flashcards, electronic versions of labs and self-assessments, and a Behavior Change Log Book. The new MyFitnessLab trade; features the same updates as the website, as well as Pearson eText with live links, audio clips, and electronic versions of the Eat Right! and Live Right! booklets. Package Components: Total Fitness & Wellness, Brief Edition, Media Update, Third Edition Behavior Change Log Book and Wellness Journal
Author Biography
Scott Powers holds the title of distinguished professor, and is also director of the Center for Exercise Science at the University of Florida. He has been teaching for over 20 years, and was named Teacher of the Year at UF in 1992. Scott served as president of the Southeastern Chapter of the American College of Sports Medicine in 1986, and is the co-author of another textbook, Exercise Physiology: Theory and Application to Fitness and Performance, Seventh Edition,published by McGraw-Hill. As a member of the Gatorade Sports Science Institute (GSSI) Sports Medicine Review Board and the editorial board for the Journal of Applied Physiology, Medicine and Science in Sports and Exercise, the International Journal of Sports Medicine, and the International Journal of Sport Nutrition and Exercise Metabolism, he is a well-known and highly respected individual in the field of exercise physiology.
Stephen Dodd is the Chair of the Department of Applied Physiology and Kinesiology at the University of Florida. He has been teaching for more than 20 years, and has won numerous awards, including the Teacher of the Year award in 1997. He has won the annual "Instructional Resources Grant" from UF every year since 1991, allowing him to make innovations in use of multimedia in his classroom. He has held numerous chairs in committees at UF.
Erica Jackson is an assistant professor in the Department of Kinesiology at the College of William and Mary. Erica teaches the fitness and wellness course, in addition to exercise psychology and kinesiology research. Erica is young, energetic, and in touch with her students. She brings both her expertise and first-hand knowledge of the challenges fitness and wellness instructors' face in the classroom to the text book.
Table of Contents
1. Understanding Fitness and Wellness
2. General Principles of Exercise for Health and Fitness
3. Cardiorespiratory Endurance: Assessment and Prescription
4. Improving Muscular Strength and Endurance
5. Improving Flexibility
6. Body Composition
7. Nutrition, Health, and Fitness
8. Exercise, Diet, and Weight Control
9. Preventing Cardiovascular Disease
10. Stress Management
11. Life Time Fitness and Wellness