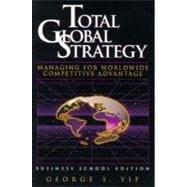 Total Global Strategy: Managing for Worldwide Competitive Advantage/Business School Edition
by
Yip, George S.
Summary
A comprehensive and thoroughly researched guide for the international student. Covers every aspect of global strategy and global integration. Provides a systematic framework for evaluating which elements of strategy to globalize, and by how much. Contains numerous examples, end-of-chapter questions.
Table of Contents
1. Understanding Global Strategy.
2. Diagnosing Industry Globalization Potential.
3. Building Global Market Participation.
4. Designing Global Products and Services.
5. Locating Global Activities.
6. Creating Global Marketing.
7. Making Global Competitive Moves.
8. Building the Global Organization.
9. Measuring Industry Drivers and Strategy Levers.
10. Conducting a Global Strategy Analysis.
Appendix: Worksheets for Evaluating Core Strategy.