Note: Supplemental materials are not guaranteed with Rental or Used book purchases.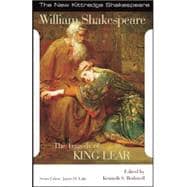 Summary
George Lyman Kittredge's insightful editions of Shakespeare have endured in part because of his eclecticism, his diversity of interests, and his wide-ranging accomplishments-all of which are reflected in the valuable notes in each volume. The plays in the New Kittredge Shakespeare series retain their original Kittredge notes and introductions, changed or augmented only when some modernization seems necessary. These new editions also include introductory essays by contemporary editors, notes on the plays as they have been performed on stage and film, and additional student materials.
Author Biography
Kenneth S. Rothwell (1921-2010) was professor of English at the University of Vermont, Burlington. He was the author of "A History of Shakespeare on Screen." He co-founded and co-edited (with Bernice W. Kliman) the Shakespeare on Film Newsletter.
Table of Contents
Introduction to the Kittredge Edition, p. vii Introduction to the Focus Edition, p. xiii The Tragedy of King Lear, p. 1 How to Read King Lear as Performance, p. 131 Timeline, p. 137 Topics for Discussion and Further Study, p. 139 Bibliography, p. 141