Note: Supplemental materials are not guaranteed with Rental or Used book purchases.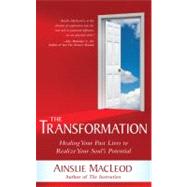 The Transformation: Healing Your Past Lives to Realize Your Soul's Potential
ISBN13:
9781591797708
by
MacLeod, Ainslie
Summary
In The Instruction, Ainslie MacLeod gave readers the tools to identify their soul type and discover their deeper purpose. Now with The Transformation, this gifted psychic brings readers the most critical practice for enabling their spiritual evolution: healing the fears from past lives. "So much of what holds us back from achieving our potential in this life is baggage we are carrying from previous incarnations," teaches Ainslie. In this engrossing investigation of the importance of past-life healing to our growth, he explores: The 10 types of fears that carry over from past live--and how each one contains the seed of its own healing. The three-step method for identifying and transforming your past-life blockages. Reaching "Stage-Four Consciousness"--the next evolutionary step your soul is striving to take. How the human species is clearing out our collective past-life traumas to make way for a global transformation. Ainslie MacLeod┐s spirit guides suggest that we are standing on the brink of the greatest leap in human consciousness in 55,000 years. For each of us to take an active part in this shift, we must learn how to release the fears our souls have accumulated over many lifetimes, while retaining the essential wisdom that each incarnation has given us. Rich with practical techniques and compelling stories, The Transformation is a fresh examination of one of the most critica--yet often overlooke--elements of spiritual awakening.
Table of Contents
Acknowledgments
p. ix
Introduction: The Transformation
A Spiritual Rescue Mission
p. 1
Your Soul's Evolution
A Voyage of Spiritual Transformation
p. 19
The Sense of Equality
Overcoming the Illusion of Separation
p. 49
The Rewards of Cooperation
Building Spiritual Bridges
p. 69
The Achievement of Respect
Finding Your Inner Strength
p. 97
The Expectation of Justice
Identifying with the Underdog
p. 125
The Search for Knowledge
Making Up for Lost Time
p. 151
The Power of Understanding
Accessing Your Ability to Relate
p. 179
The Virtue of Truth
Overcoming Blocks to Self-Expression
p. 201
The Pursuit of Freedom
Manifesting Your Personal Destiny
p. 223
The Passion for Peace
Healing Your Karmic Wounds
p. 251
The Fulfillment of Love
Recovering from Rejection
p. 283
The Embodiment of Transformation
Inspiring Change Through Example
p. 309
Appendix
p. 325
About the Author
p. 327
Table of Contents provided by Ingram. All Rights Reserved.