Note: Supplemental materials are not guaranteed with Rental or Used book purchases.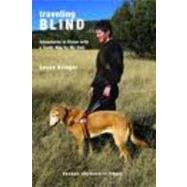 Traveling Blind : Adventures in Vision with a Guide Dog by My Side
ISBN13:
9781557535573
by
Krieger, Susan
Summary
Traveling Blind is a romance, a travel adventure, an emotional quest, and a deeply reflective description of coming to terms with lack of sight. It reveals the invisible work of navigating with a guide dog while learning to perceive the world in new ways. Although an intensely personal account, Traveling Blind is not simply memoir, for it extends beyond one person's experience to illuminate our understandings of vision informed by the academic fields of disability studies, feminist ethnography, and the study of human-animal bonds. What does it mean to "travel blind"? What is it like to live in a world where things are not black and white so much as shades of gray? How does it feel to navigate through constantly changing imagery that requires changing inner perspectives as well? What can experiences of blindness tell us about sight? The book confronts these questions and more. In a series of beautifully textured stories, the author takes the reader on a fascinating journey as she travels with Teela, her lively ""golden dog," through airports, city streets, and southwest desert landscapes, exploring these surroundings with changed sight. This unusual account of travel will inspire the sighted as well as the blind, offering pointed observations on processes of learning to work with a service animal and on coming to terms with a disability. In remarkably visual detail, Krieger makes palpable an ambivalent world. Repeatedly confronted with social stereotypes (that she should be totally blind and incapable of mobility), she comes to value her own unique ways of seeing and her interdependence with both her animal and human companions. Her descriptions of exquisite natural landscapes and intimate personal moments will touch as well as educate readers.
Author Biography
Ed Eames, Ph.D. and Toni Eames, M.S. are co-founders of the International Association of Assistance Dog Partners (www.iaadp.org), a cross disability consumer advocacy organization for people partnered with guide, hearing, and service dogs. Like Dr. Krieger, Dr. Eames lost his vision in adulthood, while Mrs. Eames came to blindness as a young child.
Table of Contents
Preface
p. ix
Introduction
p. 1
Big Hatchet
p. 11
Starting at Sunrise
p. 13
Finding Big Hatchet
p. 27
Leaving with Regrets
p. 41
Lights in the Dark
p. 49
Crossing Borders
p. 51
Morning Walk
p. 73
Evening Lights
p. 83
Sighted and Blind
p. 93
Navigating Duality
p. 95
Are You Training that Dog?
p. 105
Airport Stories
p. 117
I'll Take You Back
p. 133
Luminarias
p. 135
Heading South
p. 155
Back to Big Hatchet
p. 165
The Hachita Bar
p. 173
Traveling Blind
p. 183
Bibliographic Notes
p. 199
Table of Contents provided by Ingram. All Rights Reserved.