Note: Supplemental materials are not guaranteed with Rental or Used book purchases.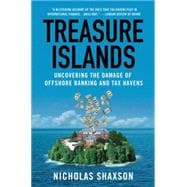 Treasure Islands Uncovering the Damage of Offshore Banking and Tax Havens
ISBN13:
9780230341722
by
Shaxson, Nicholas
Questions About This Book?
What version or edition is this?
This is the edition with a publication date of 9/4/2012.
What is included with this book?
The New copy of this book will include any supplemental materials advertised. Please check the title of the book to determine if it should include any CDs, lab manuals, study guides, etc.
Summary
Published to rave reviews on both sides of the Atlantic, Treasure Islandsis an expose of how the corporate world uses tax havens to shirk paying its share of taxes. This costs the United States alone 100 billion dollars in lost revenue each year. While the United States experiences a recession and European countries face bankruptcy, Nicholas Shaxson, a former correspondent for the Financial Timesand The Economist, argues that the problem can be traced back to the pervasive practice of offshoring financing in order to minimize taxable revenue. Journeying from Moscow to London to Switzerland to Delaware, he dives deep into a vast and secret playground where bankers and multinational corporations operate side by side with nefarious tax evaders, organized criminals, and the world's wealthiest citizens. This is a fast-paced narrative that at last explains how bankers, traders, and other financial wizards are using the system to deepen our economic divide.
Author Biography
Nicholas Shaxson is a journalist who has written for the Financial Times, The Economist, African Energy, and the insider newsletter Africa Confidential. He is the author of the highly acclaimed Poisoned Wells: The Dirty Politics of African Oil and an associate fellow with the Royal Institute of International Affairs in London.
Table of Contents
"This book is a vigorous and well researched polemic against financial deregulation…"—Richard Cooper, Foreign Affairs
"Shaxson's story of offshore banking is nothing short of Shakespearean, a drama full of secrecy, treachery and corruption in which wealthy countries, companies and individuals collude to horde wealth in a complex global network of largely unregulated tax havens. To realize this end, they install corrupt leaders, exploit indigenous populations and, ultimately, deny both developed and developing nations of vital tax dollars. There is much here that should generate outrage…An admirable job of both arguing the consequences of offshore banking and providing a succinct history of the practice."--Kirkus
"A blistering account of the role that tax havens play in international finance. . . brilliant."—London Review of Books
"Perhaps the most important book published in the UK so far this year."--George Monbiot, The Guardian
"Shaxson provides a fascinating narrative that is both analytically compelling and rich in institutional detail."—New York Times Economix blog
"A useful critique."--Tyler Cowen, Marginal Revolution
"Treasure Islands, Nicholas Shaxson's excellent book on the global offshore tax system."--FT Alphaville
"Treasure Islands has prised the lid off an important and terrifying can of worms."--Literary Review
"Shaxson shows us that the global financial machine is broken and that very few of us have noticed."--New Statesman
"In this riveting, well-written expose, Shaxson goes deep into the largely unexamined realm of offshore money. In the process, he reveals that this shadow world is no mere sideshow, but is troublingly central to modern finance, with the US and the UK as leaders. The resulting abuses are widespread, ranging from tax revenue stripping from African nations to individuals and corporations escaping enforcement and accountability. A must read for anyone who wants to understand the hidden reasons why financial services firms have become so powerful and impossible to reform."--Yves Smith, creator of Naked Capitalism and author of Econned
"Treasure Islands shines the light on some very dark places. It reads like a thriller. The shocking thing is its all true."--Richard Murphy, co-author of Tax Havens: How Globalization Really Works
"At last, a readable – indeed gripping – book which explains the nuts and bolts of tax havens. More importantly, it lays bare the mechanism that financial capital has been using to stay in charge: capturing government policy-making around the world, shaking off such irritants as democracy and the rule of law, and making sure that suckers like you and me pay for its operators' opulent lifestyles."--Misha Glenny, author of McMafia: A Journey through the Global Criminal Underworld
"Trade and investments can play a profoundly productive role on the world economy. But so much of the capital flows that we see are associated with money laundering, tax evasion, and the wholesale larsony (sic) of assets often of very poor countries. These thefts are greatly facilitated by special tax and accounting rules or designed to "attract capital" and embodying obscure and opaque mechanisms. Shaxson does an outstanding and socially valuable job in penetrating the impenetrable and finds a deeply shocking world."—Nicholas Stern, former Chief Economist for The World Bank
"The real challenge to America's economy comes not from China – but from the Caymans, the Bahamas, and a whole hot-money archipelago loosely under the control of the City of London.  If only as a civics lesson, read this astonishing book to find out the true political constitution of the world."-- Thomas Geoghegan, author of Were You Born on the Wrong Continent?
"Far more than an exposé, Treasure Islands is a brilliantly illuminating, forensic analysis of where economic power really lies, and the shockingly corrupt way in which it behaves. If you're wondering how ordinary people ended up paying for a crisis caused by the reckless greed of the banking industry, this compellingly readable book provides the answers."--David Wearing, School of Public Policy, UCL, London's Global University
"An absolute gem that deserves to be read by anyone interested in the way contemporary globalization is undermining social justice. Give it to your sons, daughters, families, favorite legislators and anyone else needing stimulation of their thought buds. This masterpiece illuminates the dark places and shows the visible hand of governments, corporations, banks, accountants, lawyers and other pirates in creating fictitious offshore transactions and structures and picking our pockets. This financial engineering has enabled companies and the wealthy elites to dodge taxes. The result is poverty, erosion of social infrastructure and hard won welfare rights and higher taxes for ordinary people. Tax will be the decisive battleground of the twenty-first century as no democracy can function without it, or provide people with adequate educations, healthcare, security, housing, transport or pensions. Nicholas Shaxson has done a wonderful job in lifting the lid off the inbuilt corruption that has become so naturalized in the western world."--Prem Sikka, Professor of Accounting, University of Essex, UK
"Over my holiday last week, I read Nick Shaxson's book – Treasure Islands. I would go as far as saying this book is the No Logo for a new century"--Sunny Hundal, Liberal Conspiracy
"Shaxson has undertaken a big task with the book Treasure Islands: Tax Havens and the Men who Stole the World. But the task is well worthy of examination, as it is so vital to the shadowy infrastructure of the global financial system… provides an easily digestible overview of the labyrinthine nature of the world of offshore finance."—Seeking Alpha