Note: Supplemental materials are not guaranteed with Rental or Used book purchases.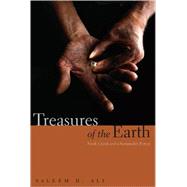 Treasures of the Earth : Need, Greed, and a Sustainable Future
ISBN13:
9780300141610
by
Saleem H. Ali
Summary
Would the world be a better place if human societies were somehow able to curb their desires for material goods? Saleem Ali's pioneering book links human wants and needs by providing a natural history of consumption and materialism with scientific detail and humanistic nuance. It argues that simply disavowing consumption of materials is not likely to help in planning for a resource-scarce future, given global inequality, development imperatives, and our goals for a democratic global society. Rather than suppress the creativity and desire to discover that is often embedded in the exploration and production of material goodswhich he calls "the treasure impulse"Ali proposes a new environmental paradigm, one that accepts our need to consume "treasure" for cultural and developmental reasons, but warns of our concomitant need to conserve. In evaluating the impact of treasure consumption on resource-rich countries, he argues that there is a way to consume responsibly and alleviate global poverty.
Author Biography
Saleem H. Ali is associate professor of environmental studies at the University of Vermont and serves on the adjunct faculty of the Watson Institute for International Studies at Brown University.
Table of Contents
Preface
p. ix
Introduction: Alchemy of a Material World
p. 1
The Pleasure Of Treasure
What Lies Beneath: The Material and Mystical Origins of Mineral Wealth
p. 17
Creating Value: The Endurance of Precious Jewels
p. 39
The Rush Factor: Tracing the Mineral Roots of Global Power Through Gold, Coal, and Oil
p. 62
Toil and Treasure
The Darker Side of Fortune: The Psychology of Treasure Dependence
p. 89
Curing the Resource Curse: Minerals and Global Development
p. 110
The Spoils of the Earth: The Ecological Toll of Extractive Excitement
p. 132
Measure for Measure
Destination Cradle: The Quest for Material Cycling
p. 161
The Restoration Ethic: Hurting and Healing Ecosystems
p. 185
Embracing the Treasure Impulse: Toward Cautionary Creativity
p. 207
Epilogue: Embracing Uncertainty
p. 235
Appendix: Notable Minerals and Their Human Uses
p. 239
Notes
p. 245
Index
p. 278
Table of Contents provided by Ingram. All Rights Reserved.