Note: Supplemental materials are not guaranteed with Rental or Used book purchases.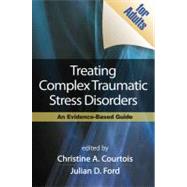 List Price: $85.00
This ISBN is only available through your Virtual Bookstore. Please visit your school's Virtual Bookstore Website to purchase.
Related Products
Summary
Adults with a history of childhood abuse or family violence often come to therapy with complex symptoms that go beyond existing criteria for post traumatic stress disorder (PTSD). This book presents the latest thinking on complex traumatic stress disorders and provides practical guidelines for conceptualization and treatment.
Author Biography
Christine A. Courtois, PhD, is a psychologist in private practice in Washington, DC. She is cofounder and past Clinical and Training Director of The Center: Posttraumatic Disorders Program at the Psychiatric Institute of Washington, and past Codirector of the Maryland Psychological Association's Post-Doctoral Institute on Psychological Trauma. Dr. Courtois has authored three books, including Healing the Incest Wound, as well as numerous articles and book chapters. Among her most recent awards are the Outstanding Contributions to Professional Practice Award from Division 56 (Psychological Trauma) of the American Psychological Association and the Lifetime Achievement Award from the International Society for the Study of Trauma and Dissociation. Dr. Courtois routinely conducts professional training locally, nationally, and internationally on topics related to traumatic stress.
Julian D. Ford, PhD, is Associate Professor of Psychiatry at the University of Connecticut School of Medicine and Director of the University of Connecticut Health Center Child Trauma Clinic and Center for Trauma Response Recovery and Preparedness. He has developed the Trauma Affect Regulation: Guide for Education and Therapy (TARGET) treatment model for adult, adolescent, and child traumatic stress disorders, and conducts research on psychotherapy and family therapy, health services utilization, psychometric screening and assessment, and psychiatric epidemiology. Dr. Ford has coedited two other recent books, Treating Traumatized Children: Risk, Resilience, and Recovery and The Encyclopedia of Psychological Trauma.
Table of Contents
Foreword
p. xiii
Introduction
p. 1
Overview
p. 11
Defining and Understanding Complex Trauma and Complex Traumatic Stress Disorders
p. 13
Neurobiological and Developmental Research: Clinical Implications
p. 31
Best Practices in Psychotherapy for Children and Adolescents
p. 59
Best Practices in Psychotherapy for Adults
p. 82
Assessment of the Sequelae of Complex Trauma: Evidence-Based Measures
p. 104
Assessment of Attachment and Abuse History, and Adult Attachment Style
p. 124
Treating Dissociation
p. 145
Cultural Competence
p. 166
Therapeutic Alliance and Risk Management
p. 183
Living and Working Self-Reflectively to Address Vicarious Trauma
p. 202
Individual Treatment Approaches and Strategies
p. 225
Contextual Therapy
p. 227
Cognitive-Behavioral Therapy
p. 243
Contextual Behavior Trauma Therapy
p. 264
Experiential and Emotion-Focused Therapy
p. 286
Sensorimotor Psychotherapy
p. 312
Pharmacotherapy
p. 329
Systemic Treatment Approaches And Strategies
p. 351
Internal Family Systems Therapy
p. 353
Couple Therapy
p. 371
Family Systems Therapy
p. 391
Group Therapy
p. 415
Conclusion: The Clinical Utility of a Complex Traumatic Stress Disorders Framework
p. 441
Afterword
p. 455
Index
p. 467
Table of Contents provided by Ingram. All Rights Reserved.