Note: Supplemental materials are not guaranteed with Rental or Used book purchases.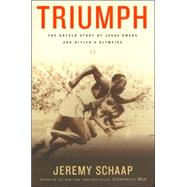 Triumph : The Untold Story of Jesse Owens and Hitler's Olympics
ISBN13:
9780618688227
by
Schaap, Jeremy
Houghton Mifflin Harcourt
Summary
From the ESPN National Correspondent and author of the New York Times bestseller "Cinderella Man" comes the remarkable behind-the-scenes story of a defining moment in sports and world history.In 1936, against a backdrop of swastikas flying, and storm troopers goose-stepping, an African-American son of sharecroppers won a staggering four Olympic gold medals and single-handedly crushed Hitler's myth of Aryan supremacy. The story of Jesse Owen at the 1936 games is that of a high-profile athlete giving a performance that transcends sports. But it is also the intimate and complex tale of the courage of one remarkable man.Drawing on unprecedented access to the Owens family, previously unpublished interviews, and exhaustive archival research, Jeremy Schaap transports us to Nazi Germany to weave this dramatic tale. From the start, American participation in the 1936 games was controversial. A boycott was afoot, based on reports of Nazi hostility to Jews, but was thwarted by the president of the Americn Olympic Committee, who dismissed the actions of the Third Reich as irrelevant. At the games themselves the subplots and intrigue continued: Owens was befriended by a German rival, broad jumper Luz Long, who, legend has it, helped Owens win the gold medal at his own expense. Two Jewish sprinters were denied the chance to compete for the United States at the last possible moment, most likely out of misguided deference to the Nazi hosts. And a myth was born that Hitler had snubbed Owens by failing to congratulate him.With his trademark incisive reporting and rich storytelling gifts, Schaap reveals what really transpired over those tense, exhilarating few weeks some seventy years ago. In the end, "Triumph" is a triumph--a page-turning narrative that illuminates what happens when sports and geopolitics collide on a world stage.
Author Biography
Jeremy Schaap is the author of the New York Times bestseller Cinderella Man. An ESPN anchor and national correspondent, his work has been published in Sports Illustrated, ESPN the Magazine, Time, Parade, TV Guide, and the New York Times. He has also appeared on ABC's World News Tonight and the CBS Evening News. He is the son of the award-winning journalist Dick Schaap.
Table of Contents
Prologue
p. xi
A Day to Remember
p. 3
Out of Alabama
p. 14
Vincible
p. 31
Heel Bones and a New Start
p. 55
The Judge and the Millionaire
p. 63
"We Are with You, Adolf"
p. 83
A Blessing in Disguise
p. 98
Jew Kills Nazi
p. 105
A Friend and a Foe Felled
p. 112
Olympic Trials
p. 122
Olympia
p. 137
The Belle of the Ball
p. 142
The Battle Tent of Some Great Emperor
p. 150
The Youth of the World
p. 159
Day One
p. 172
Day Two
p. 183
Day Three
p. 196
"He Flies Like the Hindenburg": Day Four
p. 213
The Relay
p. 219
Epilogue
p. 230
Notes
p. 237
Acknowledgments
p. 257
Index
p. 261
Table of Contents provided by Ingram. All Rights Reserved.
Excerpts
Prologue Just before 9:30 p.m. central time on September 23, 1955, in a handsome townhouse on Chicago's South Side, James Cleveland Owens slipped into a tweed jacket and sat down in a straight-backed chair. As he smoothed out his pencil mustache and slicked back his hair - what little was left of it - a dozen technicians put the finishing touches on what had been an allday job, wiring and lighting the Owens home. In a few minutes, Owens would be talking live on national television with Edward R. Murrow of CBS, on his celebrity interview show Person to Person. More than 20 million Americans would watch as Murrow spoke from a studio in New York via satellite, first with Owens and his family, and then, in the second half of the show, with Leonard Bernstein and his. A forty-two-year-old father of three, Jesse Owens weighed twenty- five pounds more than he had in Berlin in 1936, when he had turned in the most indelible performance ever at the Olympic games. In his conservative jacket, flannel slacks, white shirt, and dark tie, he could have passed for a fifty-year-old. Not that he wasn't in superb shape. He was. In fact, just a few months earlier he had run 100 yards in 9.9 seconds, less than a second slower than his personal best. He still held the world record in both the broad jump (now called the long jump) and the 4 x 100-meter relay - though both records had been set in the mid-1930s. For his part, Murrow was readying himself for another half-hour of banalities. No one confused Person to Person with See It Now, Murrow's other show on CBS, the one on which eighteen months earlier he had neutered Senator Joseph McCarthy. Despite the fluff, Murrow was eager to speak with Owens, whose legend had grown significantly since 1936. Here, Murrow thought, was a legitimate American hero, the man who had humbled the Third Reich. For Owens, the appearance with Murrow was emblematic of his enhanced stature. In the first fifteen years after his athletic career ended, he had struggled to find his way, professionally and financially. He made more money than the vast majority of his fellow Americans - in the dry-cleaning business, at Ford Motors, working for the state of Illinois - but the windfall he expected in the aftermath of his Olympic heroics never materialized. Banned from amateur competition after an imbroglio with American track officials, he had raced against horses - most famously in Havana, in December 1936, defeating Julio McCaw, a five-year-old bay gelding, after the horse spotted him a 40-yard advantage. In 1938, on the occasion of the first night baseball game at Ebbets Field, he raced two speedy major-league outfielders, spotting them several yards. He barnstormed with a black baseball team and campaigned for the Republican presidential candidate Alf Landon. In countless ways, he sold himself - but he never had much to show for it. Until now. By the time Owens sat down to speak with Murrow, he was well on his way to becoming an institution - the Jesse Owens who would spend the rest of his life telling his story to appreciative audiences around the world, the Jesse Owens who could have been a hero from Horatio Alger, if Alger's heroes had not all been white. In the years after his Olympic victories, his achievements in Berlin had been overshadowed by World War II. But by 1955, at the end of the first decade of the cold war, he was finally getting his due. He was in demand as a banquet speaker and making good money because he had become useful - to industry and government - as a symbol of the opportunities America promised and sometimes delivered. To the delight of white America and most of black America, he disputed the senti