Note: Supplemental materials are not guaranteed with Rental or Used book purchases.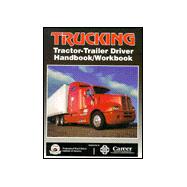 Trucking: Tractor Trailer Driver Handbook Workbook
ISBN13:
9780892625000
by
Related Products
Summary
A severe shortage of trained tractor-trailer drivers faces the trucking industry and the nation. The Trucking: Tractor-Trailer Driver Handbook/Workbook and ancillaries can help solve this problem by providing a comprehensive and turn-key curriculum for tractor-trailer trailer training. Written at a 3rd -6th grade reading level for ease of understanding, the Handbook/Workbook, addresses not only the body of knowledge a driver needs to know, but it also teaches the procedures that, with practice, will enable the student to become a skilled driver. This book stresses the importance of developing the traits and behaviors that characterize true professionals, as tractor-trailer drivers are placed in the unique position of being entrusted with expensive equipment and cargo, as well as representing the industry to the public at large. Content also includes good health and safety practices that drivers should follow for success on the job.
Table of Contents
| | |
| --- | --- |
| | An Introduction to Trucking |

2
(1)
3
(1)
4
(2)
6
(2)

| | |
| --- | --- |
| | Commercial Motor Vehicles |

8
(2)
10
(3)
13
(2)
15
(1)
16
(1)
17
(1)
17
(1)
18
2
(1)
3
(1)
3
(6)
9
(1)
9
(1)
9
(4)
13
(1)
13
(1)
14
2
(1)
3
(1)
4
(1)
4
(1)

| | |
| --- | --- |
| | Maximum Driving and On-Duty Time |

5
(1)
5
(5)

| | |
| --- | --- |
| | Driver Declared Out of Service |

10
(1)
10
(1)
11
(1)
11
(1)
11
2
(1)
3
(1)

| | |
| --- | --- |
| | Purpose, Importance and Types of Vehicle Inspection |

3
(1)

| | |
| --- | --- |
| | What Makes a Good Inspection |

4
(5)
9
(1)
10
(1)
11
(1)

| | |
| --- | --- |
| | Start the Engine, and Check Inside the Cab |

12
(2)

| | |
| --- | --- |
| | Check the Lights and Mirrors |

14
(1)

| | |
| --- | --- |
| | Conduct a Walkaround Inspection |

14
(7)
21
(1)

| | |
| --- | --- |
| | Check the Air Brake System |

21
(2)

| | |
| --- | --- |
| | Enroute and Post-Trip Inspections |

23
(1)
23
(1)
23
(1)

| | |
| --- | --- |
| | Vehicle Inspection Report |

24
(1)
24
(1)
24
(2)
26
2
(1)
3
(1)

| | |
| --- | --- |
| | Frame, Suspension System, and Axles |

3
(4)
7
(1)
8
(2)

| | |
| --- | --- |
| | Air Intake and Exhaust System |

10
(1)
11
(2)
13
(1)
14
(2)
16
(2)
18
(1)

| | |
| --- | --- |
| | Drive Shafts and Universal Joints |

19
(1)
19
(1)
20
(5)

| | |
| --- | --- |
| | Mixing Old and New Equipment |

25
(1)
25
(1)
26
(1)
27
(1)

| | |
| --- | --- |
| | Tread Design and Wheel Position |

28
(1)
29
(2)
31
(1)
32
(2)
34
(1)
35
(1)
35
(1)
36
2
(1)
3
(1)
3
(1)
3
(3)

| | |
| --- | --- |
| | Putting the Vehicle in Motion and Stopping |

6
(1)

| | |
| --- | --- |
| | Backing in a Straight Line |

7
(1)
8
(5)
13
(1)
14
(1)
14
(1)
14
2
(1)
3
(1)
3
(1)
3
(1)
4
(1)
4
(1)
5
(2)

| | |
| --- | --- |
| | Nonsynchronized Transmissions |

7
(2)

| | |
| --- | --- |
| | Shifting Synchronized Transmissions |

9
(1)

| | |
| --- | --- |
| | Importance of Proper Shifting |

9
(2)

| | |
| --- | --- |
| | Shifting Patterns and Procedures |

11
(10)

| | |
| --- | --- |
| | Summary of Good Shifting Habits |

21
(1)
22
(1)
22
2
(1)
3
(1)

| | |
| --- | --- |
| | Backing Principles and Rules |

3
(5)
8
(3)
11
(1)
11
(1)
11
2
(1)
3
(1)

| | |
| --- | --- |
| | Step-by-Step Coupling Procedures |

3
(7)

| | |
| --- | --- |
| | Step-by-Step Uncoupling Procedures |

10
(1)
11
(1)
11
(1)
11
(3)

| | |
| --- | --- |
| | Procedural Steps and Checklists |

14
2
(1)
3
(1)
3
(1)
4
(2)
6
(3)
9
(1)
10
(1)
10
2
(1)
3
(1)
3
(1)
4
(3)
7
(1)
7
(1)
8
2
(1)
3
(1)

| | |
| --- | --- |
| | The Importance of Space Management |

3
(1)
3
(2)
5
(1)
6
(1)
7
(1)
8
(1)
8
(1)

| | |
| --- | --- |
| | Space to Cross or Enter Traffic |

9
(1)
10
(1)
10
(1)
10
2
(1)
3
(1)

| | |
| --- | --- |
| | Spped and Stopping Distance |

3
(1)
4
(2)
6
(1)
7
(1)
7
(1)
8
(1)
8
(1)
8
(1)
9
2
(1)
3
(1)
3
(4)
7
(1)

| | |
| --- | --- |
| | Night Driving Adjustments |

8
(1)
8
(1)
8
(1)
9

| | |
| --- | --- |
| | Extreme Driving Conditions |

2
(1)
3
(1)
3
(3)
6
(2)

| | |
| --- | --- |
| | Starting Your Engine in Cold Weather |

8
(2)

| | |
| --- | --- |
| | Bad Weather Operating Hazards |

10
(3)
13
(3)
16
(1)
17
(1)
17
(4)

| | |
| --- | --- |
| | Auxiliary Brakes and Speed Retarders |

21
(1)
22
(1)
23
(1)
23
(1)
24
2
(1)
3
(1)

| | |
| --- | --- |
| | Importance of Recognizing Hazards |

3
(2)
5
(3)

| | |
| --- | --- |
| | Appearance of Other Road Users |

8
(4)

| | |
| --- | --- |
| | Activities by Other Road Users |

12
(3)
15
(1)
15
(1)
16
2
(1)
3
(1)
3
(1)

| | |
| --- | --- |
| | Types of Emergency Maneuvers |

4
(1)
4
(3)
7
(2)
9
(1)
10
(2)
12
(1)
13
(1)
13
(1)
13
2
(1)
3
(1)
3
(2)
5
(1)
5
(1)
5
(2)
7
(3)
10
(1)
10
(2)
12
(1)
12
(1)
12
(1)
12
2
(1)
3
(1)
3
(3)
6
(11)
17
(6)
23
(4)
27
(1)
27
(1)
28

| | |
| --- | --- |
| | Sliding Fifth Wheels and Tandem Axles |

2
(1)
3
(1)
3
(2)
5
(1)

| | |
| --- | --- |
| | Maneuverability and Off-Tracking |

5
(1)
6
(1)
7
(2)
9
(1)

| | |
| --- | --- |
| | Sliding the Trailer Tandem Axles |

10
(3)
13
(1)
14
(1)
14
2
(1)
3
(1)

| | |
| --- | --- |
| | Long Combination Vehicles |

4
(6)
10
(2)
12
(2)

| | |
| --- | --- |
| | High Center of Gravity Vehicles |

14
(1)
15
(2)
17
(1)

| | |
| --- | --- |
| | Special Handling Vehicles |

18
(1)
19
(1)
19
(1)
19

| | |
| --- | --- |
| | Preventive Maintenance and Servicing |

2
(1)
3
(1)
4
(1)
4
(2)

| | |
| --- | --- |
| | Federal Motor Vehicle Inspection and Maintenance Requirements |

6
(1)

| | |
| --- | --- |
| | Daily Vehicle Condition Report |

6
(2)

| | |
| --- | --- |
| | Basic Servicing and Routine Maintenance |

8
(1)

| | |
| --- | --- |
| | Checking and changing Engine Fluids, Filters, Lights, and Fuses |

9
(5)

| | |
| --- | --- |
| | Checking and Air Pressure and changing Tires |

14
(3)

| | |
| --- | --- |
| | Draining the air Reservoirs |

17
(1)

| | |
| --- | --- |
| | Adjusting the Tractor-Trailer Brakes |

17
(1)
17
(1)
18
(1)
18

| | |
| --- | --- |
| | Recognizing and Reporting Malfunctions |

2
(1)
3
(1)

| | |
| --- | --- |
| | Diagnosing and Reporting Malfunctions |

4
(5)

| | |
| --- | --- |
| | Problem Solving Exercises |

9
(7)

| | |
| --- | --- |
| | Emergency Starting Procedures |

16
(2)
18
(1)
18
(1)
18
2
(1)
3
(1)

| | |
| --- | --- |
| | Importance of Handling Cargo Properly |

3
(1)

| | |
| --- | --- |
| | The Driver's Responsibilities |

4
(1)
5
(1)
6
(5)
11
(2)

| | |
| --- | --- |
| | Accepting and Loading Freight |

13
(2)
15
(4)
19
(2)
21
(2)
23
(1)
23
(1)
24
2
(1)
3
(1)
3
(2)

| | |
| --- | --- |
| | Tranportation Charges and Services |

5
(1)
6
(3)

| | |
| --- | --- |
| | Driver's Signature and Responsibility |

9
(1)

| | |
| --- | --- |
| | Previously Loaded Trailer |

10
(1)
11
(1)
11
(1)

| | |
| --- | --- |
| | Hazardous Material and Hazardous Waste |

11
(5)
16
(1)
16
(1)
17

| | |
| --- | --- |
| | Personal Health and Safety |

2
(1)
3
(1)
3
(2)
5
(2)
7
(1)
7
(3)
10
(3)
13
(5)
18
(2)
20
(1)

| | |
| --- | --- |
| | On-Duty and Off-Duty Job Stress |

21
(1)

| | |
| --- | --- |
| | Physical Demands of the Job |

22
(1)
23
(1)
23
(1)
24
2
(1)
3
(1)
3
(3)
6
(3)
9
(2)

| | |
| --- | --- |
| | Calculating Travel Time and Fuel Usage |

11
(2)
13
(3)

| | |
| --- | --- |
| | Vehicle Licensing and Permits |

16
(1)

| | |
| --- | --- |
| | Federal Length and Weight Limits |

17
(1)
18
(2)
20
(1)
21
(1)
22
(1)
22
(1)
23

| | |
| --- | --- |
| | Public Relations and Employer-Employee Relations |

2
(1)
3
(1)
3
(3)
6
(1)
7
(1)
8
(4)
12
(2)
14
(1)
14
(1)
15

| | |
| --- | --- |
| | CDL: Commercial Driver License |

| | |
| --- | --- |
| | What Tests Do You Need to Pass? |

2
(3)
5
(1)
5
(2)

| | |
| --- | --- |
| | Classes of Licenses and Endorsements |

7
(1)
7
(1)
8
(5)
13
(1)

| | |
| --- | --- |
| | Why So Many Different Tests? |

13
(1)
14
(1)

| | |
| --- | --- |
| | Your Commercial License is a... |

14
Appendix A Trouble Shooting Guide
A.2
A.4
A.6
A.8
Index
I.1