Note: Supplemental materials are not guaranteed with Rental or Used book purchases.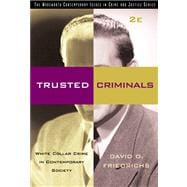 Trusted Criminals White Collar Crime In Contemporary Society
ISBN13:
9780534535629
by
Friedrichs, David O.
Questions About This Book?
What version or edition is this?
This is the 2nd edition with a publication date of 8/5/2003.
What is included with this book?
The New copy of this book will include any supplemental materials advertised. Please check the title of the book to determine if it should include any CDs, lab manuals, study guides, etc.
Summary
This comprehensive text helps students understand the problems involved in studying white collar crime, explanations for crime, the principal focus of the crimes, and the character of the legal and criminal justice response to the crime.
Author Biography
David O. Friedrichs is professor of sociology/criminal Justice at the University of Scranton.
Table of Contents
Preface
xxiii
Acknowledgments
xxix

| | |
| --- | --- |
| | The Discovery of White Collar Crime |

1
(31)

| | |
| --- | --- |
| | Edwin H. Sutherland and the Discovery of White Collar Crime |

2
(2)

| | |
| --- | --- |
| | E. H. Sutherland: The ``Father`` of White Collar Crime Studies |

3
(1)

| | |
| --- | --- |
| | Defining White Collar Crime |

4
(8)

| | |
| --- | --- |
| | Some Issues of Debate on the Meaning of White Collar Crime |

5
(1)

| | |
| --- | --- |
| | A Multistage Approach to Defining White Collar Crime |

5
(3)

| | |
| --- | --- |
| | Trust and White Collar Crime |

8
(1)

| | |
| --- | --- |
| | Respectability and White Collar Crime |

9
(1)

| | |
| --- | --- |
| | Risk and White Collar Crime |

10
(2)

| | |
| --- | --- |
| | Comparing White Collar Crime and Conventional Crime Offenders |

12
(4)

| | |
| --- | --- |
| | Cross--Cultural and International Dimensions of White Collar Crime |

13
(3)

| | |
| --- | --- |
| | The Social Movement against White Collar Crime |

16
(1)

| | |
| --- | --- |
| | The National White Collar Crime Center |

17
(1)

| | |
| --- | --- |
| | Images of White Collar Crime: The Role of the Media |

17
(3)

| | |
| --- | --- |
| | The Media as Entertainment: White Collar Crime in Films and on TV |

19
(1)

| | |
| --- | --- |
| | Exposing White Collar Crime |

20
(10)

| | |
| --- | --- |
| | Informers and Whistle-Blowers |

20
(3)

| | |
| --- | --- |
| | Muckrakers and Investigative Reporters |

23
(3)

| | |
| --- | --- |
| | The Food Lion/ABC Primetime Live Case |

26
(1)

| | |
| --- | --- |
| | The Consumer Movement, Public Interest Groups, and Labor Unions |

26
(1)

| | |
| --- | --- |
| | The Internet and White Collar Crime |

27
(1)

| | |
| --- | --- |
| | Ralph Nader and the Consumer Movement |

28
(1)

| | |
| --- | --- |
| | The Role of Politicians and Political Institutions |

28
(1)

| | |
| --- | --- |
| | Criminal Justice Professionals and Academics (Including Criminologists) |

29
(1)

| | |
| --- | --- |
| | Discovering White Collar Crime, in Sum |

30
(1)
30
(1)
31
(1)

| | |
| --- | --- |
| | Studying White Collar Crime and Assessing Its Costs |

32
(25)

| | |
| --- | --- |
| | Underlying Assumptions and Different Perspectives |

32
(1)

| | |
| --- | --- |
| | Specific Challenges in the Study of White Collar Crime |

33
(2)

| | |
| --- | --- |
| | The Complex Nature of White Collar Crime |

33
(1)

| | |
| --- | --- |
| | Gaining Access for Research |

34
(1)
34
(1)

| | |
| --- | --- |
| | Obtaining Research Support |

34
(1)

| | |
| --- | --- |
| | A Case Study: The Revco Medicaid Fraud Case |

35
(1)

| | |
| --- | --- |
| | Research Methods for Studying White Collar Crime |

35
(1)

| | |
| --- | --- |
| | Scholarly Research and White Collar Crime |

36
(6)
36
(1)
37
(1)
38
(1)
38
(1)

| | |
| --- | --- |
| | Secondary Data Analysis and Event Historical Analysis |

39
(1)

| | |
| --- | --- |
| | Archival Data Analysis and Historical Ethnography |

39
(1)
40
(1)

| | |
| --- | --- |
| | Comparative Studies of White Collar Crime |

40
(1)

| | |
| --- | --- |
| | Students' Role as Researchers |

40
(1)

| | |
| --- | --- |
| | Public Perception of White Collar Crime: How Serious Is It? |

41
(1)

| | |
| --- | --- |
| | Measuring White Collar Crime: How Prevalent Is It? |

42
(4)

| | |
| --- | --- |
| | Conventional Crime and White Collar Crime Rates |

43
(1)

| | |
| --- | --- |
| | Victimization Surveys and Self-Report Studies |

44
(1)

| | |
| --- | --- |
| | Measuring Specific Forms of White Collar Crime |

45
(1)

| | |
| --- | --- |
| | The Need for Reliable Data |

45
(1)

| | |
| --- | --- |
| | The Cost and Consequences of White Collar Crime |

46
(3)
46
(2)
48
(1)
49
(1)
49
(1)

| | |
| --- | --- |
| | Victims of White Collar Crime |

49
(6)
51
(1)

| | |
| --- | --- |
| | Organizations as Victims of White Collar Crime |

52
(1)

| | |
| --- | --- |
| | Specific Forms of Suffering of White Collar Crime Victims |

53
(1)

| | |
| --- | --- |
| | Studying White Collar Crime and Assessing Its Costs, in Sum |

54
(1)

| | |
| --- | --- |
| | Psychological Consequences of Fraud Victimization |

55
(1)
55
(1)
55
(2)
57
(32)

| | |
| --- | --- |
| | The Historical Development of the Corporation and Corporate Crime |

57
(1)

| | |
| --- | --- |
| | The Corporation in Society Today |

58
(2)

| | |
| --- | --- |
| | A Typology of Corporate Crime |

60
(1)
61
(12)

| | |
| --- | --- |
| | Corporate Violence against the Public: Unsafe Environmental Practices |

61
(2)

| | |
| --- | --- |
| | The Exxon Valdez and Prince William Sound |

63
(1)

| | |
| --- | --- |
| | Legal Challenges Continue |

64
(1)

| | |
| --- | --- |
| | Corporate Destruction of a Community |

65
(1)

| | |
| --- | --- |
| | Corporate Violence against Consumers: Unsafe Products |

65
(3)
68
(1)

| | |
| --- | --- |
| | Confronting a Far-Reaching Problem |

69
(1)

| | |
| --- | --- |
| | Corporate Violence against Workers: Unsafe Working Conditions |

69
(1)

| | |
| --- | --- |
| | The Production and Sale of Tobacco: Corporate Crime? |

70
(2)

| | |
| --- | --- |
| | Asbestos and the Manville Corporation |

72
(1)

| | |
| --- | --- |
| | The Complexity of Determining Culpability |

72
(1)

| | |
| --- | --- |
| | The Film Recovery Systems Case |

73
(1)

| | |
| --- | --- |
| | Corporate Abuse of Power, Fraud, and Economic Exploitation |

73
(10)

| | |
| --- | --- |
| | Crimes against Citizens and Taxpayers: Defrauding the Government and Corporate Tax Evasion |

74
(2)

| | |
| --- | --- |
| | Crimes against Consumers: Price Fixing, Price Gouging, False Advertising, and Misrepresentation of Products |

76
(2)

| | |
| --- | --- |
| | Crimes against Employees: Economic Exploitation, Corporate Theft, Unfair Labor Practices, and Surveillance of Employees |

78
(2)

| | |
| --- | --- |
| | The Enron Case and the Devastation of Employee Retirement Accounts |

80
(1)

| | |
| --- | --- |
| | Crimes against Competitors: Monopolistic Practices and Theft of Trade Secrets |

80
(2)

| | |
| --- | --- |
| | The Case against Microsoft |

82
(1)

| | |
| --- | --- |
| | Crimes against Owners and Creditors: Managerial Fraud, Self-Dealing, and Strategic Bankruptcy |

83
(3)

| | |
| --- | --- |
| | Are Universities and Colleges Corporate Criminals? |

86
(1)
87
(1)
87
(1)
88
(1)

| | |
| --- | --- |
| | Occupational Crime and Advocational Crime |

89
(27)

| | |
| --- | --- |
| | Crimes by Small Businesses: Retail Crime and Service Fraud |

90
(3)
90
(1)

| | |
| --- | --- |
| | The Pharmacist and Drug Dilution: Occupational Crime as Violence |

91
(1)

| | |
| --- | --- |
| | Defrauding Vulnerable People |

91
(1)
92
(1)

| | |
| --- | --- |
| | Crimes by Professionals: Medical, Legal, Academic, and Religious Crime |

93
(11)
94
(2)
96
(2)

| | |
| --- | --- |
| | The Case of Roy Cohn: Corrupt Lawyer |

98
(1)

| | |
| --- | --- |
| | Academic Crime: Professors, Scientists, and Students |

98
(1)

| | |
| --- | --- |
| | Lawyers and the Abuse of Political Power |

99
(4)
103
(1)

| | |
| --- | --- |
| | Crimes by Professionals, in Sum |

104
(1)
104
(6)

| | |
| --- | --- |
| | The Case of Televangelist Jim Bakker |

105
(1)
106
(1)

| | |
| --- | --- |
| | Employers' Responses to Employee Theft |

107
(1)

| | |
| --- | --- |
| | Alternative Forms of Employee Crime |

107
(1)

| | |
| --- | --- |
| | Union Leaders Who Steal from Their Union Members |

108
(1)

| | |
| --- | --- |
| | Some Factors in Employee Theft |

108
(1)

| | |
| --- | --- |
| | Conditions in the Workplace and Employee Crime |

109
(1)

| | |
| --- | --- |
| | Donkeys, Wolfpacks, Vultures, and Hawks: A Typology of Employee Theft |

110
(1)
110
(1)

| | |
| --- | --- |
| | Occupational Crime, in Sum |

110
(1)

| | |
| --- | --- |
| | Advocational Crime and White Collar Crime |

111
(3)
111
(2)

| | |
| --- | --- |
| | A Case of Sales Tax Evasion |

113
(1)

| | |
| --- | --- |
| | Other Forms of Advocational Crime |

114
(1)
114
(1)
115
(1)

| | |
| --- | --- |
| | Governmental Crime: State Crime and Political White Collar Crime |

116
(28)

| | |
| --- | --- |
| | Governmental Crime: Some Basic Terms |

118
(1)

| | |
| --- | --- |
| | Governmental Criminality on an Epic Scale |

119
(2)

| | |
| --- | --- |
| | The Threat of Nuclear War as Crime and Other Weapons of Mass Destruction |

120
(1)
120
(1)

| | |
| --- | --- |
| | U.S. Military Activity in the ``New World Order'' |

121
(1)

| | |
| --- | --- |
| | Forms of State Criminality |

121
(8)

| | |
| --- | --- |
| | The 9/11 Attack on America and Rogue States |

122
(1)
122
(2)

| | |
| --- | --- |
| | Adolf Hitler: The Greatest White Collar Criminal of the 20th Century? |

124
(1)
124
(2)

| | |
| --- | --- |
| | Suharto and the Looting of Indonesia |

126
(1)
126
(1)
127
(1)

| | |
| --- | --- |
| | State Criminality, in Sum |

128
(1)
129
(1)

| | |
| --- | --- |
| | The White House and State-Organized Crime |

130
(4)

| | |
| --- | --- |
| | State-Organized Crime and Federal Investigative Agencies |

131
(2)
133
(1)

| | |
| --- | --- |
| | Political White Collar Crime |

134
(9)

| | |
| --- | --- |
| | Political System Corruption |

134
(1)

| | |
| --- | --- |
| | Corruption in the Electoral Financing Process |

134
(1)
135
(1)

| | |
| --- | --- |
| | Political White Collar Crime in the Executive Branch |

136
(3)

| | |
| --- | --- |
| | Political White Collar Crime in the Legislative Branch |

139
(2)

| | |
| --- | --- |
| | Political White Collar Crime in the Judicial Branch |

141
(1)

| | |
| --- | --- |
| | Governmental Crime, in Sum |

141
(1)

| | |
| --- | --- |
| | Police Corruption as a Form of ``Political`` White Collar Crime |

142
(1)
143
(1)
143
(1)

| | |
| --- | --- |
| | State-Corporate Crime, Crimes of Globalization, and Finance Crime |

144
(24)
144
(2)

| | |
| --- | --- |
| | State-Corporate Crime, Nazi Germany, and the Holocaust |

145
(1)
146
(5)

| | |
| --- | --- |
| | Sweatshops in Developing Countries: Criminal Enterprises or Economic Opportunities? |

148
(1)

| | |
| --- | --- |
| | The Role of the World Bank in a Global Economy |

148
(1)

| | |
| --- | --- |
| | The International Monetary Fund, the World Bank, and the Case of Zaire |

149
(1)

| | |
| --- | --- |
| | The Dam at Pak Moon: A Case of Global Crime Jessica Friedrichs |

149
(1)

| | |
| --- | --- |
| | The World Bank and Crimes of Globalization |

150
(1)
151
(16)

| | |
| --- | --- |
| | Banking/Thrifts Crime: The Savings and Loan Mess |

151
(2)

| | |
| --- | --- |
| | Banks and Investment Fraud |

153
(3)
156
(1)
157
(1)
157
(3)

| | |
| --- | --- |
| | The Corporate Takeover Controversy |

160
(3)

| | |
| --- | --- |
| | Finance Crime and Financial Markets |

163
(1)

| | |
| --- | --- |
| | Derivatives and Bankruptcy of Orange County |

164
(2)
166
(1)

| | |
| --- | --- |
| | Hybrid White Collar Crimes, in Sum |

166
(1)
167
(1)
167
(1)

| | |
| --- | --- |
| | Enterprise Crime, Contrepreneurial Crime, and Technocrime |

168
(23)

| | |
| --- | --- |
| | Enterprise Crime: Organized Crime and White Collar Crime |

168
(7)

| | |
| --- | --- |
| | The Relation between Governmental Crime and Syndicated Crime |

170
(1)

| | |
| --- | --- |
| | Historical Roots of Organized Crime |

171
(1)

| | |
| --- | --- |
| | The Relation between Syndicated Crime and White Collar Crime |

172
(1)

| | |
| --- | --- |
| | Joe Valachi of Cosa Nostra and Carl Kotchian of Lockheed |

173
(1)
173
(1)

| | |
| --- | --- |
| | Arson as a Form of Enterprise Crime |

174
(1)

| | |
| --- | --- |
| | The Relation between Syndicated Crime and Finance Crime |

174
(1)

| | |
| --- | --- |
| | The Looting of the Thrifts and Syndicated Crime |

175
(1)

| | |
| --- | --- |
| | Contrepreneurial Crime: Professional Criminals and White Collar Crime |

175
(9)

| | |
| --- | --- |
| | Joseph ``Yellow Kid'' Weil and the Big Con |

176
(1)

| | |
| --- | --- |
| | Historical Origins of Professional Crime |

176
(1)

| | |
| --- | --- |
| | The Relation between Professional Crime and White Collar Crime |

176
(1)

| | |
| --- | --- |
| | Fraudulent Businesses: Swindles, Scams, and Rackets |

177
(1)
178
(1)
178
(1)

| | |
| --- | --- |
| | A Contrepreneur's Advice to Potential Victims |

179
(1)
180
(2)

| | |
| --- | --- |
| | Pump and Dump: The Jonathan Lebed Case |

182
(2)

| | |
| --- | --- |
| | When Fraud Leads to Violence |

184
(1)
184
(5)
185
(1)
185
(2)

| | |
| --- | --- |
| | Identity Theft as White Collar Crime |

187
(1)

| | |
| --- | --- |
| | The Law and Computer Crime |

188
(1)

| | |
| --- | --- |
| | The Pursuit of Computer Crime Cases |

188
(1)

| | |
| --- | --- |
| | Other Types of Technocrime |

189
(1)
189
(1)
190
(1)

| | |
| --- | --- |
| | Explaining White Collar Crime: Theories and Accounts |

191
(27)

| | |
| --- | --- |
| | Underlying Assumptions and Points of Departure |

192
(1)

| | |
| --- | --- |
| | What Do We Want to Explain? |

192
(1)

| | |
| --- | --- |
| | Explaining White Collar Criminality |

193
(4)

| | |
| --- | --- |
| | The Biogenetic Explanation |

193
(1)
194
(1)

| | |
| --- | --- |
| | Psychological Explanations |

194
(3)

| | |
| --- | --- |
| | Mental Illness, Drug Addiction, and Intellectual Aptitude: Factors in White Collar Crime? |

197
(1)
197
(1)
197
(1)

| | |
| --- | --- |
| | Organizational Criminality and the Crimes of Organizations |

197
(5)

| | |
| --- | --- |
| | Organizational Responsibility |

198
(2)

| | |
| --- | --- |
| | The Various Dimensions of Organizational Criminality |

200
(2)

| | |
| --- | --- |
| | Explaining Organizational Crime, in Sum |

202
(1)

| | |
| --- | --- |
| | Explaining White Collar Crime: Theories and Perspectives |

202
(6)

| | |
| --- | --- |
| | General Theories of Crime and White Collar Crime Theories |

202
(1)

| | |
| --- | --- |
| | Classical Criminology and Rational Choice |

203
(1)

| | |
| --- | --- |
| | A General Theory of Crime and Rational Choice |

204
(1)

| | |
| --- | --- |
| | Alternative Dimensions of Crime and Choice |

204
(1)
205
(1)

| | |
| --- | --- |
| | Social Process and Learning |

205
(1)

| | |
| --- | --- |
| | The Moral and Sensual Attractions of White Collar Crime |

206
(1)

| | |
| --- | --- |
| | Interactionism and Labeling |

206
(1)

| | |
| --- | --- |
| | The ``Presentation of Self'' and White Collar Crime |

207
(1)

| | |
| --- | --- |
| | Neutralization, Rationalization, and Accounts |

207
(1)

| | |
| --- | --- |
| | Structural Strain and the Structure of Opportunity |

208
(1)

| | |
| --- | --- |
| | Conflict Theory and Criminogenic Societies |

209
(3)

| | |
| --- | --- |
| | The Structure of Contemporary Capitalist Society and White Collar Crime |

210
(1)

| | |
| --- | --- |
| | Economic Wilding, Capitalism, and White Collar Crime |

211
(1)

| | |
| --- | --- |
| | Radical and Critical Perspectives on White Collar Crime |

211
(1)

| | |
| --- | --- |
| | White Collar Crime in a Postmodern World |

212
(1)

| | |
| --- | --- |
| | Explaining Criminalization and White Collar Crime |

212
(2)

| | |
| --- | --- |
| | Women as a Special Class of Victims of White Collar Crime |

213
(1)

| | |
| --- | --- |
| | Integrated Theories of White Collar Crime |

214
(1)

| | |
| --- | --- |
| | An Integrated, Multilevel Approach to Understanding the Enron et al. Cases |

214
(2)

| | |
| --- | --- |
| | Explaining White Collar Crime, in Sum |

215
(1)
216
(1)
217
(1)

| | |
| --- | --- |
| | Law and the Social Control of White Collar Crime |

218
(24)

| | |
| --- | --- |
| | Social Control and White Collar Crime |

218
(1)

| | |
| --- | --- |
| | Formal Law and White Collar Crime |

219
(1)

| | |
| --- | --- |
| | The Historical Origins of White Collar Crime Laws |

220
(1)

| | |
| --- | --- |
| | The Carrier's Case and the Law of Employee Theft |

221
(1)

| | |
| --- | --- |
| | Contemporary Legislative Lawmaking and White Collar Crime |

221
(4)

| | |
| --- | --- |
| | The Dialectical Perspective of Lawmaking |

222
(1)

| | |
| --- | --- |
| | The Influence of Business on the Lawmaking Process |

223
(1)
224
(1)

| | |
| --- | --- |
| | Alternative Sources and Forms of Law and Lawmaking |

225
(4)

| | |
| --- | --- |
| | The Constitution and Constitutional Law |

225
(1)
226
(1)
226
(1)
227
(2)

| | |
| --- | --- |
| | A Selective Review of Substantive White Collar Crime Lawmaking |

229
(6)
229
(2)

| | |
| --- | --- |
| | Occupational Safety and Health Laws |

231
(1)

| | |
| --- | --- |
| | Environmental Protection Laws |

231
(2)
233
(1)

| | |
| --- | --- |
| | White Collar Crime Law and the Legal Curriculum |

234
(1)

| | |
| --- | --- |
| | Civil and Criminal Law and White Collar Crime |

235
(1)

| | |
| --- | --- |
| | Law, Corporations, and the Concept of Criminal Liability |

236
(4)

| | |
| --- | --- |
| | Corporate Criminal Liability |

236
(2)

| | |
| --- | --- |
| | A Comparative Perspective on Corporate Criminal Responsibility |

238
(1)

| | |
| --- | --- |
| | Corporate Personhood and Corporate Decision Making |

239
(1)

| | |
| --- | --- |
| | The Corporate Criminal Liability Controversy |

240
(1)

| | |
| --- | --- |
| | Law and the Social Control of White Collar Crime, in Sum |

240
(1)
240
(1)
241
(1)

| | |
| --- | --- |
| | Policing and Regulating White Collar Crime |

242
(27)

| | |
| --- | --- |
| | Criminal Justice System Policing: Law Enforcement |

242
(5)

| | |
| --- | --- |
| | State and Federal Enforcement Agencies |

243
(1)
244
(1)
245
(1)

| | |
| --- | --- |
| | The U.S. Postal Inspection Service |

245
(1)

| | |
| --- | --- |
| | The U.S. Secret Service, U.S. Customs Service, and U.S. Marshals Service |

246
(1)

| | |
| --- | --- |
| | The Internal Revenue Service's Criminal Investigative Division |

246
(1)

| | |
| --- | --- |
| | The Regulatory System Response |

247
(12)

| | |
| --- | --- |
| | The Origins and Evolution of Regulation |

248
(1)

| | |
| --- | --- |
| | The Creation and Operation of Federal Regulatory Agencies |

249
(1)

| | |
| --- | --- |
| | The Contemporary Debate on Regulation |

250
(2)

| | |
| --- | --- |
| | The Regulatory Agency's Philosophy: Compliance versus Deterrence |

252
(1)

| | |
| --- | --- |
| | Criticisms of Regulatory Agencies |

253
(1)

| | |
| --- | --- |
| | Other Factors in Regulatory Response |

254
(1)

| | |
| --- | --- |
| | Prominent Regulatory Agencies and Their Functions |

254
(1)
255
(2)
257
(2)
259
(2)

| | |
| --- | --- |
| | Forensic Accountants as Fraud Detectives |

261
(1)

| | |
| --- | --- |
| | The Role of Lawyers and Accountants Policing White Collar Crime |

261
(4)

| | |
| --- | --- |
| | Lawyers and Professional Ethics |

261
(2)

| | |
| --- | --- |
| | Accountants and Auditing Responsibilities |

263
(2)

| | |
| --- | --- |
| | Self-Regulation: Internal Controls and Professional Associations |

265
(3)

| | |
| --- | --- |
| | The Role of Corporate Boards in Self-Regulation |

266
(1)

| | |
| --- | --- |
| | Self-Regulation in Financial Firms |

266
(1)

| | |
| --- | --- |
| | Self-Regulation and the Professions |

267
(1)

| | |
| --- | --- |
| | Policing and Regulating White Collar Crime, in Sum |

268
(1)
268
(1)
268
(1)

| | |
| --- | --- |
| | Prosecuting, Defending, and Adjudicating White Collar Crime |

269
(27)

| | |
| --- | --- |
| | Prosecution at the Local, State, and Federal Levels |

269
(7)
269
(2)

| | |
| --- | --- |
| | The Pinto Case: Prosecuting the Ford Motor Company |

271
(1)

| | |
| --- | --- |
| | New York Attorney General Eliot Spitzer and Wall Street |

272
(1)
272
(1)
272
(2)

| | |
| --- | --- |
| | The Prosecution of Antitrust Cases |

274
(1)

| | |
| --- | --- |
| | The Prosecution of Environmental Crime |

274
(1)

| | |
| --- | --- |
| | Special Prosecutors (Independent Counsel) |

275
(1)

| | |
| --- | --- |
| | The Role of the Grand Jury in White Collar Crime Cases |

276
(1)

| | |
| --- | --- |
| | ``Perp Walks'' for White Collar Crime Defendants |

277
(1)

| | |
| --- | --- |
| | Defending White Collar Criminals |

277
(3)

| | |
| --- | --- |
| | David Boies and White Collar Crime Cases |

278
(2)

| | |
| --- | --- |
| | Adjudicating White Collar Crime: Plea Bargaining and Trial |

280
(1)

| | |
| --- | --- |
| | The Role of the Trial Jury |

281
(1)

| | |
| --- | --- |
| | Jurors and Punitive Damages |

282
(1)

| | |
| --- | --- |
| | Judges and the Sentencing of White Collar Criminals |

282
(6)
283
(1)

| | |
| --- | --- |
| | Explaining Disparity in Sentences for White Collar Offenders |

284
(2)

| | |
| --- | --- |
| | Sentencing Organizational Offenders |

286
(1)

| | |
| --- | --- |
| | Sentencing Guidelines and White Collar Offenders |

287
(1)

| | |
| --- | --- |
| | White Collar Criminals in the Correctional System |

288
(2)

| | |
| --- | --- |
| | House Arrest as Punishment |

290
(1)
290
(5)

| | |
| --- | --- |
| | SLAPPS: Strategic Lawsuits Against Political Participation |

292
(1)

| | |
| --- | --- |
| | Citizen Suits and Class Action Suits |

292
(1)

| | |
| --- | --- |
| | William Lerach: Shareholder Hero or Economic Terrorist? |

293
(1)

| | |
| --- | --- |
| | The Role of Mediators and Arbitrators in the Settlement of Complaints |

294
(1)
294
(1)

| | |
| --- | --- |
| | Prosecuting and Adjudicating White Collar Crime, in Sum |

295
(1)
295
(1)
295
(1)

| | |
| --- | --- |
| | Responding to the Challenge of White Collar Crime |

296
(23)

| | |
| --- | --- |
| | Raising Consciousness of White Collar Crime |

296
(1)

| | |
| --- | --- |
| | Policy Options for Responding to White Collar Crime |

297
(1)

| | |
| --- | --- |
| | Responding to White Collar Crime as a Moral Issue |

297
(4)
298
(1)

| | |
| --- | --- |
| | Business Ethics Courses in the Curriculum |

298
(1)

| | |
| --- | --- |
| | Business Ethics within the Business World |

299
(1)

| | |
| --- | --- |
| | Shaming as a Response to White Collar Crime |

300
(1)

| | |
| --- | --- |
| | Securing Compliance and Sanctioning White Collar Crime |

301
(1)

| | |
| --- | --- |
| | Law and the Coercive Response to White Collar Crime |

302
(3)

| | |
| --- | --- |
| | Civil Suits and Penalties |

302
(1)

| | |
| --- | --- |
| | Cooperative versus Punitive Approaches to Corporate Crime |

303
(1)

| | |
| --- | --- |
| | ``Just Deserts'' and Corporate Crime |

304
(1)

| | |
| --- | --- |
| | Deterrence and White Collar Crime |

305
(1)

| | |
| --- | --- |
| | Rehabilitation, Probation, and Enforced Self-Regulation |

306
(3)
307
(1)
307
(2)

| | |
| --- | --- |
| | The ``Devil's Advocate'' and Corporate Probation |

309
(1)

| | |
| --- | --- |
| | Fines, Restitution, and Community Service |

309
(2)

| | |
| --- | --- |
| | Sentencing Guidelines for Fines |

309
(1)
310
(1)
311
(1)

| | |
| --- | --- |
| | Occupational Disqualification |

311
(1)
311
(2)

| | |
| --- | --- |
| | Contractual Disqualification for Corporations |

312
(1)

| | |
| --- | --- |
| | Organizational Reform and Corporate Dissolution |

313
(1)

| | |
| --- | --- |
| | Responding to Residual Forms of White Collar Crime |

314
(1)

| | |
| --- | --- |
| | Controlling Governmental Crime |

314
(2)

| | |
| --- | --- |
| | Responding to White Collar Crime Internationally |

315
(1)

| | |
| --- | --- |
| | Structural Transformation as a Response to White Collar Crime |

316
(2)

| | |
| --- | --- |
| | Responding to the Challenge of White Collar Crime, in Sum |

317
(1)

| | |
| --- | --- |
| | A Concluding Note: Trusted Criminals and White Collar Crime in the 21st Century |

317
(1)
318
(1)
318
(1)
Appendix A: White Collar Crime Films
319
(3)
Appendix B: White Collar Crime and the World Wide Web
322
(3)
References
325
(70)
Subject Index
395
(12)
Name Index
407